'The Grand Tour's' Newest Special, 'Carnage a Trois' Is Comfort Food for Car Fans
'The Grand Tour's' second lockdown special, 'Carnage a Trois,' is a hilarious tribute to French car culture with Jeremy Clarkson, Richard Hammond, and James May.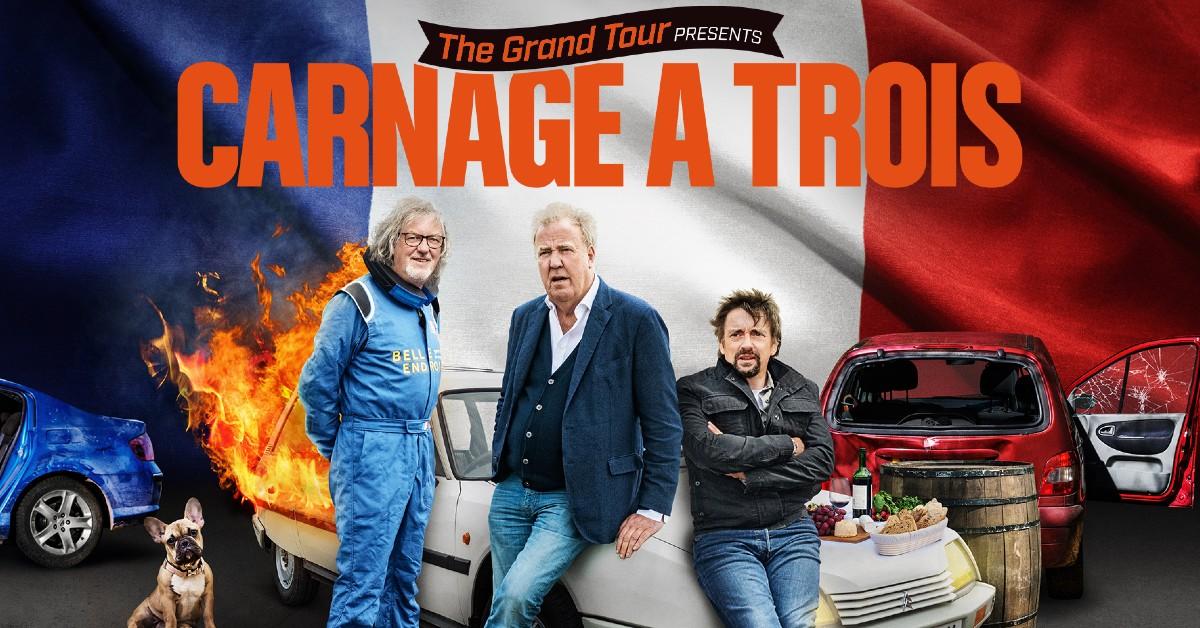 Spoiler alert: This article contains spoilers for The Grand Tour special Carnage a Trois.
In Carnage a Trois, Jeremy Clarkson pulls a George Michael, James May buys a dishwasher, and Richard attempts to drive a propeller-powered car. Of course, Jeremy, James, and Richard would also build (with no help from the crew whatsoever) a giant catapult to combat COVID lockdown boredom.
That's right! Everyone's favorite car guys are back in the newest French-themed Amazon Prime Video special, The Grand Tour: Carnage a Trois.
Article continues below advertisement
Naturally, only about five minutes of the special actually take place in France, due to COVID-19 travel restrictions at the time the special was filmed. However, that little snag doesn't stop The Grand Tour guys from immediately launching into shenanigans with French cars. Jeremy launches into his typical The Grand Tour voice-over by posing one question to the viewers with his perfect booming British diction: "What is the matter with the French?"
Jeremy's question is the main joke/theme of Carnage a Trois. Is answering that question as dangerous as attempting to escape the Mongolian Steppe via a handmade off-roader with no instructions? Not exactly, but Carnage a Trois is still as fun as ever.
Article continues below advertisement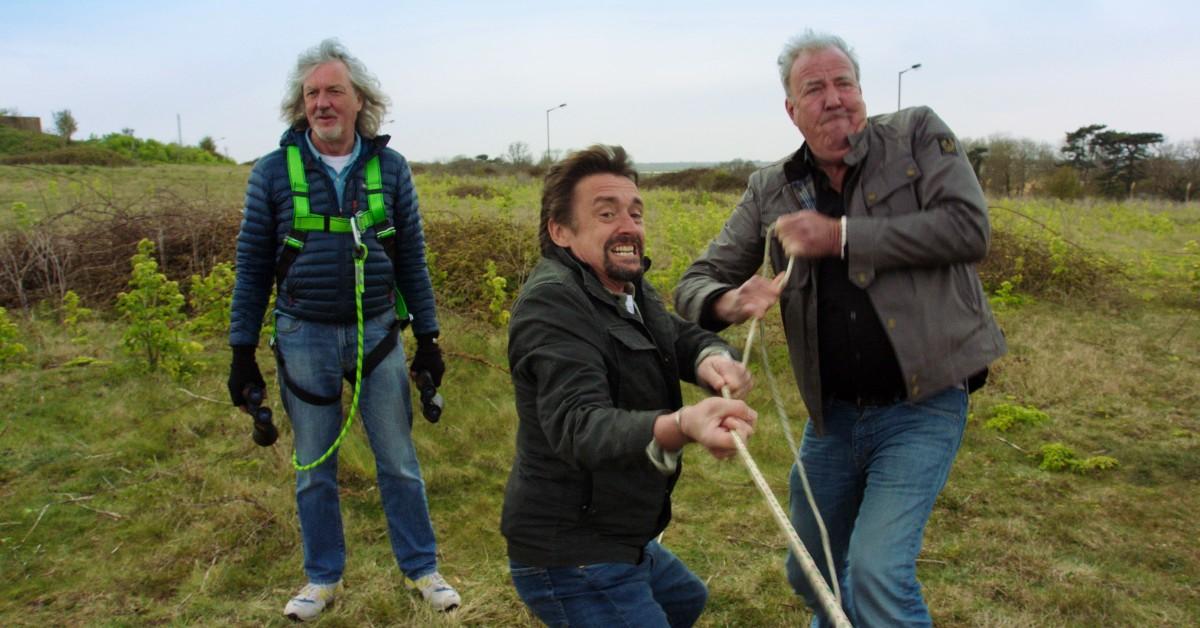 Carnage a Trois brings The Grand Tour guys back to basics. It's fun to see what the trio are forced to do when they're restricted to primarily the Welsh countryside armed only with their wits and some uniquely designed French cars.
In the hands of lesser men, this special could've easily devolved into a snooze-fest, but Jeremy, James, and Richard continue to work well together as a team with an endearing love for cars.
Article continues below advertisement
The Grand Tour Presents: 'Carnage a Trois'
Our Rating
Carnage a Trois is another hilarious outing from The Grand Tour's Jeremy Clarkson, James May and Richard Hammond.
Release Date: Dec. 17, 2021
Network: Amazon Prime Video
Cast: Jeremy Clarkson, Richard Hammond, James May
Jeremy, James, and Richard continue to wonder in amazement over French rules and sensibilities. If you know anything about these three, then you'll know that they tend to poke fun at things they ultimately appreciate.
As The Grand Tour's executive producer Andy Willman told Express UK, the special is a "love letter to the French," and that intention is ever-present.
Article continues below advertisement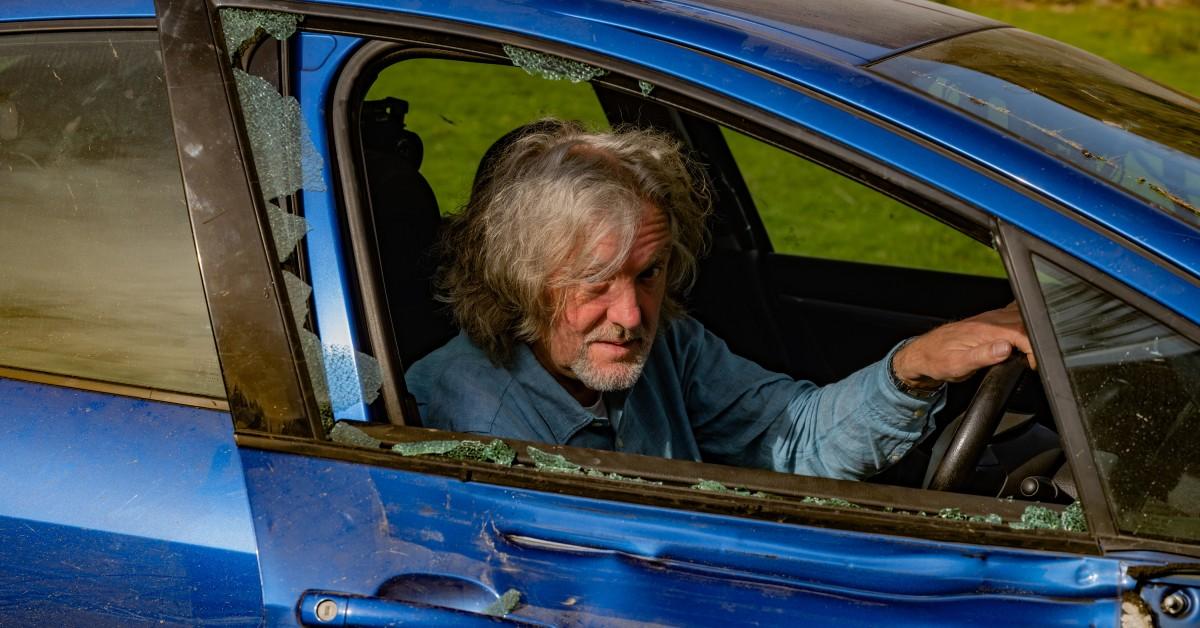 Richard occasionally tries his best French accent throughout the special, and it's hilariously terrible. After James dissects the Renault Avantime's unique design features, he falls out of it, demonstrating why the Avantime was probably discontinued.
Did we mention there's a bomb defusion thrown into the Carnage a Trois chaos? This may be The Grand Tour's second lockdown special, but it's still full of action.
Article continues below advertisement
It's almost The Grand Tour tradition at this point that Jeremy, James, and Richard will pick a car to feature in an episode or special, spend half of the time trashing it, and then will fall in love with the aforementioned automobile by the program's end. The same love story occurs in Carnage a Trois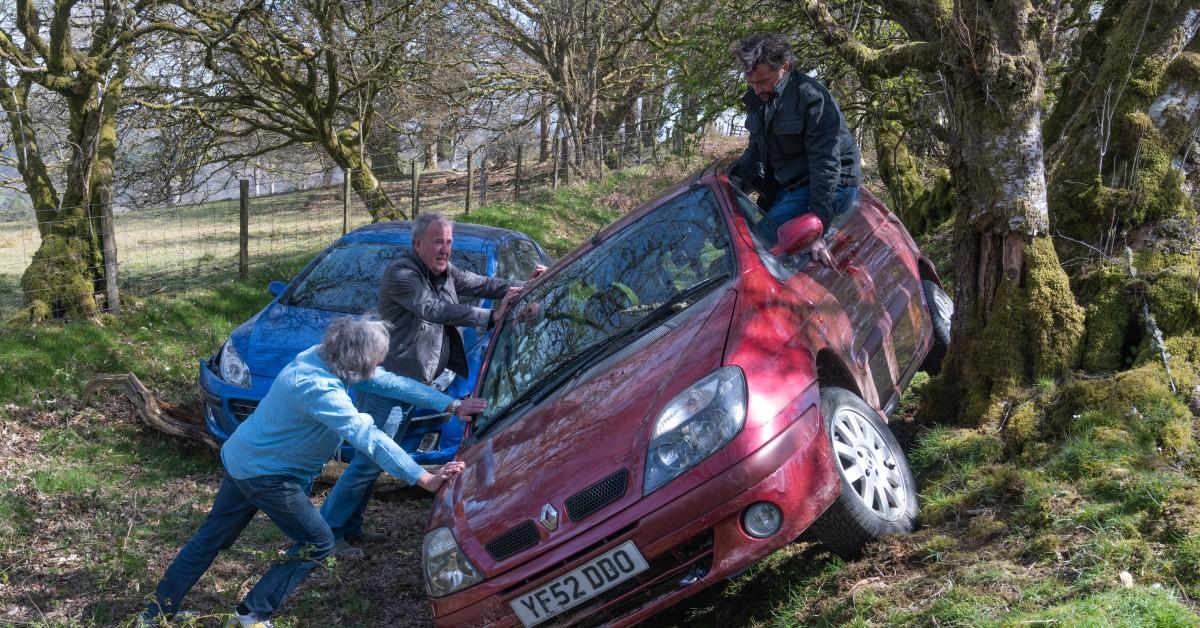 Article continues below advertisement
But the happy ending is only earned after an assortment of hilarious moments during which Jeremy, James, and Richard test French cars through challenges they're not designed for. The five minutes the three spend in France are naturally utilized to highlight the stark contrast between the French and the rest of the world. It's during the French segment that Hammond actually crashes into something intentionally for once, rather than by accident.
Some viewers may miss the grand epic tours of the past during Carnage a Trois or feel like this special simply felt more like an extended "normal" Grand Tour episode. However, in a world besieged by a pandemic, it's comforting to have three familiar faces doing what they do best: talking about cars, driving them, and selling viewers on the finer aspects of automobiles. Jeremy, James, and Richard are clearly having a blast testing out various French cars, and it shows.
Article continues below advertisement
The trio's love for cars is positively genuine, even as they gleefully drop a Citroen 2VE from a helicopter. (It wouldn't be a Grand Tour special if at least one car wasn't dropped from a helicopter.)
Sure, they spend most of the special sounding genuinely confused by aspects of French car culture and design, but it's really not meant to be a mockery of said culture. Rather, it's a funny tribute to all things French.
At one point, the trio quips about how the "strangeness" of the French cars makes them more endearing. It's funny how aptly that phrasing works for why Jeremy, James, and Richard still work so well together after all these years.