Grandma Stands Her Ground When Son Tries to Interfere with Grandson's Milkshake Treat
A grandma's hilarious reaction her father's food boundaries for his kids has TikTok cracking up.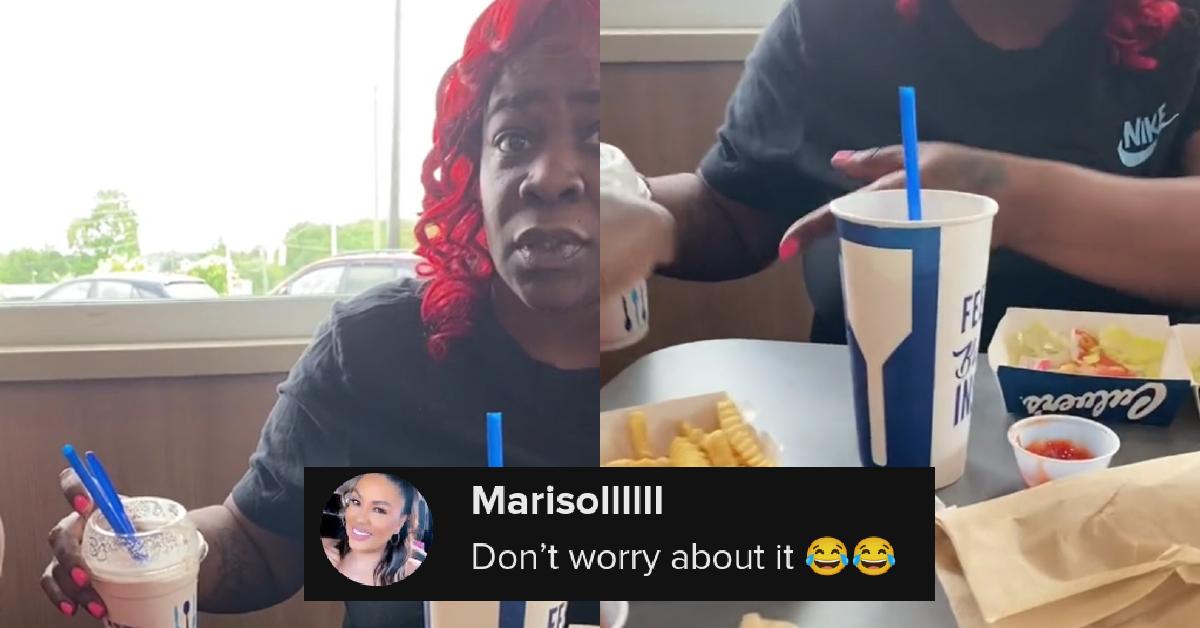 There are some immutable facts of life: USB drives are never put in the right way on the first try and it feels like a miracle when it does. When your home team is losing, it's always because referees are gifting the other team calls and there's some type of collusion afoot, and your parents will always think you're feeding your kids too little.
Article continues below advertisement
You could've had the strictest folks in the world growing up regarding food. They could've policed your sugar intake and ensured that you had a solid 8,000 servings of vegetables daily.
But when it comes to their grandkids, it's always butterscotch hard candies and surprise cookies/brownies/peach cobbler a la mode flambe — they will not stop until your child has type 2 diabetes.
Article continues below advertisement
And a recent TikTok from user who goes by Blue (@b1gbluebaggg) perfectly encapsulates this fact of life at a Culver's he was out to eat with his son, featuring grandma with a milkshake.
Article continues below advertisement
In the video, Blue can be heard arguing with his mother about allowing his son to have sweets when he hasn't finished his main meal yet.
"Don't give him no milkshake if he ain't even eating his food-"
Grandma cuts him off before he can finish talking, "He can eat the milkshake, he can eat these fries, he can dip the fries in the milkshake however he want to eat it if he don't want to eat the fries and want the milkshake he can do it like that don't worry about this-"
Article continues below advertisement

Blue hears too much at that point and begins to grab the milkshake out of Grandma's hand before the video cuts out.
He adds in a caption for the video: "Grandparents think they can overstep boundaries" with a laughing emoji appended to the end of the clip.
Article continues below advertisement
A number of commenters expressed how much the video resonated with them and snapped their fingers in agreement with grandparents' attitudes towards the eating habits of their grandchildren.

Article continues below advertisement
"Grandbabies can eat whatever, whenever and however," one user wrote.
Another said that implementing parenting rules whenever your parents are present is futile cause.
"Don't even bother parenting when grandparents come around," they wrote.
Others, however, pointed out the double standards in which they were raised as opposed to how much their grandfolks spoiled them: "We use to couldn't even drink without eating our food first"
Article continues below advertisement

However there were others who said that the attitudes of their own parents towards their grand babies changed awfully quick once they got a taste for why the rules were implemented in the first place.
Article continues below advertisement

"dad said 'rules dont apply here' lmao 8yr old dumped rootbeer float all over my dads new white couch. rules are now applied lmao," one TikToker said.
Article continues below advertisement

But there were also plenty of other folks who knew that they were headed towards the same exact fate with their own folks: "Nah, this is gonna be my mom as a grandma I'll tell her don't give my dog anymore treats and come downstairs with her bowl full of Cheerios"