Grandpa Receives "Nasty" Letter from Neighbors for Decorating His House
His granddaughter posted a screenshot of the letter, which is so needlessly mean toward an elderly man.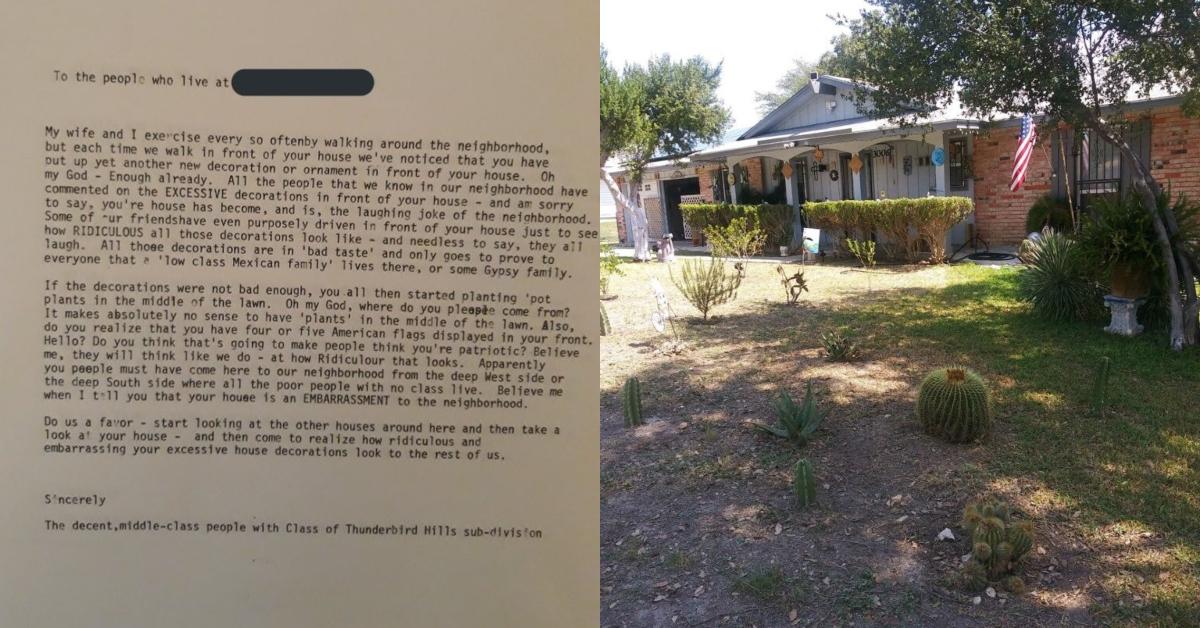 I don't understand people who think someone else's property is their business. Nosy neighbors are the worst! The entitlement they feel to tell you how to live your life is infuriating.
Article continues below advertisement
Twitter user @goldenstef recently shared a note that her grandfather received from neighbors criticizing his outdoor decorations. Her tweet went totally viral because the note is unnecessarily nasty. And, believe me, when you see his house, you'll lose your mind even more. First, and strangely, the letter appears to have been written on a typewriter. *Eyeroll*
Article continues below advertisement
It reads, "My wife and I exercise every so often by walking around the neighborhood, but each time we walk in front of your house we've noticed that you have put up yet another new decoration or ornament in front of your house. Oh my God — enough already.
"All the people that we know in our neighborhood have commented on the EXCESSIVE decorations in front of your house — and am sorry to say, you're house has become, and is, the laughing joke of the neighborhood. Some of our friends have even purposely driven in front of your house just to see how RIDICULOUS all those decorations look like — and needless to say, they all laugh.
Article continues below advertisement
"All those decorations are in 'bad taste' and only goes to prove to everyone that a 'low class Mexican family' lives there, or some Gypsy family. If the decorations were not bad enough, you all then started planting pot plants in the middle of the lawn. Oh my God, where do you people come from?
"Do you realize that you have four or five American flags displayed in your front. Hello? Do you think that's going to make people think you're patriotic? Believe me, they will think like we do — at how ridiculous that looks. Apparently you people must have come here to our neighborhood from the deep West side or the deep South side where all the poor people with no class live. Believe me when I tell you that your house is an EMBARRASSMENT to the neighborhood.
Article continues below advertisement
"Do us a favor — start looking at the other houses around here and then take a look at your house — and then come to realize how ridiculous and embarrassing your excessive house decorations look to the rest of us. Sincerely, The decent, middle-class people with Class of Thunderbird Hills sub-division."
Article continues below advertisement
Holy hell. This person is not only entitled and nasty, but they are also racist and have a superiority complex despite not being able to write very well.
People should be able to decorate their house however they want. Why don't we now take a look at what her grandpa's house decorations really look like? They must be super garish and distracting, right? Wrong.
Article continues below advertisement
This is his house. I see a few plaques, a flag, and some plants in the yard. I truly have no idea what these people are talking about. It's modestly decorated, but that shouldn't matter. As long as it's not offensive, it shouldn't matter how someone decorates their home. It's theirs. Mind your own business!
Article continues below advertisement
Here's another angle of his yard. I cannot believe this is what sent those racist, horrible neighbors up the wall. The idea that people in the neighborhood are driving by this very normal house to laugh at it makes me think that either this person is lying or that the whole neighborhood is filled with horrible people.
I hope @goldenstef's grandpa didn't take the letter to heart and kept up his decorations. In fact, I hope he added more just to annoy those nasty neighbors.