Greta Thunberg Is Being Meme'd by Climate Change Supporters and Deniers in Weird Internet Beef
As a 16-year-old student who delivered an impassioned speech about climate change, Greta Thunberg has become the subject of some surprising memes.
Greta Thunberg's impassioned UN speech shaming politicians for not caring about future generations and climate change got tons of press. People who are in favor of promoting sustainable products, industries, and technologies love her. Others who saw her as parroting "liberal" ideologies conflated her youthful concern about the future of the earth with progressive political agendas. Both sides, however, utilized the young woman for memes.
Article continues below advertisement
Greta Thunberg memes are being created by both climate change supporters and deniers.
At first, the memes were all about Greta's "badassery" and overall disdain for policymakers who shirk global warming as a legitimate concern. Others took her mean mugging and ardent expressions of concern and superimposed them into a variety of hilarious scenarios. Like being accused of stealing at Walmart or saying that her burning glare at President Trump looks like it was a scene out of an Office episode where everyone dies of climate change.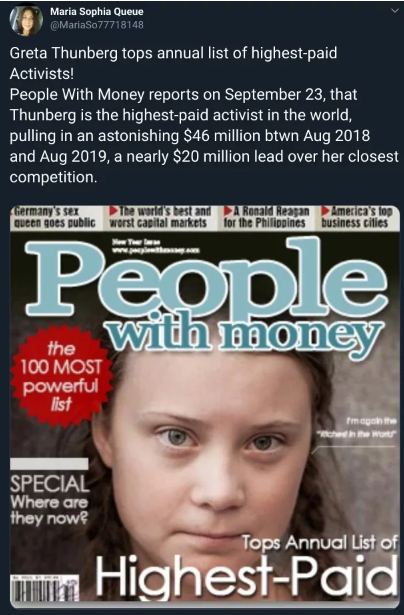 Article continues below advertisement
Obviously, there were camps who delighted in the fact that she seemingly has it out for Donald, and others who were incensed that she had such an obviously strong opinion against the POTUS. This spawned a collection of some pretty bizarre conspiracy theories surrounding the child that range from callous to far-fetched.
It all started with the easily disproved meme that called the child a paid activist.
The People with Money template is one that takes a few steps to create online. The image itself can unthinkingly be called into question due to the clearly discerned fact that it's not a professional photo of the 16-year-old by any means. Plus, countless other memes with the same template were floating around the internet.
Also, the "paid activist" narrative is one that's constantly tossed around social media, so that really shouldn't have come as a surprise to folks.
Article continues below advertisement
Article continues below advertisement
Snopes did a good job of disproving this peculiar theory that was obviously created to rile up climate change deniers and those who were upset that a child was death-staring Trump. I guess it's difficult for some people to remember that when you're a teenager, you're afforded a type of blind idealism that facilitates a burning belief in something that seems to dissipate for many people with age.
Article continues below advertisement
As if that theory wasn't strange enough, then there was the one meme that almost certainly started off as a joke: that Greta Thunberg is actually a time traveler from the year 1898. A photo dated from around that time surfaced on the internet displaying a young woman who looks a lot like Greta.
Article continues below advertisement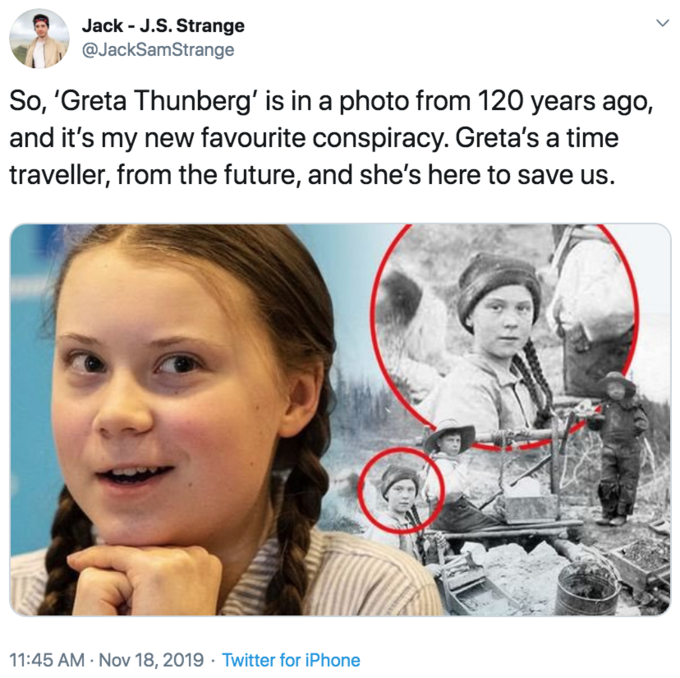 Article continues below advertisement
People began joking, with some conspiracy theorists alleging after a while that the young woman was a 120-year-old time traveler. For the most part though, the interesting coincidence just resulted in a series of hilarious tweets.
Article continues below advertisement
But there are still lots of mean-spirited tweets and memes created about Greta that are more than a bit troubling when you consider her age. The fact that adults, many of them grown men, take so much delight in taking down a teenage girl is kind of pathetic and downright abominable.
Article continues below advertisement
Article continues below advertisement
There was a bit of a kerfuffle online when a photo of Greta sailing on a yacht had some folks labeling her a "hypocrite" for boarding a luxury vessel that uses fossil fuels and contributes to climate change.
Others used tragedies, like the constant rising floods in Venice, Italy, to create a "Greta Meme." A superimposed photo of the young woman stands there, arms crossed, in the city's waters.
Article continues below advertisement
Many called the Venice Greta meme in poor taste, considering that this is an ongoing problem that the city is experiencing. Personally, I think the ridicule and exploitation of a teenager to advance a political agenda is kinda gross, especially when you're accusing the individual of being an actor when they're just expressing an opinion they believe in wholeheartedly.
In reality though, most people are just in it for the memes.