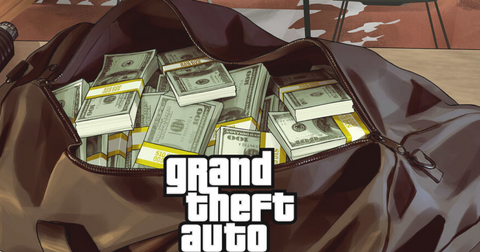 Is 'GTA 6' Finally Happening? We're Sorry to Report Not Yet
By Devan McGuinness

Updated
Though fans had hoped to hear news of Grand Theft Auto 6 during the PlayStation 5 livestream with Sony on June 11, they were left rather disappointed. The series has been super popular since its initial release and with GTA 5's release date nearly 7 years ago, people were ready for the GTA 6 PS5 details, but they left the stream with no such info.
Is 'GTA 6' on PS5 coming? Not just yet.
Rumors had been circulating for a while that PlayStation, along with the game company Rockstar Games, was going to release details about GTA 6 on PS5. It has been forever since a new updated version of the franchise was put out in the world, with GTA 5 having been released in September 2013.
People are more than ready for the new game. Rumors had said GTA 6 was going to be set in Vice City although others claim that it will introduce a new location entirely, based in South America. According to Express, the new game will only be for next-gen consoles. The site said the rumors started from a post that was on Pastebin, allegedly penned by a third-party developer who said that GTA 6 would be a PS5 launch exclusive, and Sony had paid a lot of money for to get those rights.
The post contained details about the PS5 that ended up being correct, so people really believed that GTA 6 on PS5 was everything but said out loud.
The 'GTA 6' PS5 announcement date came and went.
On June 11, Sony kicked off the PlayStation 5 reveal event with an announcement that was good, but also left people feeling super disappointed. GTA 6 on PS5 was not out yet. There was news about GTA on PS5, but it was about Grand Theft Auto 5… again.
Sony revealed that an enhanced version of GTA 5 was coming to PS5 in the second half of 2021. According to The Verge, GTA 5 is one of the best-selling games of all time (second to Minecraft) and the ability to play in online mode is a big money draw for Rockstar.
So, that's what the announcement was about. The old game is coming to the new platform, and GTA Online will be free to all PlayStation 5 owners.
"With a range of technical improvements, visual upgrades and performance enhancements, GTA V & GTA Online will take full advantage of the PS5 hardware and its new features, making the game more beautiful and more responsive than ever," Sony wrote in a press release.
The expected 'GTA 6' on PS5 announcement really being 'GTA 5' again didn't sit well with people.
It was clear pretty quickly that GTA fans were not happy about the GTA 5 changes being announced and not a new GTA 6 game. Fans took to Twitter to share their disappointment.
"When everyone thought GTA 6 was going to be revealed but it's GTA 5 again on a third different console," one fan wrote.
"Is anyone else disappointed that GTA 6 didn't get announced but instead just GT5 is coming to the PS5 wooooow," another said.
"I thought @RockstarGames was gonna show us GTA 6 on #PS5," said a third person.
"So Rockstar decided to re-release GTA 5 on the PS5. Don't we all have the same copies in the other generation game consoles. Just announce GTA 6 already," another disappointed person wrote.
So, there's not GTA 6 on PS5 yet, but maybe one day.