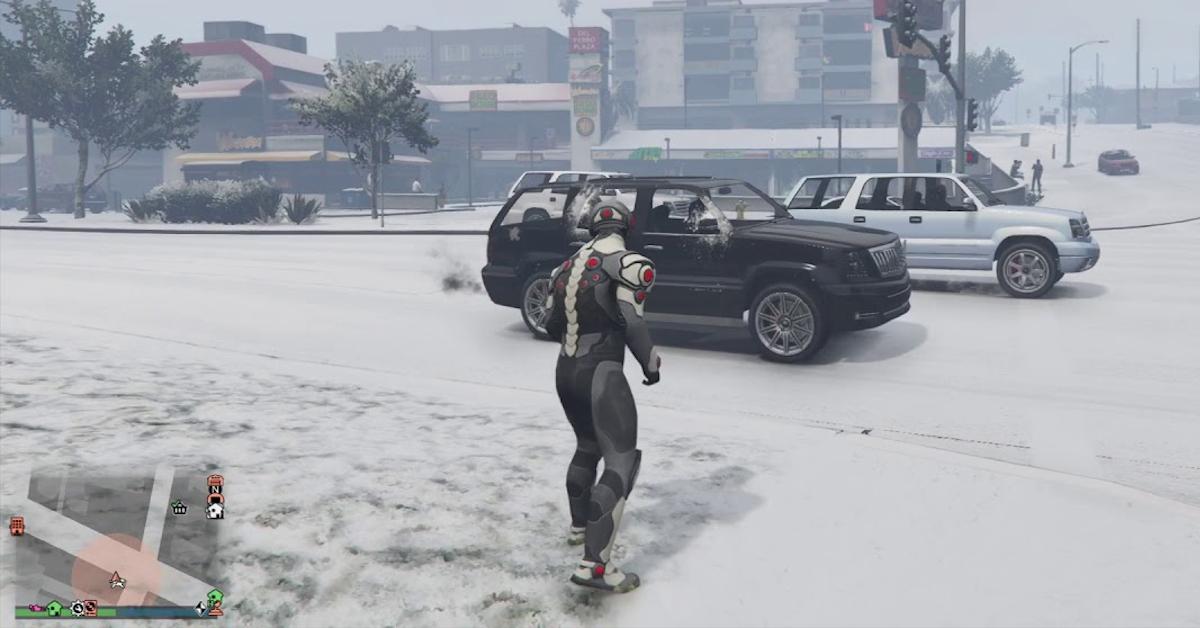 It's Snowing in 'GTA Online' and 'Red Dead Redemption,' but Why?
Gamers who logged in to play 'GTA Online' and 'Red Dead Redemption' noticed that it was snowing, but no one can figure out why. What we know.
Thanks to the recent COVID-19 pandemic and self-isolation orders forcing non-essential employees to stay home, there's been a huge uptick in online gaming. Especially in popular titles like GTA Online and Red Dead Redemption. While publishers are looking to capitalize on the recent spike in activity by creating new game modes and features for players worldwide, it still doesn't explain why it's snowing in the two Rockstar games.
Article continues below advertisement
When gamers logged in to play, they were shocked to find their respective landscapes covered in white powder. In GTA Online, this slightly affects driving by making it easier to drift, but reduces visibility somewhat, especially when driving at higher speeds.
In Red Dead Online, the effects are a bit more real. If you're not packing warm clothes, then your character's health is going to be severely affected.
It also makes hunting animals a bit more of a tricky venture on account of the snow blindness, so if you aren't prepared for it, well, too bad. You could maybe get an online friend to hook you up with some in-game money so you can buy what you need to battle the elements properly, or, you can just wait until tomorrow, probably.
Article continues below advertisement
Article continues below advertisement
That's because Rockstar put snow in the online games as an April Fools' prank, surprising gamers all over the globe. Usually, snow online is a seasonal occurrence, which is why a lot of folks were shocked to see flurries after logging in. If you logged in around the holidays a few months ago in the latter part of 2019, you'd not only encounter a lot of snow, but some festive gifts as well.
In Red Dead Online, NPCs could be found caroling, with Christmas tunes playing from saloons as well, but none of that's going on during April Fools, just a bunch of snow.
If you're enjoying the fact that your avatar's surrounded by flakes of the little white stuff in GTA Online and are bummed that you'll have to wait until winter 2020 for them to return, well, you may be in luck.
Article continues below advertisement
Article continues below advertisement
Apparently, there's a "glitch" in the game that allows players to bring forth the snow whenever they want to online and it's pretty straightforward. All you need to do is pick a mission and then invite a friend to join you online, without fiddling with any of the default settings beforehand. After your online friend joins, for some reason, you'll have snow falling in the game.
Article continues below advertisement
The thing is, some users reported that the snow only shows for whoever invited their friends to come and join in the mission with them; invitees don't get to experience any of that sweet snow action.
Rockstar isn't the only publisher pranking gamers on April Fools' Day though. PUBG created the "Fantasy Battle Royale" game mode which takes place on Dragon's Aisle.
Gamers get to select a variety of different character classes that appear to have been ripped right out of a game of Dungeons and Dragons: Paladins, Barbarians, Wizards, and Rangers are all playable characters. The mode will be up until April 7. It isn't exactly a "prank," more of an excuse to just do something cool for players, which is always neat.