How to Save Your Rootin'-Tootin' Adventure in 'Red Dead Redemption 2'
'Red Dead Redemption 2' is a sprawling adventure where you've got a lot you need to accomplish. Here's how to save your progress on PC and console.
Rockstar Games' popular title Red Dead Redemption 2 is a massive western adventure that's got tons to do. Whether you want to take on the persona of an unsavory outlaw or stay on the right side of the law as much as possible, there's plenty to unravel for all players. But what happens when you need to press pause on the action? How do you save your progress? Here's everything you need to know about putting a bookmark, so to speak, in the sprawling tome that is the story of Arthur Morgan.
Article continues below advertisement
How to save in Red Dead Redemption 2:
But while you're traipsing around the expansive world of the Wild West, you're bound to need to save your progress at some point. While Red Dead Redemption 2 does autosave your progress after certain milestones, such as completing a mission or an important event in-game, there are times where you'll want to save manually. You may be setting out on a particularly difficult journey or need the assurance that something you just spent a lot of time on is safe.
Article continues below advertisement
You can save your progress manually if you aren't in the middle of a mission, not playing any mini-games or time-sensitive activities, or fighting with anyone. You should be free to run around in the world before you try to save.
All you need to do is press the pause button and head to the menu's Story tab. Choose the "Save" option and save your game. You can select from up to 15 different manual save slots. If you want to load your progress from an older save, you can follow this same process.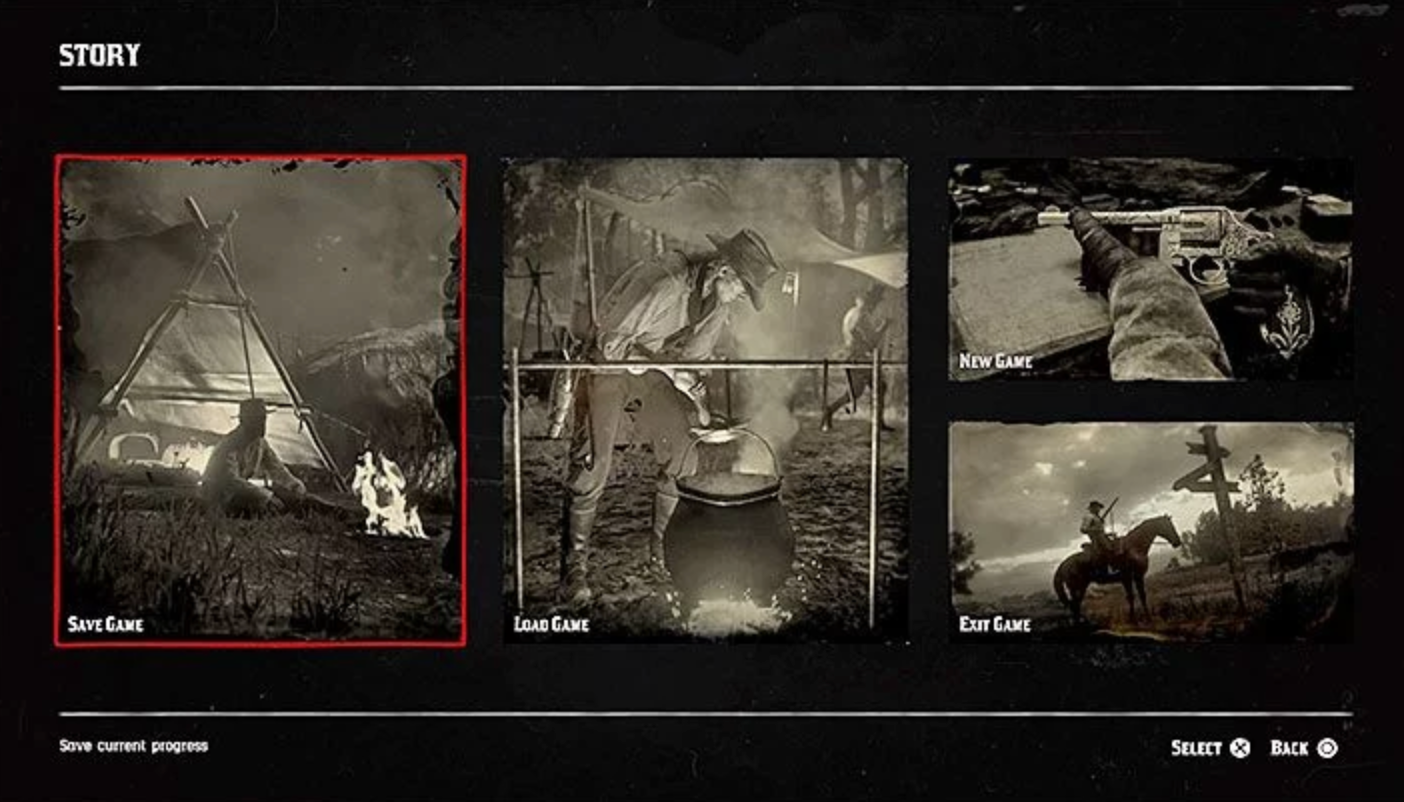 Article continues below advertisement
You can save as often as you'd like, as long as you aren't within the aforementioned areas that won't allow it. It's good to get into the habit of saving after difficult sections as well as the beginning of lengthier chapters. You'll be better off with save "lifelines," so to speak, if you adopt this style of play.
Article continues below advertisement
Is Red Dead Redemption 2 available on PC?
Red Dead Redemption 2 is available now on PC, and you can pick it up even if you didn't pre-order it. It was finally announced as heading to PC following being a console exclusive (Xbox One and PlayStation 4) in October. You can pick up the game by way of the Rockstar Games Launcher, Green Man Gaming, the Epic Games Store, GameStop, and the Humble Store. It will be making its way to Steam in December, if you can deal with a bit of a longer wait.
If you're into fantastic graphics, additional content by way of story missions, weapons, and other new goodies, Red Dead Redemption 2 on PC is the version you should definitely opt for over consoles now that it's up for grabs. It looks the best it ever has on PC, and will be even more difficult to tear yourself away from – trust us on this one.