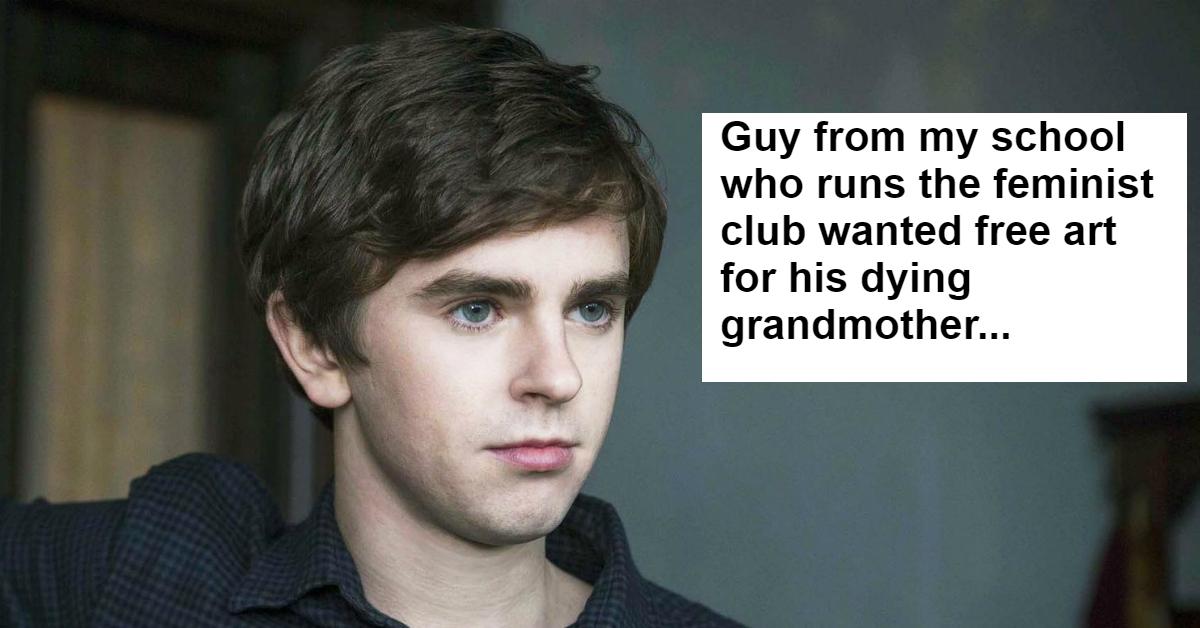 Guy Who Runs University Feminist Club Throws a Fit When Girl Won't Go on Date
You'd think that a person who truly believes in feminist causes would show a little more respect to members of the opposite sex.
No one likes it when a person tries to get free stuff, or someone who looks a gift horse in the mouth.
Honestly, there are fewer things that are worse than having to deal with a cheap person. Whether they're cheap when it comes to money, or cheap emotionally, or in the amount of time that they're willing to spend with/on you, it's almost always an unsavory experience when you're forced to deal with someone like that.
Article continues below advertisement
The only thing that's worse is when someone is a hypocrite. I used to have a friend who loved making jokes about my ethnicity, but the second I turned it back on them they got all butt-hurt about it and then got absolutely vicious with their jokes and to the point where things got borderline racist.
At the very least though, they weren't cheap, at least not when it came to money.
Because a combination of those two qualities are the absolute worst that a human being could have. And this woman who posted to Reddit's r/choosingbeggas subreddit actually went and found a guy who fits that exact description to a tee.
The worst part? He's the head of the "Feminist Club" on their college campus.
Article continues below advertisement
It all started off badly when the guy tried to play the sympathy card and get the young woman in question to give him a "free painting" so he could gift it to his dying grandmother. Already seeing red flags, the artist inquired more.
While it was thoughtful of him to pass off the painting to his dying granny, there's something that needs to be said about the man's behavior. How much did you really care about her if you can't scrape together some money for a kind gesture?
To top it all off and make it worse, he has the nerve to ask the woman in question out on a date. When she denied him on both counts his response was extremely charming and understandable.
Just kidding. He called her a "b***h."
Article continues below advertisement

Sadly, there are plenty of these "extreme cheapskates" stories to be found on the internet. If you've ever dealt in the shady and frustrating world of selling stuff online through Facebook Marketplace, Craigslist, and other similar services, then you probably know the struggle all too well.
Article continues below advertisement
Like this poor individual who was trying to sell a video game console as a bundle and whoever was trying to buy it just couldn't get that through their head.
So they sent them these charming messages.
Article continues below advertisement
Then there are some people who just ask the craziest and weirdest questions you could ever imagine. Like this one person who asked someone who sold cat trees what the refund policy was for people who's pets may or may not perish in the next few weeks.
Article continues below advertisement
Then there are those "nice guys" who pretend to be all about kindness, generosity, and respect towards all people, especially women, and then become insufferable, self-victimizing, and bitter nerds the second they don't get what they want.
Like this dude who was "just wanted to get to know" a nice young woman he randomly decided to message on Facebook.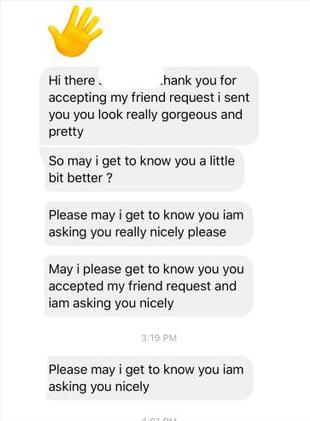 Article continues below advertisement
One: you'd figure the guy would get the hint and think to wait a while before sending her any more messages.
Two: is he like 6 years old? "I'm asking really nicely." Just because you ask nicely for something doesn't mean you're entitled to get what you want. But such is the thought process of a "nice guy."
This is when things really go off the rails, however. It's evident that he messages her several times before absolutely losing his cool and then accusing her of being racist .
Article continues below advertisement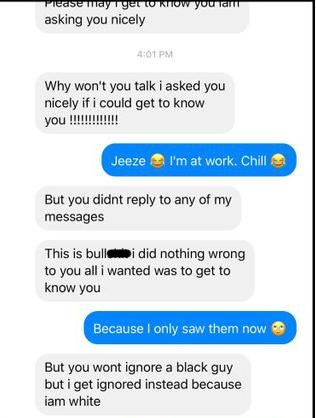 The woman in question tells the dude to "chill" and he just continues to put his foot in his mouth. "But you didn't reply to any of my messages."
Like, if he had two brain cells and was really hoping to shoot his shot and have it work out with a beautiful stranger on social media, the fact that they accepted your friend request is the first step in a long process of trying to get to know them.
Article continues below advertisement
No, but this dude wants it all, "now, now now!" and starts to melt down even worse than before. The more she laughs at his weird and horrible behavior, the angrier the guy gets.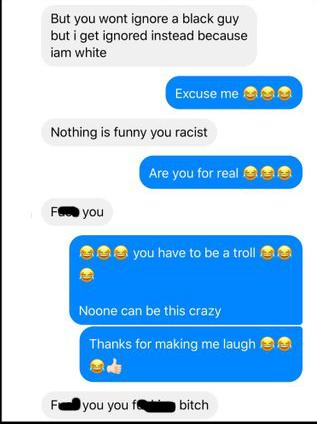 Article continues below advertisement
It makes you wonder just what these dudes are thinking before randomly messaging a person they don't know online. I guess it comes with the territory though.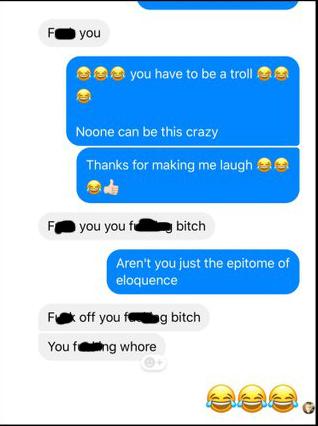 So a "choosing beggar" interaction or a "nice guy" one are always terrible, but when you have one that's a combination like our friend who runs the campus Feminist Club above, that's a rare find. Not the good kind of rare find like an awesome old school car you found in great condition for a good price. More like stepping on a small puddle of water when you're wearing fresh socks, in the desert, kind of rare.