Habitat for Humanity Store Gets Blasted for "Insane" Price Gouging in Viral TikTok
A TikToker went viral after calling out Habitat for Humanity, a charity store, for charging "insane" prices for hand me down goods.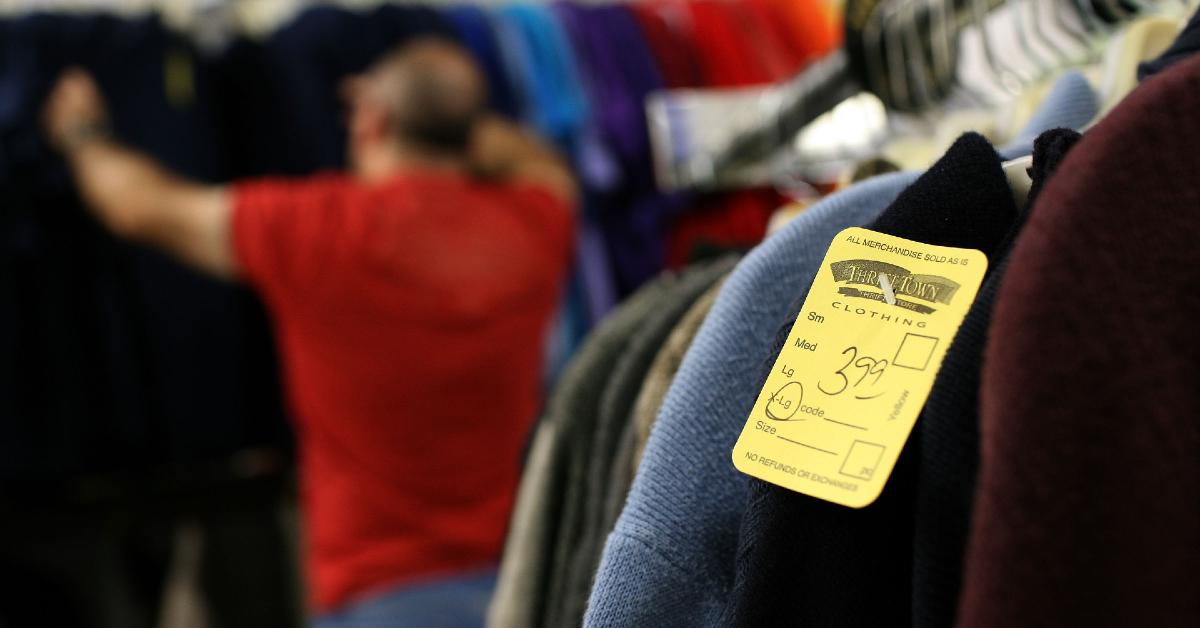 The entire allure of a secondhand store like a thrift shop is that you can potentially score some good finds for a super low, low price. Sure, you have to sift through a bunch of junk to hopefully get to the proverbial treasure at the end of the thrifting rainbow, but that's the whole point of the experience.
Article continues below advertisement
However, a number of recent social media posts have revealed the prices of the wares at secondhand stores are sometimes shockingly high, and much has been written about these hikes. Some have attributed it to resellers "ruining" thrift store experiences, while others have said that prices are increasing due to inflation.
Whatever the reason, folks are still experiencing sticker shock when they walk into many of these stores, like one TikToker who couldn't believe what a Habitat for Humanity store was charging for some used items. @Frau_ruckt posted about her experience in a now-viral clip.
Article continues below advertisement
She writes in a caption for the post: "Habitat for Humanity or Habitat for a Wall Street business executive? Wow!" In the video she shows off various products and comments on their prices: "OK, so I went to Habitat for Humanity just looking around at random junk as you do and I stumbled upon these exterior light fixtures."
Article continues below advertisement

She shows off the lights in the video, which appear a bit crusty, as if they've been subjected to normal wear and tear and cosmetic damage from being exposed to the elements for extended periods of time. "And they were like broken and jacked and dented and whatever but I was like hmm these are kind of interesting."
Article continues below advertisement

She picks up one of the fixtures and turns it around to reveal a $200 sticker: "And then I looked at the price tag and I was like two hundred dollars? For one? There's no way. What? No way. For even the set there's like no way. These are broken and jacked. Like, this can't be right. So I went up to the lady and I was like, hey can you please clarify for me? Are these like $200 apiece or the whole set?"
Article continues below advertisement

The TikToker continued, "And she was like, 'well I don't know, let me check for you,' and I was like, OK. So I went on to go look at all this random crap, right? I mean, like, it's crap. Some of it's broken some of it's gently used, like whatever, you kind of reach through it and find what you want."
Article continues below advertisement

In the clip, she ambles throughout the store, which appears to be a warehouse of sorts, with an assortment of items sloppily strewn about. It looks like a glorified garage or storage unit. She then gets to a large wooden dresser set. "So then I come over to this furniture and I'm like, this stuff you'd find like on the side of the road, and then I was like what?!" She shows the $800 price tag.
Article continues below advertisement

"$800? This is crazy. So, anyhow, the lady comes back and she's like, 'yeah, you know, they're $200 apiece, you know, they're normally $400 brand new.' And I'm like, 'Becky, they're broken. Like the plexiglass is broken. They're dented, they're stained."
Article continues below advertisement

She then goes on to show the high prices of other furniture items, one with a sticker price of $850. "This was free! Habitat for Humanity, one of out ten stars, not going back. This sucked."
Other TikTok users in the comments section echoed the woman's gripes, stating that other thrift shops have begun upping their prices as well.
Article continues below advertisement

"Goodwill is drinking the Kool-Aid too," wrote one.
"Habitat became useless about 3 or 4 years ago," said another.
"Thrift is the new retail."
Others stated that the high prices have caused them to stop donating to these stores as they'd rather go online and offer them up to donation to individual people in need instead.