TikToker Catches Antique Store Selling $8.99 Goodwill Find for $220
A TikTok user got folks on the platform chattering after reportedly finding a brass swan at a thrift shop that still had a Goodwill tag on it.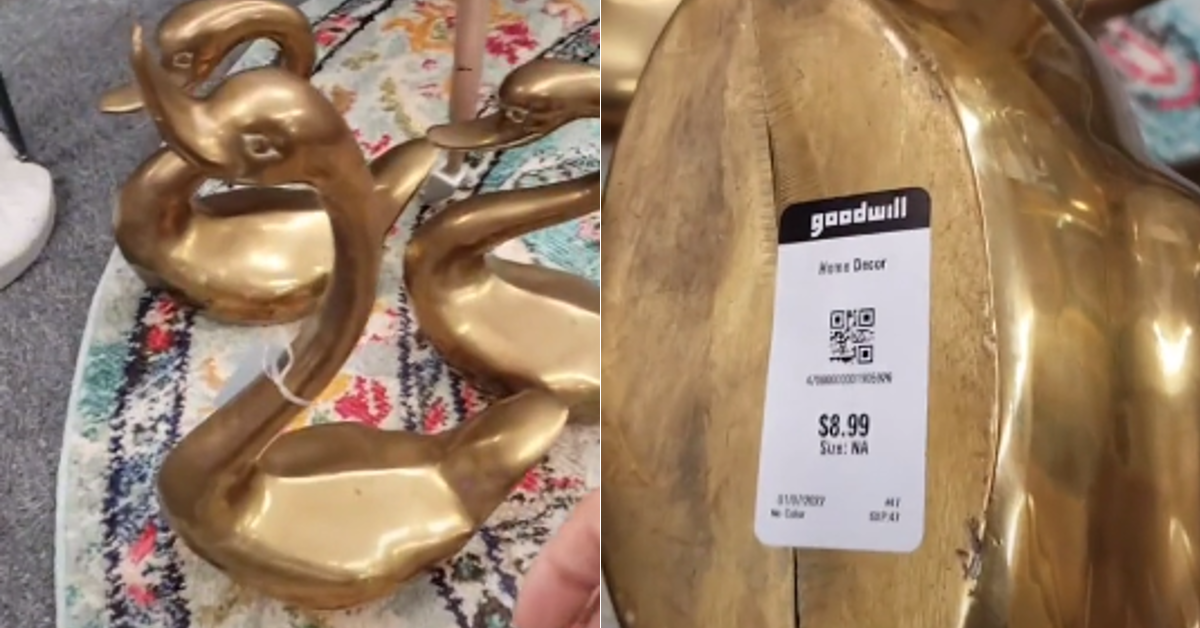 Folks are always looking for a deal. Whether it's that one pal of yours who's hitting up everyone in their friends' group for their employee discounts, or that other who will bring a dented turkey to the customer service desk to try and get an imperfection mark-off. And while there are plenty of people who proudly label themselves as conquistadors of the clearance rack, there are others who would say that those same individuals sacrifice quality by looking for a bargain.
Article continues below advertisement
Article continues below advertisement
But of course, there are premium products that are worth their premium prices, and you'll have plenty of folks who've got no problem sharing that information. From people who swear by L.L. Bean Boots, this $115 umbrella that won't collapse on you, or the latest piece of Apple tech that are generally very high in quality, it's easy to see why they're willing to pay the extra dollar.
And then there are folks who also swear by shop finds, something that this TikToker suggests can be very hit-or-miss.
Article continues below advertisement
The notion of purchasing a "bespoke" item at an antique shop maybe leave one thinking that they're getting a charming, one-of-a-kind purchase that is worth a higher price. Let's say you're buying an antique dresser, you probably think you're getting something that hearkens from a time when things were built to last. Imagine the acoustics of its aged wood drawers as you groggily wake up in the morning and pull out your underwear.
But as @angelmunoz90 demonstrates, sometimes antique/thrift shop owners are banking on the fact that some people are more than willing to get price gouged. Or is it really gouging?
Article continues below advertisement

In the clip, Angel shows off some brass swans he spotted in the antique shop selling for $220. However, it seems that whatever employees are working at the location forgot to remove the Goodwill sticker slapped to the bottom of it that showed the swans were sold at one of the Charity Organization's locations for $8.99.
Article continues below advertisement

A lot of commenters chimed in to share that many antique shops are just "resellers."
Others said that it's because of finds like this that they "don't thrift anymore."
@chadsonehourphoto implied that this is a common phenomenon, stating that "Thrift flippers are ruining thrifting." @emberand agreed, saying, "Resellers are destroying most hobbies and markets right now."
Article continues below advertisement

However, there were others in the comments section who said that all of the haters basically needed to stop being such nerds and start making their own money off of Goodwill and thrift store finds.
Article continues below advertisement

@Taja0711 claims they sold a .50 cent Langston Hughes 1st edition book for $600: "I do this all the time but with books. bought a 50 cent signed 1st edition Langston Hughes and sold for $600+ stop hating and jump on the bandwagon."
Article continues below advertisement

@GuntherButt echoed that sentiment, "'thrift flippers ruin thrifting' says someone who would love to do the exact same thing.'
But then some users said that this isn't a case of price gouging at all and that it's not the antique store owner's fault that goodwill inaccurately priced the bronze swans.
Article continues below advertisement

What do you think? Is this a case of someone charging a ton of money for a product that's probably not a lot of money? Or is the TikToker and users in the comments section just upset that they didn't think of it first?