Man Accuses Goodwill Workers of Keeping Best Donations for Themselves, Sparks Debate
A TikTok user uploaded a video of goodwill workers reportedly "hoarding" sneakers for themselves as customers look on.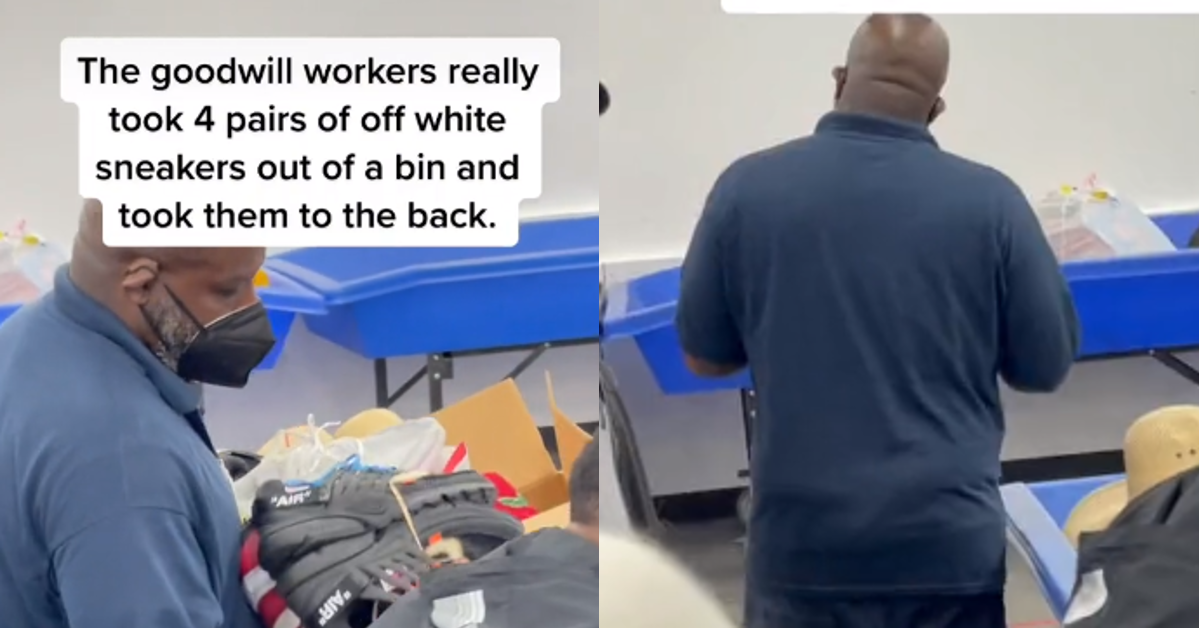 Like any job, working in retail comes with a litany of headaches. From unruly and irate customers who are always trying to pull one over on you, to managers who may ask you to engage in practices some folks find questionable, to having to work late and/or holiday hours without an increased per hour rate, it can often be a thankless job.
Article continues below advertisement
It doesn't help either that depending on where you live, the average salary for a retailer worker really isn't that much to write home about, unless home is a country where the exchange rate means your American dollar can go a long, long way.
But working retail does have its perks.
Let's say you're a big fan of the products that said retailer sells, you do get an employee discount that can definitely help you save some cash.
You'll also get insider product news and forthcoming release schedules, and if you want to grow in said company, doing so is entirely possible if you crush your work duties and demonstrate interest/skill in earning the business more money.
But for many folks, it's all about the sweet, sweet deals they're able to get their hands on in-store, especially if they aren't making all that much.
This is what TikToker @fozzyozzyy says these two Goodwill Workers are doing in a video uploaded online.
Article continues below advertisement
The text overlay for the video reads: "The goodwill workers really took 4 pairs of off-white sneakers out of a bin and took them to the back."
If you aren't familiar with Goodwill, the organization describes itself as: "a non-profit social enterprise, [that] provides work opportunities, skills development and employee and family strengthening for those who face barriers such as disability or social disadvantage; with the aim of advancing individuals, families and communities toward self-sufficiency and prosperity."
Article continues below advertisement

The organization's locations are generally viewed as "charity" stores that feature a litany of donated items that are put up for purchase for usually a low price.
Article continues below advertisement

If you're willing to scour through the store you can sometimes find great deals, and it gives access to folks who are either trying to save money or don't have the resources to pay full or even retail discount prices for items that they otherwise wouldn't be able to afford.
Article continues below advertisement

This is probably why it rubbed so many people the wrong way that this Goodwill store's workers were reportedly "hoarding" sneakers for themselves by bringing them into the back room.
Article continues below advertisement

There are various online retailers that people could go on to sell clothing items, such as Poshmark. Some theorized that the employees are either keeping the swag that they found in the bins for themselves to potentially sell online and beef out their paychecks.
Article continues below advertisement

Some just said that all the employees are just enjoying "the perks of the job." @njsoles simply wrote, "as they should." While another user wrote, "um like every worker at every store?"
Article continues below advertisement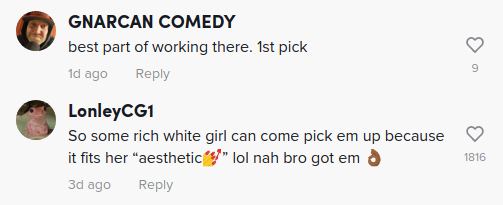 There were others, however, who thought that the Goodwill Workers were taking advantage of the situation, "...and the person who donated those thought they were helping the less fortunate..."
Article continues below advertisement

And then there were a few people in the comments section who stated that this is store protocol and the employees are taking the "better" items that they could find to auction off on the Goodwill Store's website in an effort to earn more money for the charity.
Article continues below advertisement

What do you think? Is this acceptable behavior at a corporate retailer, but is not-so-kosher when it's a charitable organization such as Goodwill? Or are these employees really just maximizing whatever benefits they can glean from their gig? Or are they just doing their job as instructed by management and the video comes from a salty customer who's upset that they can't get some good sneakers for themselves and want to throw shade at workers?