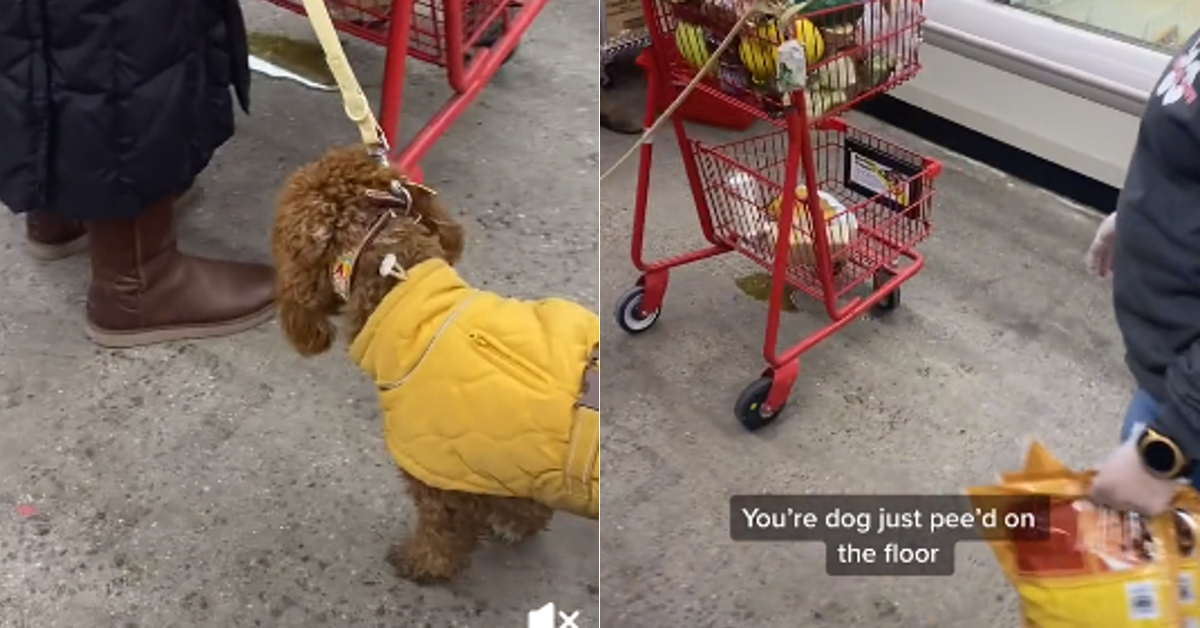 Woman Whose Dog Pees on Floor of Trader Joe's Gets Called out by Employee in Viral TikTok
The bonds that people share with their pets can be truly phenomenal. There are tons of stories of dogs who refuse to leave their owner's sides, even after they've passed away. Even cats who are generally regarded as heartless stay-away-from-me creatures have been caught on camera looking after their family despite being out-sized, unhesitatingly throwing themselves into danger to protect one of their own.
Article continues below advertisement
So it makes sense that folks would want to bring their pets anywhere and everywhere with them, and they sure try to. Remember when everyone and their mother were trying to carry on animals as emotional support pets onto airplanes? Airlines have since put the kibosh on that after folks tried ushering on squirrels, turkeys, and you just know there was someone out there who attempted to sneak an emotional support Komodo Dragon onto United.
And while it's understandable as to why a business wouldn't want folks keeping an animal in a confined space in the sky for hours at a time when there are other passengers on board, it's a bit more commonplace to see pet-owners bring their companions shopping with them.
Like this one woman who brought her cute, mustard-sweater-wearing dog to Trader Joe's. And TikToker @special_head says the pooch peed on the floor of the store.
Article continues below advertisement
The clip begins with a Trader Joe's employee asking customers who the dog belongs to. A woman wearing a mask approaches the employee and says that she's the owner. The store worker informs the woman that the pupper just urinated on the floor of the store and reminded her that folks aren't allowed to bring their animals inside.
Article continues below advertisement
The masked woman says, "I know, I'm grocery shopping" and follows up by saying something inaudible on the camera. However, someone off-camera can be heard clearly saying, "No ma'am, the dog did pee on the floor," to rebut what the masked woman just said.

Article continues below advertisement
In the caption of the video, @special_head writes, "She wanted the employee to clean it." There were other folks in the comments section who indicated that they encountered similar behavior from pet owners during their own retail experiences.

Article continues below advertisement
TikTok user @dee_dee147 writes, "When I worked at target a customer's dog [pooped] on the floor so I found a roll of toilet [paper] and handed it to her. She seemed shocked that I didn't clean it up."

Article continues below advertisement
Others just couldn't understand why people would bring their pets with them to a grocery store in the first place. User @geuido wrote, "Unless you're bringing your dog to Petsmart leave them at home! It makes no sense when people bring them to Lowe's. How the hell are you shopping!!"

Article continues below advertisement
@makisakye echoed the sentiment writing, "Idk, I just feel like there are certain things you do without a pet, and grocery shopping is one of them."
A user with the handle @btownbiddy thought that there should be a zero-tolerance policy for pets peeing on the floor of a supermarket: "They should've promptly escorted her out of the store."

Article continues below advertisement
Others were disgusted by the thought of an animal peeing right next to groceries that people are going to buy: "Yeah that's really unsanitary having the dog there knowing it peed on the floor BY FOOD."

Article continues below advertisement
Then there were folks who thought that the dog's owner was being shady by placing her cart over it and trying to hide the fact her animal urinated instead of promptly cleaning it up. "She really had her cart over it like no one would see it," @dbarr717 wrote.
What do you think? Should animals who aren't service dogs just stay out of retail environments? Or if you've got a well-mannered and behaved pet is it all right to bring them indoors?