UberEats Driver Accidentally Delivers Food to Wrong Person, Demands They Pay
A viral TikTok of an UberEats driver recording a customer she "accidentally" delivered food to demands he either give back the order or pay her for it.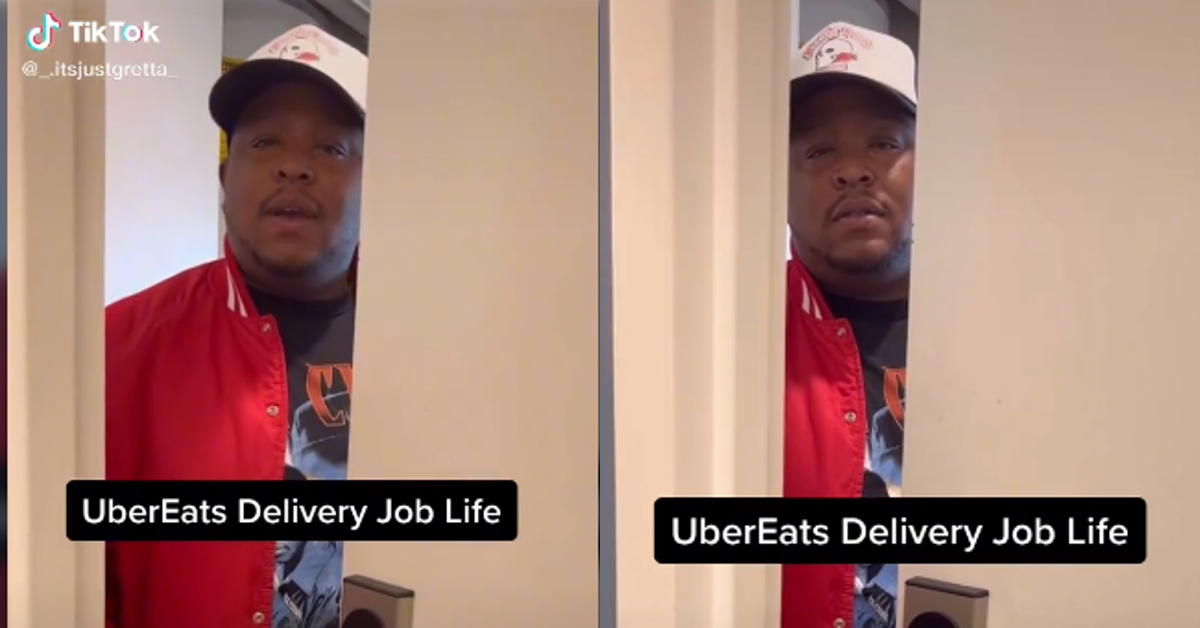 Pretty much everyone's got a smartphone with a high-resolution camera in their pockets these days. And pretty much everyone's subscribed to multiple social media accounts are on the lookout for the next IRL content that's going to take their follower count to the next level so they can earn money and launch their own personal brands in an attempt to earn even more money and make sub-par music that racks up millions of views to create an illusion of talent and self-worth through online popularity.
Article continues below advertisement
TikTok has helped create more than a few millionaires since the Chinese company ByteDance LTD. launched the application and there are a lot of different ways folks are going about gaining followers using the service. One popular niche of TikTokers are folks who chronicle their daily lives/routines and less-than-glamorous jobs.
Like Dylan Lemay who has managed to amass over 11 million followers on the platform through his POV recordings of his ice cream creations as a cold stone employee.
There are several DoorDash and UberEats drivers who've been uploading content on the platform that includes their fair share of drama. And a recent clip by TikTok user @_.itsjustgretta_ is no exception.
Article continues below advertisement
In the video, the UberEats driver can be seen recording a customer who attempts to close the door on her as she demands they either give her a bag of food she allegedly delivered to the wrong address or that they pay her for the order.
Article continues below advertisement
"It was an honest mistake, sir. All I need is the order back. The food or the money. I cannot afford to pay for this. This is not my fault. You knew you didn't order the food, and you took it," the UberEats driver says.

Article continues below advertisement
"If I show this video to the police then it's gonna be you. You're the one that's gonna be at fault here," she tells the man. Even though the woman constantly demands the money or the food and accuses the man of taking an order that wasn't his, he denies ever taking the wings and refuses to cough up any cash.

Article continues below advertisement
"It's either you give me the wings and the remainder of the order, or you give me the $17.22."
He responds by saying, "I don't have no money for you, and I don't have no wings for you."
The UberEats driver accuses the man of changing his behavior after she begins recording to imply guilt: "Now you want to act all innocent because I'm filming you."

Article continues below advertisement
The interaction sparked a debate in the comments section. There were some who claimed to be UberEats drivers that stated that it was entirely the TikTok user's fault as she delivered the food to the wrong address initially.
Another user with the handle @bigmo253 penned, "As a Uber eats driver. The app will send another driver with the right food to the correct location. No need to talk to the customer."

Article continues below advertisement
Kennyth Brownlow wrote, "Yea I did Postmates and honestly that's on you… you gotta be aware of where you dropping the food off… you are your own boss dawg."
@William1019 wrote, "You made the mistake. You pay the consequences. I'm a Uber Eats driver also and I would never have the nerve to act this way."

Article continues below advertisement
Others however thought that the customer was grimy for taking food that he knows he didn't order: "all yall saying its her fault he's still in the wrong," @axc_maree4x said.
Then there were others who thought that they both were in the wrong, and then there were those who would have admitted to eating the wings, but that they would've paid her too.

What do you think? Is there someone who is more to blame in this situation? Or are they both acting out of pocket?