Man Blasts Starbucks For Punishing Employees Who Don't "Connect" With Customers
A TikTok user posted an internal note from the company that's reportedly penalizing employees with low scores for not "connecting" with customers.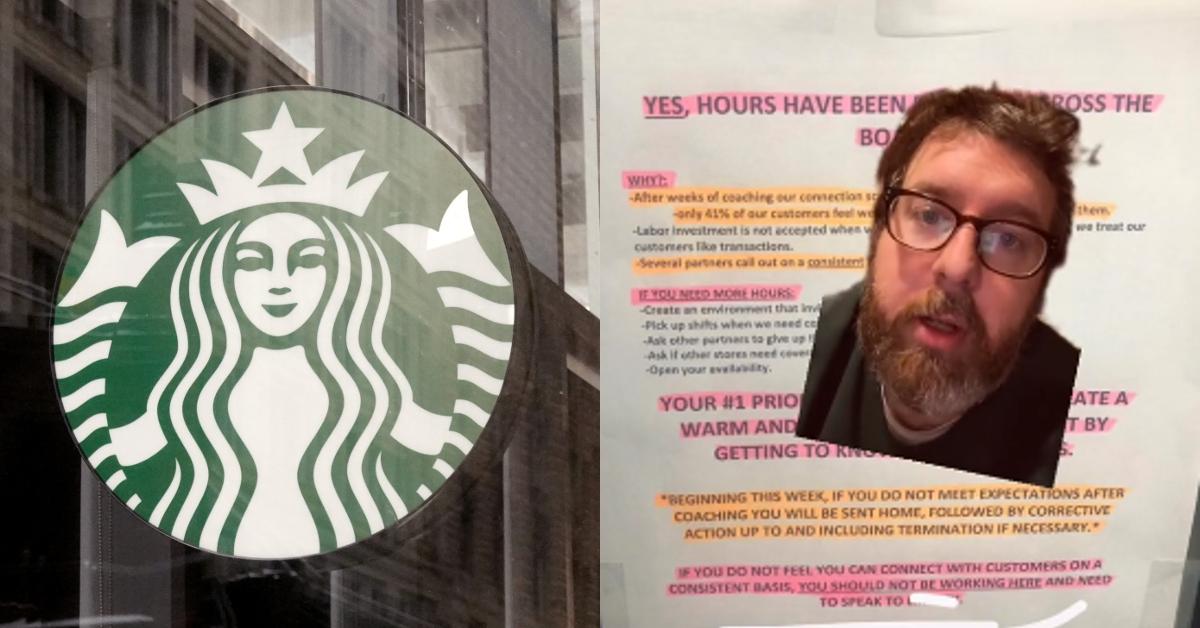 Working in the foodservice industry can be tough at times. From fast-paced food rushes to irate and unruly customers, it can start to feel like a lot more trouble than it's worth.
It also doesn't help when upper management begins making demands that seem like they're either crossing the line or being downright unrealistic, like this one restaurant that demanded its servers secure a certain number of 5-star Google Reviews or risk termination.
Article continues below advertisement
And while it's understood that a certain level of congeniality is expected of your server, it's a bit much to think that every single server you come across is going to try and become your BFF. I don't know about you, but I'd like to have my meal with my friends, maybe chat a little bit with whoever is bringing me my food, and go back to ranting with whoever I'm with about why The Artist sucks.
And while it's understandable that someone would have a friendly discussion with a server at a restaurant that they're probably hanging out at for an hour or so, no one really expects their barista at a coffee shop to go out of their way to ask them personal questions in an effort to "get to know them."
But that's what this TikToker said an internal Starbucks memo to employees expects of its staff.
Article continues below advertisement
TikTok user @benwithabee (Ben) uploaded a clip that shows what is reportedly documentation from a Starbucks location that blasted its employees for not going out of their ways to be friendlier with customers. And by friendlier, they mean ensuring that customers who frequent the store feel like baristas are making an effort to "get to know them."
Article continues below advertisement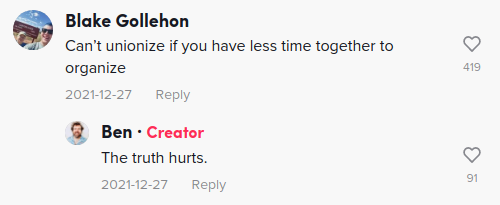 Where things become troublesome is that the memo delineates that this is one of the reasons a specific number of employees are experiencing hours "reduced across the board."
Article continues below advertisement

The document in question contains the following text: "Only 41 percent of our customers feel we take an opportunity to get to know them. Several partners call out on a consistent basis with no coverage. If you do not feel you can connect with customers on a consistent basis, you should not be working here."
Article continues below advertisement

A photo of the policy reportedly first showed up on Reddit, but there have been other posts by baristas on the platform in the past that have called out similar exhortations for meaningful employee/customer connections in the past. In a rant put up by user @Throw--that--away, the practice was heavily decried with a palpable sentiment of frustration.
Article continues below advertisement

"Every morning we do 'customer mapping.' Pretty much, we're forced to come up with a new way to get people off their phones/closer to us to be sucked into a conversation they don't want to have wherever they are in the store. Every customer must be greeted, have a full conversation at the register, have an entire conversation with the person on bar, and then be thanked as they leave."
Article continues below advertisement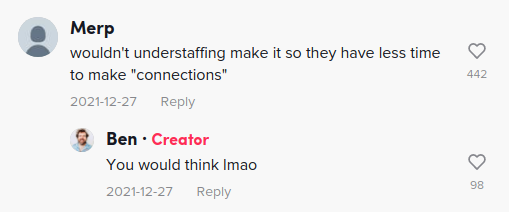 Ben, whose post about the Starbucks memo is going viral on the platform, says in the video, "This is a PSA to Starbucks and whoever runs the store. I don't need people to get to know me at your store. My relationship with you is very transactional."
Article continues below advertisement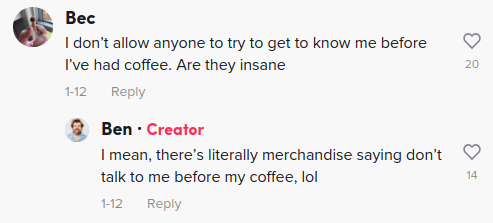 He also went on to speak about the duties of a manager with regards to employees calling out of their shifts without attaining coverage: "That's the duty you take on when you become a manager. Managers are supposed to work for their employees. They're not better than their employees."
Article continues below advertisement

A bunch of TikTok users expressed their agreement with Ben and that a lot of the "getting to know you" interactions from baristas felt like very forced conversations. Others also highlighted how impossible it is to "get to know" someone within the 30-second turnaround time that they're expected to process, make, and hand customers their orders.
Article continues below advertisement

What do you think? Do you like it when baristas attempt to make "forced" small talk with you? Or are you more concerned with as politely, and quickly, getting your coffee and going on your merry way as fast as you can?