Open Letter Signed by Writers Like J.K. Rowling and Margaret Atwood Draws Criticism for Decrying 'Cancel Culture'
'Harper's Magazine' released the letter, which was signed by over 100 writers, journalists, professors, and thinkers, and faced intense backlash almost immediately.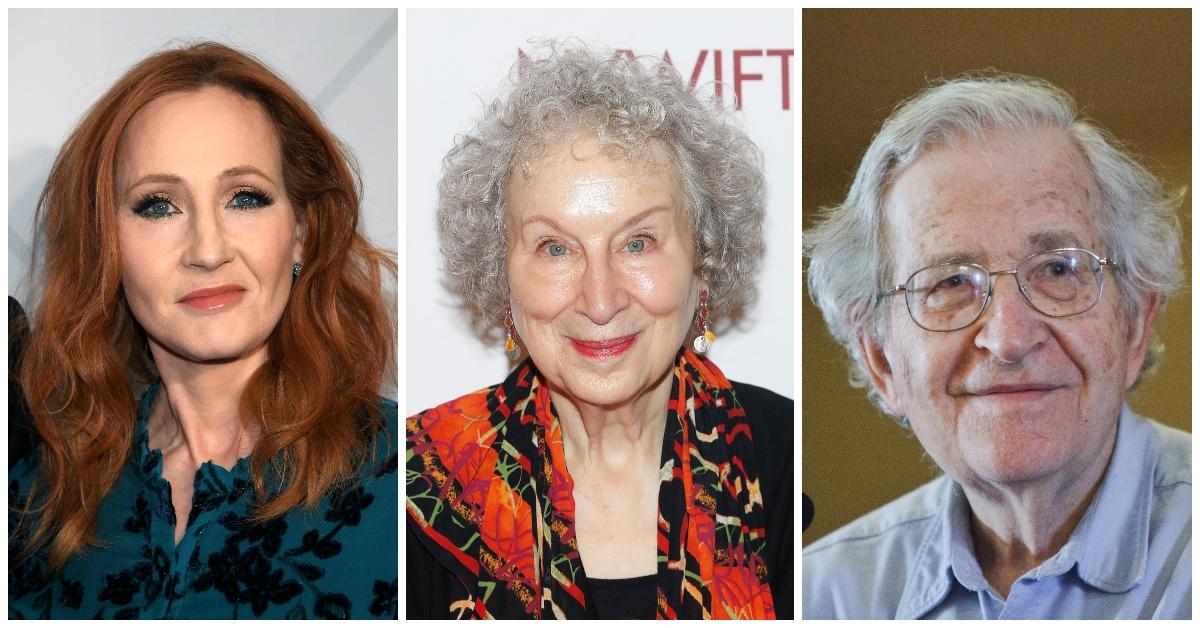 J.K. Rowling, Bari Weiss, Margaret Atwood, Gloria Steinem, and Noam Chomsky are among the more than 100 writers and thinkers who signed an open letter published by Harper's Magazine on July 7. The letter, titled, "A Letter on Justice and Open Debate," essentially decries "cancel culture" and calls for the preservation of the possibility of "good-faith disagreement without dire professional consequences."
Article continues below advertisement
While the letter may have aimed to support free speech and debate, the cast of characters who signed it and some of the examples cited made it clear to thousands that the spirit of the letter came from a place of defensiveness and bitterness about being called out for problematic actions.
Article continues below advertisement
J.K. Rowling wrote that she was "very proud" to sign the letter in defense of the idea of "open debate and freedom of thought and speech." She was immediately criticized because she has recently come under fire for continuing to push harmful, anti-trans rhetoric to her millions of followers.
Because of the public nature of J.K. Rowling's recent anti-trans tirades and the pride with which she posted the letter, many view the Harper's letter as directly supportive of transphobes and transphobia.
Article continues below advertisement
The letter seems to argue for free speech, but the freedom to say what one likes, some may need to be reminded, does not preclude one from criticism or consequences. In a piece for Gen, Jessica Valenti points out that, if you look closely at the letter, the examples of "good-faith disagreements" it cites cannot be categorized that way at all.
Article continues below advertisement
Valenti points out that the letter also mentions editors being "fired for running controversial pieces," ostensibly a reference to James Bennet, the New York Times editor who was ousted after running Tom Cotton's incendiary op-ed, which called for the use of military police force against protesters, without even reading it before hitting "publish."
Article continues below advertisement
"The point is," Valenti writes, "that a good number of the people attached to the letter — which presents itself as an objective defense of free speech — are those eager to excuse their own bad behavior and bigotries."
Article continues below advertisement
"I did not know who else had signed that letter," Boylan wrote on Twitter. "I thought I was endorsing a well-meaning, if vague, message against internet shaming. I did know Chomsky, Steinem, and Atwood were in, and I thought, good company. The consequences are mine to bear. I am so sorry."
Article continues below advertisement
It's safe to say those who signed the Harper's letter were not expecting such harsh backlash, but in 2020, when conversations about free speech and "cancel culture" loom large, it won't get by the internet when over 100 powerful people with large platforms sign a letter telling others to stop getting mad at them when they say problematic things.
J.K. Rowling, among others, seems to believe she should be able to spout misinformation about trans people and issues without being criticized or corrected, and that's a misconception about free speech the Harper's letter defends and promotes.