These Magical 'Harry Potter' Vans Are Every Sneakerhead's Wish Come True
'Harry Potter' Vans just dropped and Hogwarts loving sneakerheads are flipping out. Vans posted a teaser on its Instagram account and people are already talking.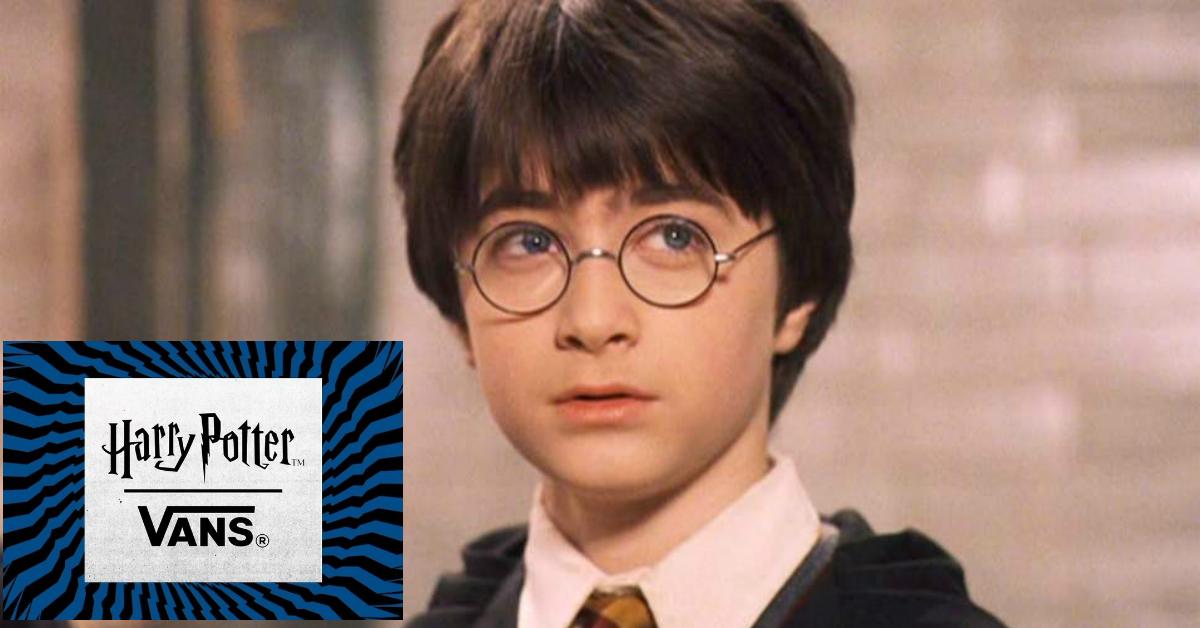 Harry Potter Vans are apparently a thing now and people are waiting with bated breath to see just what the popular sneaker manufacturer has in store for every Hogwarts-loving person out there.
When it comes to buying branded merchandise from your favorite TV show or creative series, the choices are unfortunately almost always a bit lame. And that lameness starts from a very young age, usually.
Article continues below advertisement
Look, I loved my Payless Teenage Mutant Ninja Turtles shoes as much as the next kid, but there was no question as to the quality of said shoes: they were downright awful.
Licensing deals can kill a lot of potentially good products, time was you knew a video game was going to suck, for example, if it was based off of a comic book character or cartoon.
But nowadays, that isn't always the case. Reputable businesses that are known for their stationery, jewelry, and clothing, will often collaborate with popular TV and film franchises in order to bring something truly special to the market. The Harry Potter series is no stranger to this phenomenon.
Article continues below advertisement
Box Lunch, for example, has created some truly amazing Harry Potter products like handbags, t-shirts, amulets, notebooks, pillows, just about anything and everything you could think of that's related to the magical world that J.K. Rowling has created, they made at least one awesome product pertaining to it.
Unlike a lot of "cheesy" licensing deal merchandise, the stuff you'd pick up from BL actually looks great.
Article continues below advertisement
It's a wonderful thing when a literary phenomenon like Harry Potter ends up getting so much, especially from a manufacturer that knows what they're doing in terms of producing some quality products. Which is probably why so many people are getting absolutely amped over the news that Vans will be producing a Potter line of kicks.
The casual clothing designer made the announcement on social media with this trippy video.
Article continues below advertisement
Judging from the colors of the psychedelic animation in the video, it looks like Vans is planning on releasing some new products that are centered around the four different Hogwarts houses: Gryffindor, Slytherin, Ravenclaw, and Hufflepuff.
Harry Potter x Vans release date:
The website confirms that they won't just be making shoes either, but that they've got an entire line of Potter merchandise that'll be ready to buy very, very soon, "Vans and HARRY POTTER collaborated to conjure up a magical collection of footwear, apparel and accessories for witches, wizards and muggles alike."
Article continues below advertisement


Article continues below advertisement
Vans was recently in the news for releasing the most excellent David Bowie line of apparel celebrating the late singer's brilliant career and most excellent life. The mostly centered on the "Ziggy Stardust" era of the musician's work, but there's a part of me that kind of wishes they got the licensing rights to his Labyrinth look, or maybe an Ashes to Ashes pair of clown kicks with weird pom-poms on them.
On second though, maybe no pom-poms.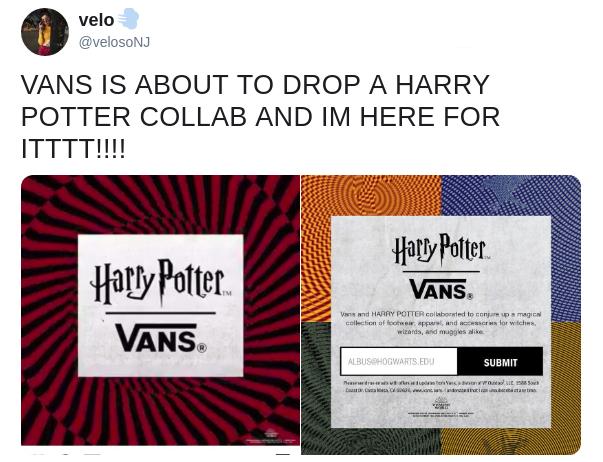 So who's excited to pick up some Slytherin socks? Or maybe some Hufflepuff high tops? What are you most looking forward to in this line? Or are you more of a Bowie or Toy Story person yourself?