You Don't Need a PhD in Physics to Understand Why the Vans Challenge Works
There's a totally reasonable explanation for why Vans shoes always land face up.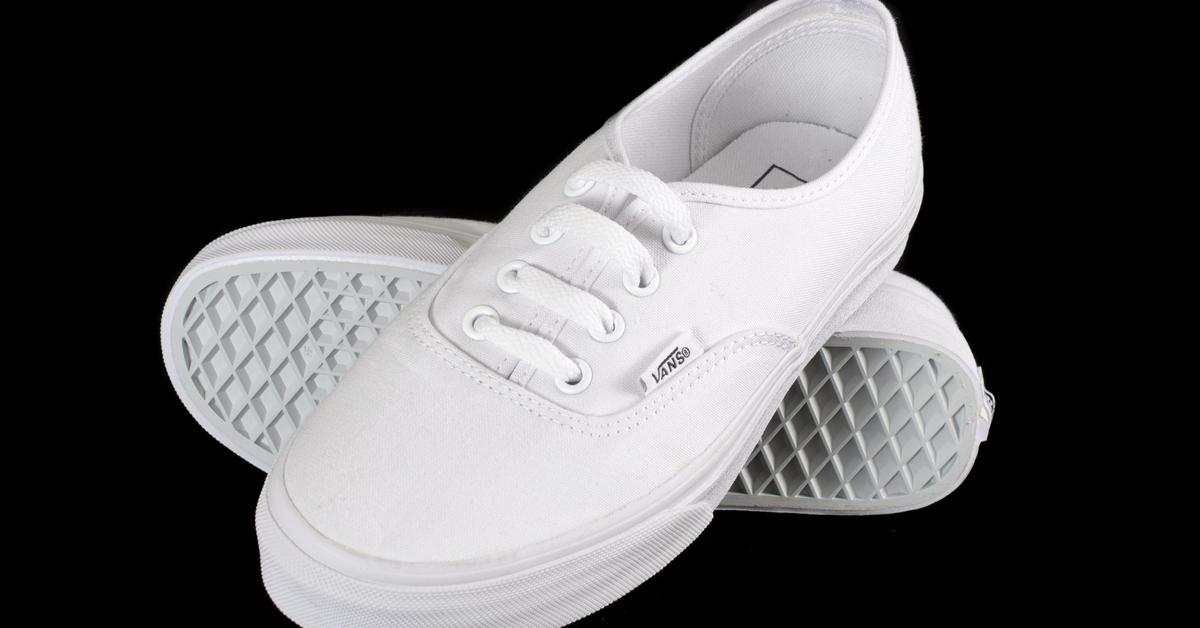 Unless you've been living under a rock or actively avoiding social media these days, chances are you've caught wind of the Vans Challenge, the latest meme to take Twitter, Snapchat and Instagram by storm. The premise is simple: Throw your Vans in the air and see if they land right-side up.
Article continues below advertisement
That's it. That's all there is to the now-viral Vans meme, the internet sensation that's blowing up Twitter, Google Trends and garnering millions of views per ridiculous video. Because why clean your house, do homework or deal with taxes when you can feel like you're back in middle school, conducting a science experiment with your favorite pair of kicks?
Article continues below advertisement
Like we mentioned, the whole point of throwing your Vans high up in the air is to see if they'll land upright or face-down. Spoiler alert: They will always land face-up, whether you experiment once or three hundred times. Sometimes they'll even roll around the floor for a bit before finding their way right-side-up, but it always seems to work. Yet social media users are so blown away by this fact, they are trying to replicate the effects over and over again.
Some people are even branching out their sole-searching (sorry) to other shoes in their home collections, and have realized that Crocs surprisingly yield the very same results. "It just so happens that Crocs ALSO land face up no matter how you throw them," people are discovering on Twitter.
Article continues below advertisement
So, why do Vans always land face up?
We were hoping you'd ask us this because we have the answer and the answer is actually super simple. So simple, in fact, that you could just sit where you are thinking about it and probably arrive at this conclusion with deductive reasoning. Ready?
Article continues below advertisement
Sure you may walk around wearing Vans for fashion, but don't forget that they were originally crafted as skate shoes. As such, they're designed with a particular weight imbalance between the size of the sneakers and the size of their soles, which is why they look super sartorial, like platform shoes of the early aughts.
Article continues below advertisement
In other words, Vans use a heavy amount of rubber on their soles because their shoes are designed to help skaters land as often as possible. "Like dude........ that's how shoes work," writes one Sarah McGonagall following her explanation.
Well, for an internet whose population managed to blow their own minds by discovering the way gravity works, they are definitely not fans of cold, hard science. "Why you gotta ruin it" is the general sentiment echoed in most threads that go into how Vans actually work.
Article continues below advertisement
Crocs is loving taking part in this conversation.
Crocs, whose shoes are usually just the butt of a joke (unless chefs are wearing them, in which case we 100 percent condone the fashion choice) are adoring capitalizing on this Vans-established social media storm.
Article continues below advertisement
After Twitter user @RidiculousDak posted a video that effectively launched the Crocs shoe flip challenge, captioned "I'll see your Vans and raise you Crocs," everyone who has a pair of Crocs collecting dust decided to jump in on the challenge.
Article continues below advertisement
And the people at Crocs could not be more giddy about the fact that their shoes are making rounds once again, after people discovered a couple of months ago that the little flap on the back can be brought down to secure the shoe in place, in what some are calling "sport mode."
According to Footwear News, a spokesperson from Crocs mentioned that the social media momentum the brand is seeing "appears to be an organic response from Croc Nation." What in the world could Croc Nation be, we're sure you're wondering. It appears to be the term Crocs uses to refer to its loyal customers.
We never thought we'd say this, but even "Maxxinistas," which is what T.J. Maxx calls its customers, sounds better than that.