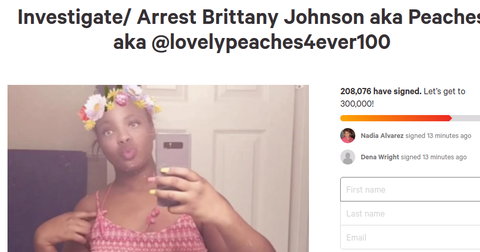 Throngs of People Want Lovely Peaches Arrested for Her "Hate Speech"
By Mustafa Gatollari

Feb. 24 2021, Updated 2:39 p.m. ET
Social media influencer drama is nothing new. It might have something to do with humanity's endless fascination with shallow, gutter-level feuds we love to shake our heads at. Or maybe we're genuinely horrified by some of the things popular influencers say and do, like when Lovely Peaches "joked" about hiring someone to sexually assault TikTok-er Charli D'Amelio or "pimping" her infant daughter out to pedophiles.
The question many people have on social media is, has she been arrested?
Article continues below advertisement
Lovely Peaches' TikTok drama ultimately ended up getting her banned and she lost custody of her daughter.
Not only was Lovely Peaches banned from TikTok, but it seems like she's off of Instagram as well. The "human trainwreck," as many users refer to her online, angered many for publicly threatening to have Charli, a teenager, "raped," but that was only the beginning of the ire she has garnered online.
She also uploaded several videos where she discussed abusing her daughter, Cora, and how she intended to harm the young girl when she grew up. She nonchalantly discussed hypothetical scenarios in graphic detail about how she'd kill Cora and sell her into sexual slavery. There was also public footage of her calling Cora a "ho," and she yelled at the child while on an Instagram live.
Article continues below advertisement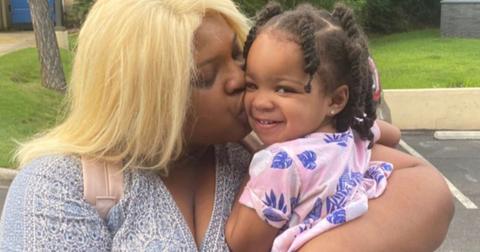 Several people petitioned to have Lovely Peaches lose custody of her baby and folks rallied to not only find a more suitable home for Cora, but bar the social media star from any visitation rights. The Children's Riot and Salvation Foundation mobilized a large scale effort to place Cora in protective care and reports indicate that Peaches will no longer have custody of Cora.
Article continues below advertisement
So Lovely Peaches will no longer be allowed to visit her daughter Cora, according to Children's Riot and Salvation Foundation. They also say the FBI has opened an investigation into Peaches, and Cora will not live with Peaches's parents but with other family members. is this a W? pic.twitter.com/bzUblU6D9u

— Destiny (@drdestiny) August 7, 2020
Has Lovely Peaches been arrested for her behavior?
As of now, no, she hasn't. Although there's been a lot of individuals clamoring for her arrest online, there aren't any records to indicate that Lovely Peaches (real name Brittany Johnson) has been brought into custody for her hate speech and threats against Charli D'Amelio or her treatment toward Cora.
Article continues below advertisement
Just like the petitions to remove Cora from Peaches' custody, however, there is a growing Change.org petition that lists Peaches' behavior and is calling for signatures to help bring the attention of authorities to look into potentially arresting the social media star:
"Brittany Johnson, known to most by her social media persona as "Peaches", is a 17yo prostitute who openly admits to selling sex to older men in exchange for food, money, and shelter to her fan base of over 80k people."
LOVELY PEACHES NEEDS TO BE PUT IN JAIL AND I HOPE SHE FUCKING ROTS IN THERE FOR SELLING HER OWN FUCKING 4 MONTH BABYGIRL INTO SEX TRAFFICKING AND BEING OKAY WITH MEN RAPING HER

— alo (@AlondraB_xo) August 5, 2020
Article continues below advertisement
The blurb on the petition page continues: "She's gained most of her recognition through a series of disturbing social media stunts including eating her own feces, releasing pornography of herself (That's now uploaded to PornHub), licking used sanitary napkins & tampons, as well as even performing sexual acts on a dog (all with video evidence many have saved)...she's been posting [videos of] harming her 8-month old daughter Cora (who she's said she's performed oral on in the past as well)."
"Many fear for the life of her child and are worried she might possibly abuse/kill her [Cora]."
While the individual who uploaded the petition writes in the blurb that they "believe this petition will go nowhere," it's garnered a massive amount of signatures: over 208,000 as of this writing.
Article continues below advertisement
Lovely peaches is fucking sick 🤬 who says shit like that about their own damn child, I don't even got kids yet and this shit pisses me off. Thank you Jesus the baby was taken away from her and is now safe🙏🏾 pic.twitter.com/r6iZUKyNYA

— ParadíNews (@ParadiNews) August 7, 2020
WAIT LOVELY PEACHES IS FINALLY GETTING ARRESTED ?!?

— raggie!! 4 (@cavebugz) August 10, 2020
Article continues below advertisement
A video taken by a man named Mark Gillespie, who claims to be a retired federal agent, has been making the rounds on social media as well. In the video, Gillespie directly addresses Lovely Peaches, saying that he's viewed her videos and is disgusted by them and will work to have her prosecuted to the fullest extent of the law for her behavior toward her child.
Article continues below advertisement
Someone's currently working on trying to get lovely peaches arrested!! I'm so happy. She's literally not funny she a disgusting person who needs help and jail time.

— Neema(cab)🌸 (@euphoric_daisy) August 8, 2020
There are tons of people applauding Gillespie's initiative, with many celebrating the prospect of Peaches being incarcerated for her treatment of Cora.