Meet Cute? A Hinge Date Booked a Couples Therapy Session for Their First Outing
When a woman jokingly said a great first date would be a couple's therapy session, her Hinge date booked an appointment. What could go wrong?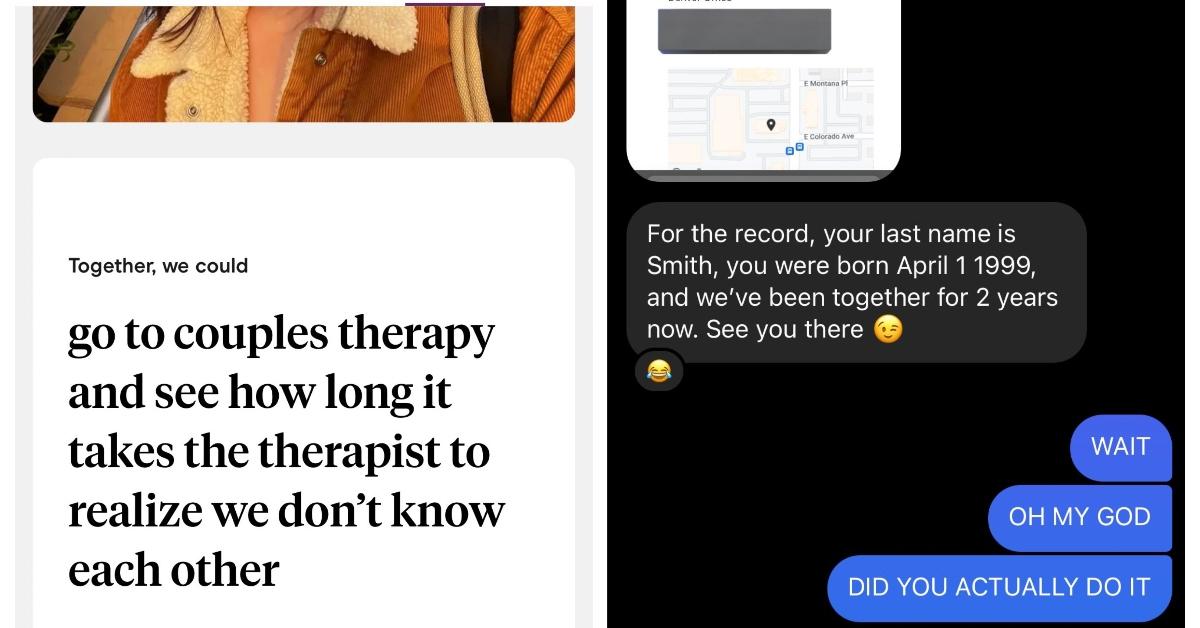 I love my therapist. I talk about my therapist constantly. Anytime I have some sort of breakthrough, big or small, I take to the internet to spread the word. For example, she once told me that being vulnerable means sharing the things that actually frighten me, not the things that other people would be too afraid to share. I've never felt more grateful, and annoyed.
Article continues below advertisement
It usually takes folks quite a while to make their way to a mental health professional and by that time, things are usually dire. But what if instead of putting a band-aid on an open wound, we decided to try and avoid the cut altogether? In a way, that's kind of what Luna Leia was doing when she jokingly suggested on her Hinge profile that a great first date would be going to a couples therapy session together. Sure, some subterfuge would be involved but what if it actually helped?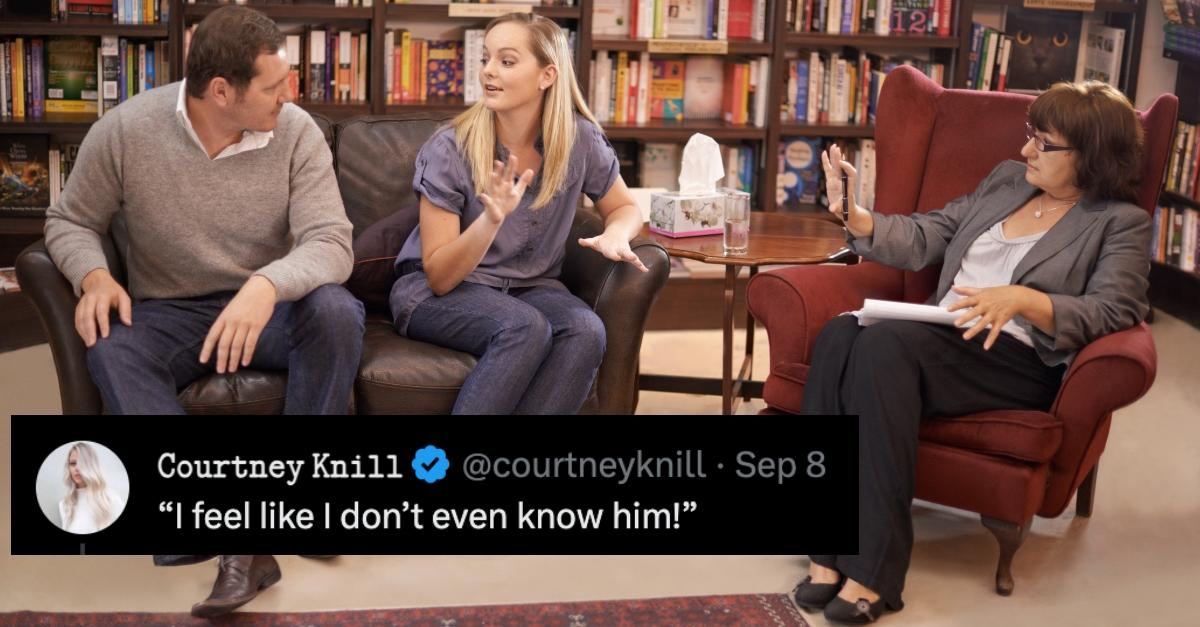 Article continues below advertisement
The doctor will see you both now.
I never took dating apps seriously. For years I would update my bio with some sort of joke then take a screenshot of that and upload it to Instagram so I could snag a dopamine hit from a few likes. You would never catch me messaging someone and I rarely responded to someone else.
This is part of the reason why I appreciate Luna's approach to dating on the apps. Like me, she was hoping to weed out people who didn't get the joke or couldn't possibly appreciate it. My person told me one of the reasons why he swiped on me was because my profile was so odd. I wrote that when I died, I hoped to be buried at a Renaissance festival. I mean that.
Article continues below advertisement
Luna really tossed out a wild scenario when she wrote that something she and a date could do together is "go to couples therapy and see how long it takes the therapist to realize we don't know each other." That's an incredible idea for two reasons. One, it's deeply funny, and two, the person who takes this on is a good time who also isn't afraid of therapy.
Article continues below advertisement
Suddenly Luna was getting a notification that an appointment has been booked for a one-hour, in-person session. The cost was a whopping $170 which is quite a bit of money to spend on a first date. Taking the time to actually find a therapist and book an appointment also suggests this individual knows how to plan, which is so valuable in a relationship. Someone has to love logistics.

Article continues below advertisement
A few people in the replies seemed to think this was in bad taste, as it was wasting the time of a therapist who could probably give that space to a real couple. Look, they're still getting paid and it's just one session. I can't tell you how many times I saw a therapist once and never returned because I knew it wasn't a good fit. A one-and-done is totally normal.
Thankfully, an actual professional jumped into the replies to share their opinion about this charade. "As a marriage and family therapist I find this so f------ funny," said @NinjaNerd007. "I need to know how this plays out ... lmfao I really hope your therapist has a good sense of humor." Who wouldn't want a regular day broken up with a little deleted scened from a rom-com?
Article continues below advertisement
On the other hand, another therapist did not appreciate this ruse and, honestly, she is swaying me over to her side. This therapist, Nicole Fallon, told Luna this was a pretty inconsiderate thing to do. "Do you have any idea how much work goes into an intake and establishing new clients?" she asked. "Also, you may want to check your local laws to find out if you're committing an actual crime by creating fake identities." Yikes, I forgot about the long, often compromised arms of the law.
Article continues below advertisement
As of the time of this writing, Luna has not provided any sort of follow-up in the replies. The therapy appointment isn't until Sept. 24, 2023 and she tweeted about it on Sept. 8. It's time to set a calendar reminder so we can return to this thread.
In the meantime, Luna has tweeted a couple of cryptic things that could be about anyone. On Sept. 10 she said, "He's so hot I would learn how to read an analog clock for him." Perhaps this is in reference to her future couples therapy appointment. Therapists do love a clock. She also dropped this off: "This tweet is specifically for him: You're cute and I like ya." Is this therapy dude or a new kid on the block? Either way, I love it when people go to therapy.