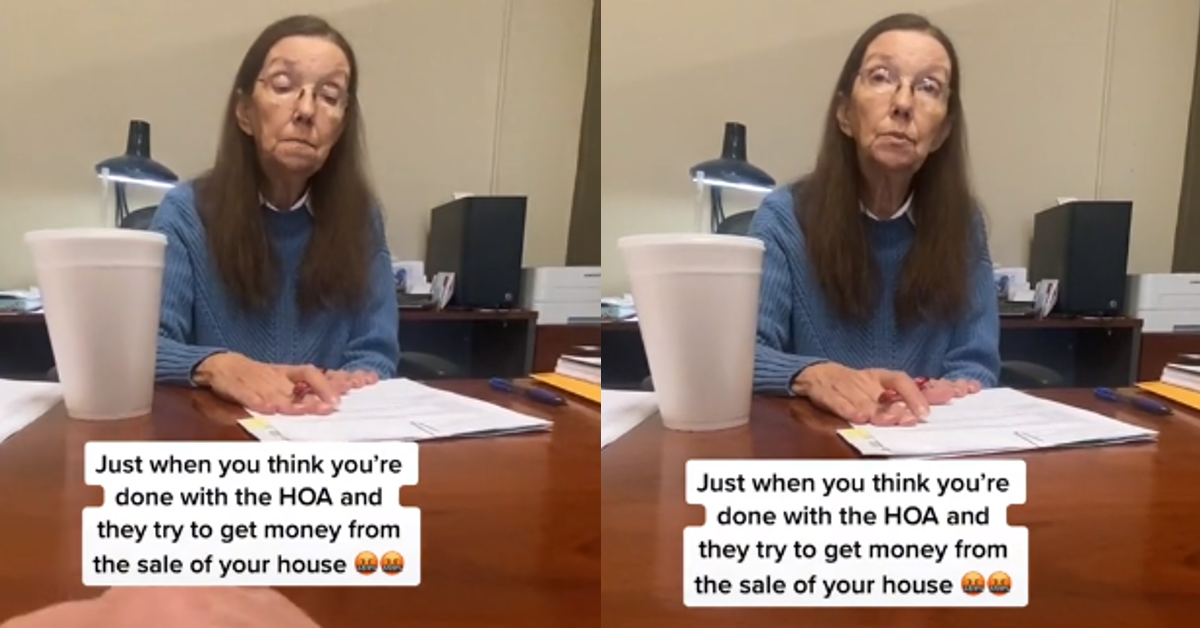 HOA's Outrageous Demand Sparks Viral TikTok, Home Seller Refuses to Pay Up
A home ownership association came under fire on TikTok for reportedly trying to get a cut of a woman's home sale.
Depending on where you live in America, owning a home is really no fun. With property taxes constantly increasing, not to mention the exponential jumps in housing prices across the country, many folks find that the dream of owning their own place to live is becoming more and more difficult.
And there is a litany of different factors that only further complicate matters.
Article continues below advertisement
Live in a flood zone? Then you'll have to get insurance for that, which is different than homeowner's insurance. Then there are maintenance costs, inspections to be covered, land surveyors to be paid, and if you want to do any new construction, local city building departments to consult.
And all of it costs money.
So the idea of an association that handles all of those more unsavory aspects of homeownership seems enticing. That is until you realize there are a bunch of horror stories from actual homeowners who've dealt with these associations and the restrictive rules and fines they implement.
And now a viral TikTok has folks on the platform discussing how frustrating it can be dealing with HOA's.
Article continues below advertisement
TikToker @shecrazytho2 uploaded a now viral clip that reportedly shows a representative from her local home owner's association attempting to "get a cut" of the sale of her home.
Article continues below advertisement

In the video, the Tiktoker appears to be discreetly recording a woman from the HOA who tells her that because she sold her home and they want a "clean" separation from the neighborhood they will be willing to "waive" a $500 fee they had administered to her. A text overlay reads over the video: "Just when you think you're done with the HOA and they try to get money from the sale of your house."
Article continues below advertisement

In a separate clip, the TikToker gave more context to the situation. She was initially served with the fee for parking a trailer in front of her house. She then moved it to her neighbor's driveway.
Article continues below advertisement

However, @shebecrazytho2 says that the HOA didn't raise an issue about the trailer for 2 months and said that she was only served with the $500 fee after selling her home.
Article continues below advertisement

"I took it and I parked it outside my neighbor's house, in her driveway, and it sat there for two months, and they never once contacted her. That's discrimination."
Article continues below advertisement

There were throngs of TikTok users who expressed their dissatisfaction with homeowner's associations and many believed that the fee was levied as a means of trying to squeeze some dollars out of the woman's home sale.
"HOA is the biggest scam ever."
"I feel like HOA is just made up by a bunch of karens who have nothing better to do."
"You could not GIVE me a house in an HOA."
Article continues below advertisement

Others expressed the "pointlessness" of HOAs: "I don't get why HOAs exist, if you're paying the mortgage why should someone else ever get to have a say in how the house is kept?"
What do you think? Have you ever dealt with a Home Ownership Association? What was your experience?