This Holiday Outfit Inspo Is Perfect For Christmas and New Year's Celebrations
There are so many ideal, fashionable outfits totally great for adding to the holiday spirit. This holiday outfit inspo from trendy TikTokers might be helpful.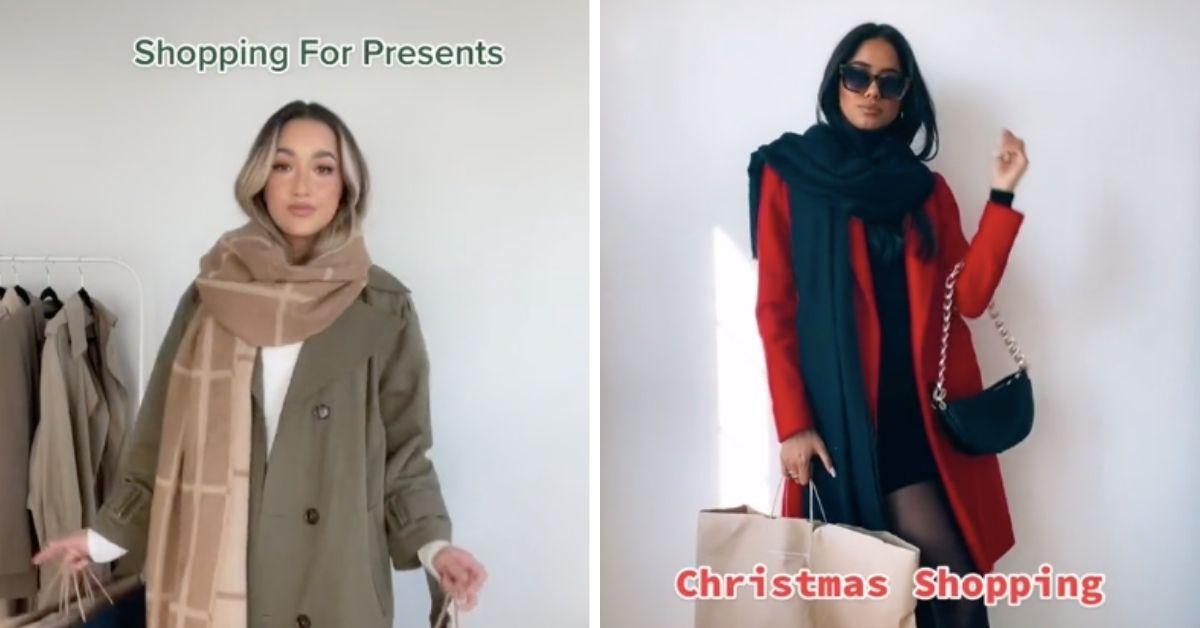 The holiday season is one of the best times of year for so many people since it's a chance for you to spend quality time with friends, family, and loved ones. One of the biggest concerns too many people have before going home for the holidays revolve around their wardrobes. What are the best outfits to wear around family members you haven't seen in a while?
Article continues below advertisement
TikTok is a great place to utilize for ideas. What are the best outfits to wear around your co-workers and besties to help brighten up everyone's mood while enhancing holiday spirits? These TikTokers have come up with creative, classy, sometimes sexy, and always trendy outfit inspo.
These holiday outfits from @LabelsWithLattes are top-tier.
The first outfit from @LabelsWithLattes for the holiday season includes a gorgeous peacoat that has the perfect amount of faux fur around the collars and sleeves. She chose to pair that with a sleek black mini dress, tights, and knee-high boots underneath. Going on the hunt for the best Christmas tree? The second outfit in her video sheds light on the perfect to get up to wear on such a mission.
Article continues below advertisement
Her puffy brown jacket goes perfectly with her cream-colored outfit, boots, and scarf. One of the last outfits incorporated in her video is what she suggests you wear while grabbing peppermint mochas on a quick Starbucks run. The "ugly" patterned Christmas sweater tucked under her white mini skirt and black jacket matches well with her over-the-knee high heel boots.
Article continues below advertisement
TikToker @StyleOfSorts came up with some fun holiday looks.
Alexis Lopez, who goes by @StyleOfSorts on TikTok, posted a fun video filled with a lot of holiday season outfit inspiration. The first outfit is something she suggests you wear when you're ready to go Christmas shopping, the second outfit is perfect before visiting Christmas festivals, and the third outfit is ideal for attending a Christmas work party. The fourth outfit she came up with is what you might want to wear when decorating the Christmas tree, and the fifth outfit is a warm combo for outdoor Christmas tree shopping.
Article continues below advertisement
It looks like @ItsTaylorLou is ready for Christmas.
The holiday outfit ideas that come from Taylor Reese Hansen, aka @ItsTaylorLou on TikTok, are all cute and memorable in their own ways. The first outfit she came up with would be perfect to wear before the first snowfall in your city. She made sure to add a grey scarf, mittens, a beanie, and boots for the warmth factor. The other outfits she shows off with are perfect for eating Christmas dinner with the family, making gingerbread houses with loved ones, and going gift shopping in the city.
Article continues below advertisement
Holiday outfit inspo from @ArminArshe is winning.
If you have a holiday party to attend right around Christmas Eve or Christmas Day, some of the outfit inspo from @ArminArshe might be helpful. The first outfit in her video includes shiny, green, high-waisted pants with a sheer, glittery corset-style top tucked in up top. Her video was certainly meant for Christmas, but a couple of the mini dresses and mini skirts used could be just as equally perfect for a New Year's Eve party.
Article continues below advertisement
Here are some holiday outfit ideas from @Lexx.Aguirre.
Lexx Aguirre, who goes by @Lexx.Aguirre on TikTok came in clutch to her followers on the social media platform by providing a handful of super trendy holiday season outfit ideas. Anyone who watches her video most likely automatically feels inspired in the fashion arena after just a few seconds. She's got the cutest outfit idea for when it's time to watch your local Christmas light parade, the perfect getup for when you're helping your family hang decor, and a few more classy ideas.