Drive-Thru Revenge: Customer Cuts in Line, Gets Honked at Every Time They Try to Order
A drive-thru customer got revenge at a line cutter by honking their horn every time they tried to place an order.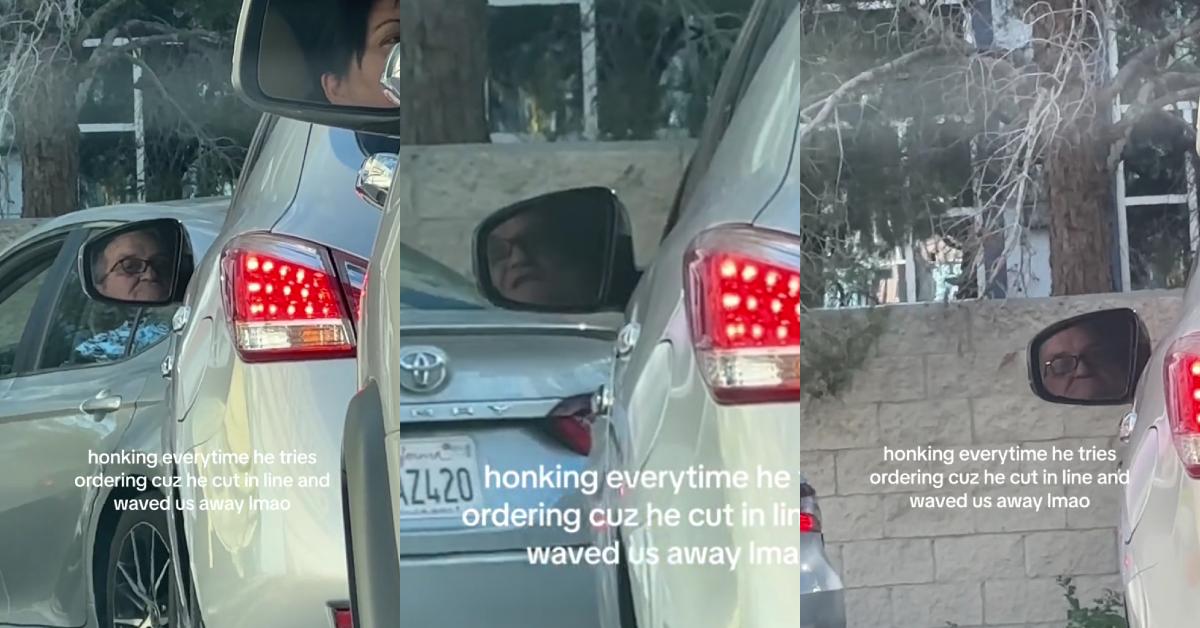 If you're a fan of petty revenge, then you'll love the way this drive-thru customer handled a person who thought it was okay to cut in front of other cars.
Article continues below advertisement
A TikToker named Manic (@sobermanic) recorded themselves waiting behind the alleged drive-thru knave who broke the sacred protocol of waiting their turn and just as the perpetrator opened their mouth to attempt to place an order, the TikToker enacted their revenge, much to the delight of viewers who shared their glee in the comments section.
"Honking every time he tries ordering cuz he cut in line and waved us away lmao," Manic writes in a text overlay for their video. They record the line-cutter in question, it appears to be an older individual who, indeed, when they open their mouth to speak to the employee on the other end of the loudspeaker to place their order, the TikToker honks their car's horn.
Article continues below advertisement
The best part of the clip is that they're able to see the line-cutters face in the side-view mirror of their vehicle. Numerous viewers who responded to Manic's video thought that the elderly drive-thru customer's "lead poisoning stare" was hilarious.
Article continues below advertisement
There were other folks who applauded Manic's petty revenge tactics: "Honking when he goes to order is the level of pettiness I aspire to! Top shelf!" one wrote.

Article continues below advertisement
Another said, "The fact that he starts speaking the second he pulls up I doubt he even gave them a second to say hello first"
Someone else pointed out that there seemed to be another person in line who was happy to see them get their revenge against the fast food customer who lacked proper etiquette.
"I love that you can see the woman in front of you smiling," they wrote.
However, there was another TikTok user who pointed out an unfortunate casualty of Manic's revenge: the worker on the other end of the headset who had to listen to the honks coming in through the earpiece.
Article continues below advertisement

"the poor employees on the headset," they remarked, and there were also a ton of other folks who just couldn't get over the facial expression the person had on their face as they continually honked their horn whenever they tried speaking.
Article continues below advertisement
It was hard to find someone who sympathized with the person in front of the TikToker and there were tons of folks who found the entire situation hilarious "one time this happened to me and me and the workers were giggling the entire time" one viewer joked.

Article continues below advertisement
Another remarked: "if that didn't work I would get out and stand between him and the speaker and order my stuff. people need to learn they can't just do that"

Article continues below advertisement
While someone else said: "When he realized what you were doing this made my night!"
However, there was at least one person who thought that they should've stopped honking at one point, but mainly to throw in another dig at the person who cut in front of them at the drive-thru.
"Ma'am if you don't just let that man order… it is clear this is his last meal before he's eating dust," but the TikToker didn't seem too keen on doing that, as they replied with a succinct: "no maam here"
Article continues below advertisement