Hooters Server Shares the Rehearsed "Bits" She Uses to Get Better Tips From Customers
A Hooters waitress shared the rehearsed "bits" she uses on customers, which caused other servers to share their own "bits."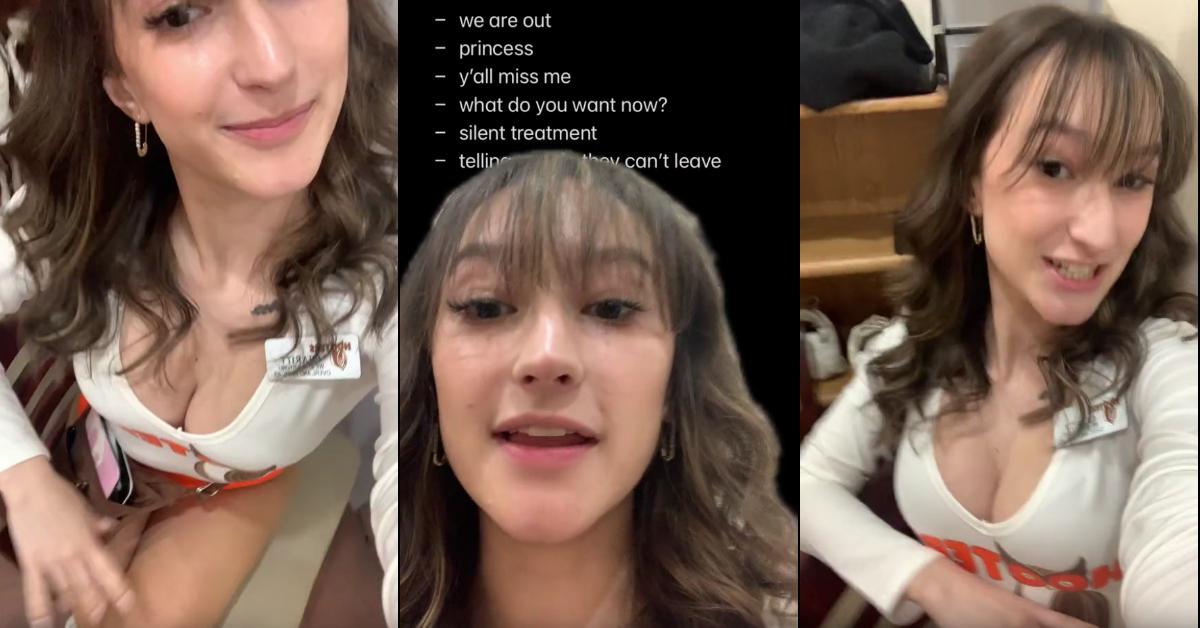 If you've ever interacted with a server who may seem a bit overly friendly, with some witty catchphrases and charming retorts that seem a little pre-planned, you're probably on the receiving end of a "bit" that they use.
Not that there's anything inherently wrong with that. Part of the food service industry is ensuring that guests have a great time while they're going out to eat, and if your server is doing their best to help you have a great night, who cares if they're using a "bit?"
Article continues below advertisement
In particular terminology, this rehearsed behavior is referred to as "bits" by some servers on TikTok. A number of employees are sharing some of their favorite "bits" at their respective jobs, like this one Hooters employee named Charity (@charityy_harris) who uploaded a viral clip that's received over 436,000 likes on the topic.
Charity says in the video while speaking into the camera: "My bits as a server," she then lifts the camera up to show her waitress outfit, "but Hooters edition," she laughs.
The clip then transitions to a green screen of a notes application screenshot, "So first up on my list, I like to tell people we're out of water every time they order water. I'll hit 'em with a oh my God no one told you? We just ran out of water."
Article continues below advertisement
She goes on to say, "Of course, it's a majority of dudes come in, I hit them with the princess, here you go princess here's your drink for ya princess. Food look OK, princess? You doing all right, princess?" She then shared another transitional bit, "If I'm checking up on a table when it's a bunch of dudes: y'all miss me? Y'all missing me yet?"
Article continues below advertisement

Charity divulged more of her bits, "If they're trying to flag me down I hit 'em with a 'what do you want now? What in the world?! Y'all missing me that much?' The next one is if it's a big group of people, and one of the dudes says something that's sassy I'll hit 'em with the," she then starts demonstrating a side-eye silent treatment look.
Article continues below advertisement

"We're fighting now. I'm not talking to you for the next two minutes. And if they try to talk I'll look at their friends be like do you hear something? I hate when people ask for the tab, I always look at them and be like, 'oh my God I didn't tell you? I actually kind of like you guys, and I came to the conclusion you can't leave. Uh, I'm sorry.'"
Article continues below advertisement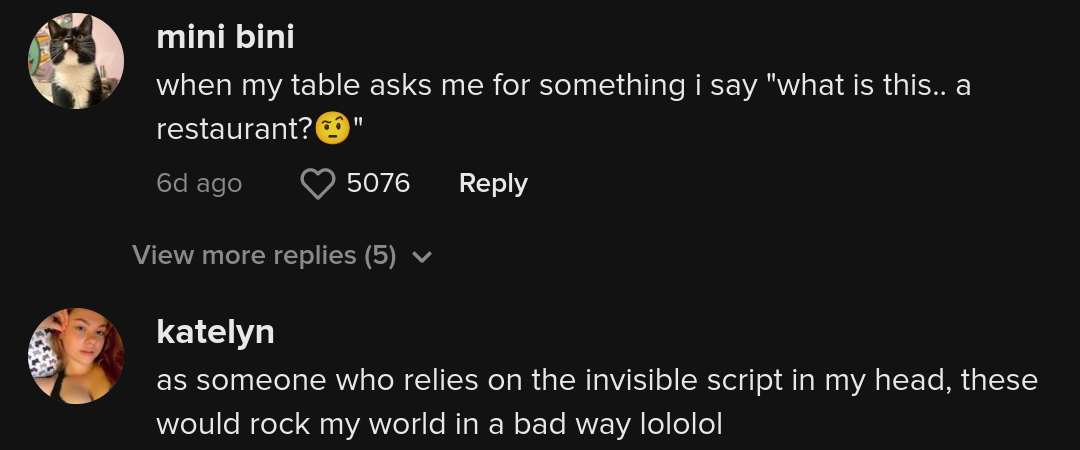 She explained the "bit" further, "And if I do end up writing, of course, I write them their check but I give them the check I'll be like, 'OK, fine, since you guys wanna leave me so bad."
Charity then adds another bit that she didn't include in her notes application.
Article continues below advertisement

"And I didn't put this one on the list but whenever I put in people's food I'll be like OK in the meantime if you need anything just kaw-kaw. And I've actually had people kaw-kaw, and it brings so much light into my life."
Article continues below advertisement

There were folks in the comments section who seemed to corroborate that some of Charity's bits worked well: "Nah because light bullying with princess on the end gets em everytimeeeee," to which the TikToker doubled down on, "It's their WEAKNESS"
Article continues below advertisement

A diner who viewed Charity's video said that they appreciated the bits servers often come up with: "I love bits. I just told a girl I liked her name and without hesitation, she said, 'I got it for my birthday' was dead"
Article continues below advertisement

There was another commenter who said that she had identical bits as Charity's when she worked as a server: "i worked at Hooters and Twin Peaks and these are my exact bits"