Man's Perspective on Tipping Completely Changed After Conversation with Server Friend
A TikToker shared the conversation they had with a friend of theirs that changed their entire outlook on tipping at restaurants.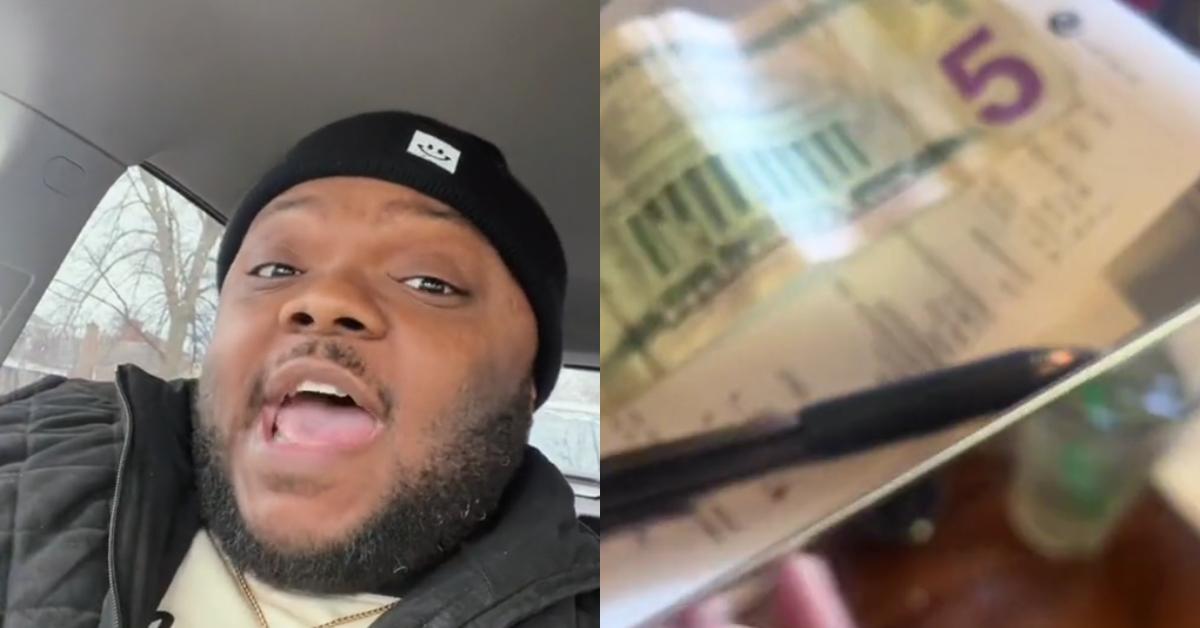 Working as a server can be tricky depending on the restaurant you work in because a large part of your income depends on how generous your clientele feels on any particular day.
If you work at a place that receives a steady influx of customers who generally tip the exact percentages or amounts on their orders, then you can more or less know what you'll get.
Article continues below advertisement
But if you work for a place that relies heavily on tourist foot traffic or is very hot/cold when it comes to guests, then you don't know what kind of folks will be seated at your table. Maybe you'll get a party of folks from overseas unfamiliar with gratuity practices. Or maybe you experience a slow season and there are not as many folks walking through your restaurant as you would like.
However, this hasn't slowed the "tipping debate" that often gets highlighted on social media whenever a server complains about not receiving a 20% gratuity, or when shoppers question why the heck they're prompted by a touch screen POS system asking them if they would like to leave a tip for someone grabbing them a bagel.
This TikToker, however, shared a story about a friend who once worked at a restaurant that completely changed his perspective on tipping.
Article continues below advertisement
@7am.thepoet stitched his video with a viral clip shared by @theece1ebridee who complained about a table of 9 that ordered $212.78 worth of food and drinks, but only ended up leaving a $5 bill as their gratuity.
For stellar service, many servers expect a 20% tip, meaning that they should've received around $42 for their work at the table.
Article continues below advertisement
@7am.thepoet appeared to agree with the outrage from the other TikToker at the low-tipping customers, saying that after speaking with a "good friend of" his who used to work as a server about his personal gratuity practices, he changed his entire perspective on leaving tips for employees in the food service industry.
Article continues below advertisement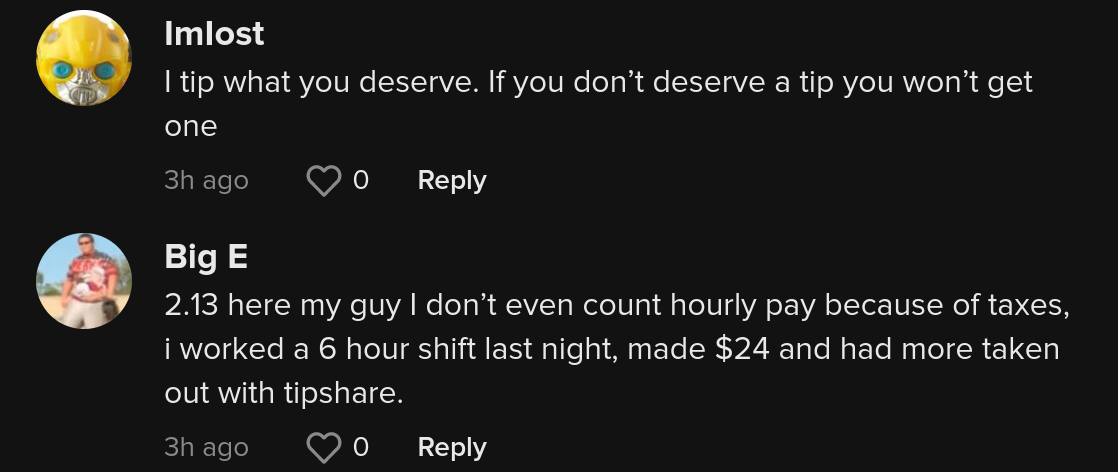 He says in the video: "I had a good friend of mine that used to be a waiter at Applebee's and everytime we went out to anytime restaurant as a big group, he will make sure that we tipped on top of the tip you know the gratuity that's added. So one day I asked him like yo Cal man what's up with the tipping thing bro, we ain't ballin'."
Article continues below advertisement

The TikToker went on to say that his friend's response changed his whole viewpoint on gratuities: "His perspective changed my entire attitude toward tipping. His perspective was they gave him a $140 check. I'm like dude minimum wage is ten bucks what're you talking about they gave you a $140 check?"
Article continues below advertisement

The TikToker continued, "He said no for waiters and waitresses it's $2.30 an hour. Imagine you working for two weeks and they handed you a $140 check. With the taxes took out. And I'm pretty sure somebody going come in the comments what about the waiters and waitresses with bad attitudes they shouldn't get a tip."
Article continues below advertisement

He retorted by stating that there are patrons at eateries that aren't so pleasant themselves: "You also have customers with bad attitudes that give waiters and waitresses bad attitudes trust me they know exactly when you come in the door..."
Article continues below advertisement

Viewers who saw the post had a variety of different responses to his comments. One TikTok user agreed that it's unfair of the employees to receive such a low base wage, however, that his ire was misplaced towards low-tipping customers: "I hear you but why not go after the companies paying $2.30 an hour?"
Article continues below advertisement

Others were a bit more straightforward about what they think about not leaving a sizable gratuity: "I can't be associated with people who don't tip. it's so embarrassing" while someone else penned, "I will not go out to eat if I cannot afford to tip at least 20%."
What do you think?