30-Year Target Employee Claims They Barely Make More Than New Hires, Sparking Debate
A TikTok claims that a Target employee who has worked for the chain nearly 30 years only received an 8-cent pay bump during a recent raise.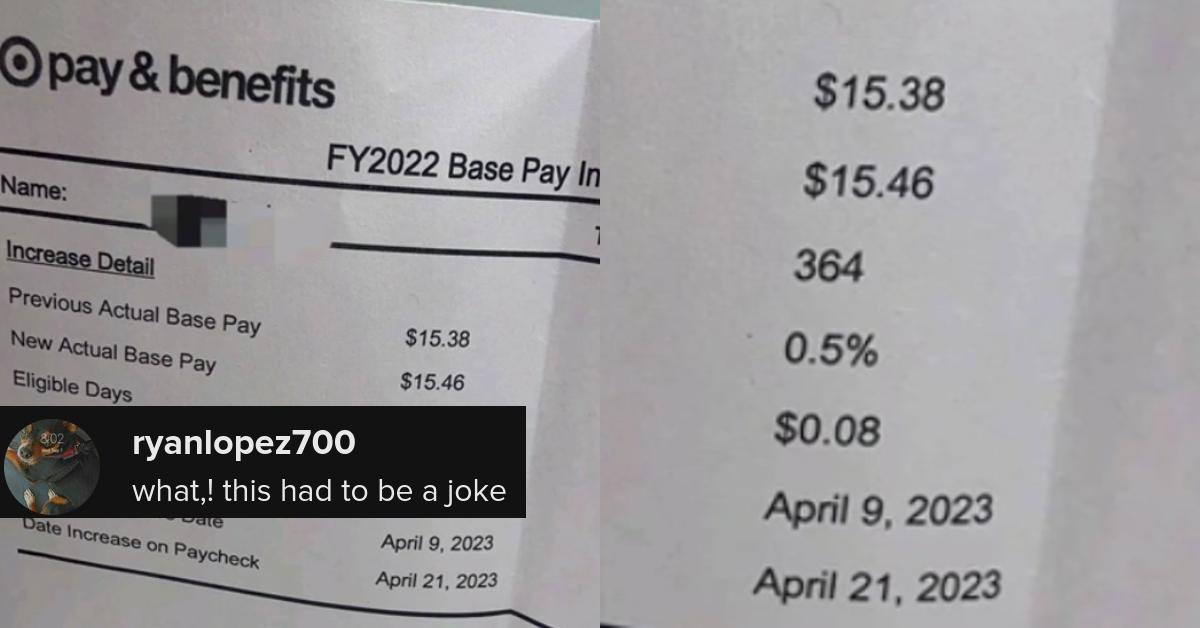 When many brick-and-mortar industries were suffering during the pandemic, several retailers began upping their hourly wages to attract employers to come and staff their businesses, including Target. The chain announced in 2017 that it would establish its base minimum wage at $15 an hour, and in 2022, the company said that all employees in specific store positions would get a base hourly rate of $24 per hour.
Article continues below advertisement
However, many Target employees have complained about the company's wage policy, specifically the percentage of merit increases at the chain. In Reddit's r/Target sub, some commenters found the standard, .05%, 1%, and 4% wage increases "ridiculous."
Others have called Target's promise to raise the minimum wage to $24 a "scam," with others echoing that sentiment as well.
Now, a viral clip showing what appears to be a wage increase sheet for a Target employee shows that a Target store gave a longtime employee a %.05 wage increase on their $15.38/hr pay, resulting in a bump up to $15.46.
Article continues below advertisement
TikTok user @imoveritfr posted a video of the sheet on TikTok which contains a text overlay that reads: "what an almost 30-year employee makes @Target and the annual raise they receive"
Article continues below advertisement

According to the sheet, the employee, despite working there for nearly 30 years, is only receiving $15.46 an hour. There were several folks in the comments section of the post who claimed that getting higher-paying positions in the store isn't necessarily based on merit, but rather on personal relationships and connections.
Article continues below advertisement

One user asked: "How does one work at Target for 30 years and not become a store manager or district manager?" to which another TikToker replied, "You have to be friends of the managers to become a manager or something higher. No joke."
Article continues below advertisement

This claim seemed to be confirmed by another user's experience working with the chain as they wrote: "I was there for a few years and was told I didn't have exp to move up, but I trained the higher up. Girlfriend of manager with out exp got the job."
Article continues below advertisement

Another person who said that they were once employed with Target remarked that they received an even smaller wage increase than the one posted in @imoveritfr's clip: "I worked at Target for 5 years, then it was raised to the 15 dollar minimum, I quit the same day they gave me a 3-cent raise lol"
Article continues below advertisement

Someone else speculated that the low wage increase could be a result of the fact that the employee has been employed there for so long, as they mentioned that they decided to quit working for Target after noticing that new hires were earning more than her per hour.
Article continues below advertisement

"I left target after 20 years. So many reasons and the fact new hires were making more than me. I was cross-trained in every department."
The phenomenon of "wage stagnation" has oft been written about, i.e. the practice of employers keeping workers' payouts relatively the same after prolonged periods.
Article continues below advertisement