Woman Misunderstood Costume Party Was for Kids Only and Arrives as Lone Adult in Costume
A woman who didn't get the memo that the "costume" bit about a kids party was only intended for children went viral on TikTok.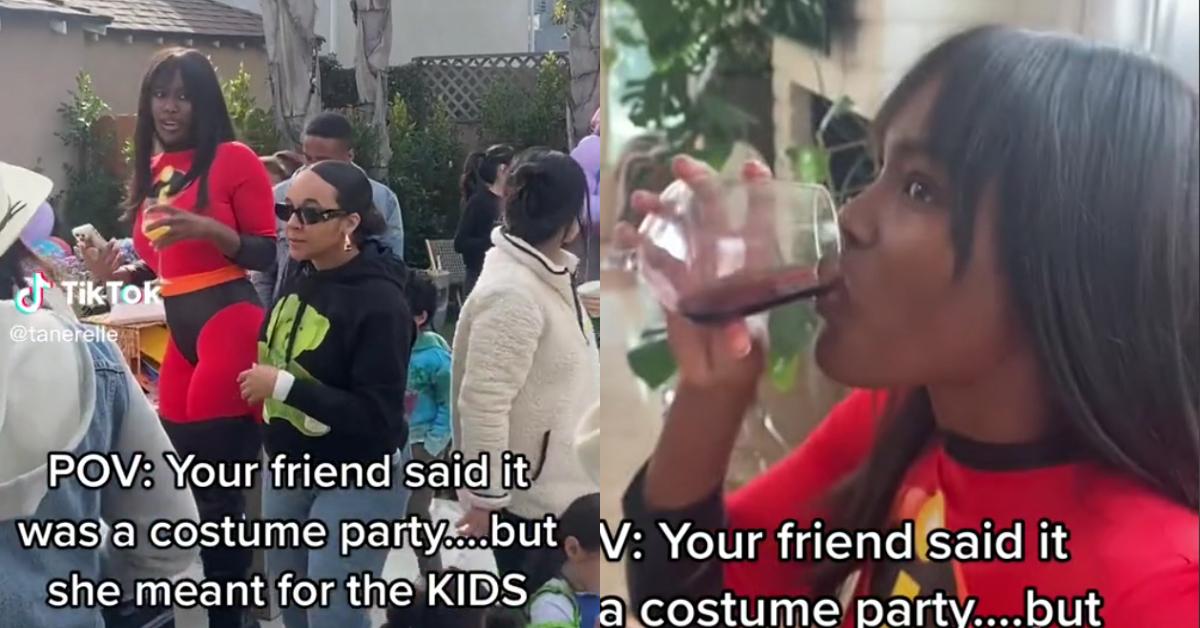 It's important to read the fine print, whatever that fine print might be. If you're financing a car, make sure you cross all the "t's" and dot every single "i" to ensure that you aren't getting screwed. Applying for a credit card? Make sure you check the interest rates attached to your balances, and what minimum payment requirements you have to satisfy before you go into interest hell to mitigate the risk of having your credit rating destroyed as a result.
Article continues below advertisement
But the same "fine print" punctiliousness also applies to your personal life as well. If you're attending a wedding party or some other type of celebration and there's a specific dress code that the host is requesting of their guests, it might be a good idea to ensure that you're operating within those code requirements.
If you don't, you don't only run the risk of upsetting whoever's throwing the shindig, but you're going to stick out like a sore thumb while everyone else is rocking their coastal casual get-up for the specific theme of the party, meanwhile, you're walking around like you're dressed for some European chateau event at your pal's destination wedding on a beach.
Paying attention to the invitation, or maybe asking a few follow-up questions may've benefited this TikToker who attended what looks like a kid's party.
Article continues below advertisement
The invitation said that the shindig was a costumed event, however, what Tanerelle (@tanerelle) didn't know was that the costume option was for children only.
And because she didn't know that, she thought that showing up in costume would be fun, and maybe she thought she'd see some other grown-ups there rocking some cool outfits of their own.
Article continues below advertisement

But she was the only adult there in costume. In a now-viral clip that's been liked over 900,000 times on the platform, Tanerelle can be seen mingling with guests and towering over children dressed as Mrs. Incredible from the popular Pixar movie series.
Article continues below advertisement

She writes in a text overlay of the TikTok: "POV: Your friend said it was a costume party....but she meant for the KIDS."
Instead of changing into another outfit, Tanerelle decided to hang out in her costume, as children looked up at her in awe, and she carried a drink in hand, conversing with other guests.
Article continues below advertisement

The clip then transitions to her as Mrs. Incredible indoors, standing behind a counter, swirling a cup of red wine in hand, before she sits down in a chair and takes a swig of the glass.
Article continues below advertisement

With her legs outstretched before her, Tanerelle lounged in a chair as another guest rocking a cowboy hat snapped a photo of her.
Tanerelle, a musician, racked up nearly 5 million views, and quipped in a follow-up video, while still wearing her Mrs. Incredible outfit, how she can transition the popularity of the clip into promoting her music.
Article continues below advertisement
There were several people who saw her original clip who said that she shouldn't have anything to be embarrassed about, and that the kids at the party would've probably had more fun if adults dressed up too: "It's more fun for the kids if adults joined in tho," one commenter wrote.
Article continues below advertisement

Another commented they would've probably done the same thing: "Mood because I'd show up as sailor moon," while another said, "ur everyone's hero"
Several folks remarked that Tanerelle looked great in the costume and that there were probably several fathers at the event who were breaking their necks in the opposite direction to not get caught staring at her.
Article continues below advertisement

"I see the dad's trying not to look," one said. Another remarked, "All the moms definitely talked about her after the party 'why would she dress up? MY HUSBAND IS HERE'"