Parent Makes Entitled Teen Son Volunteer at Zoo After Insulting Zookeeper's Job
A parent wasn't too thrilled with the way their teen son tried to embarrass a Zookeeper, so he made him volunteer there to teach him a lesson.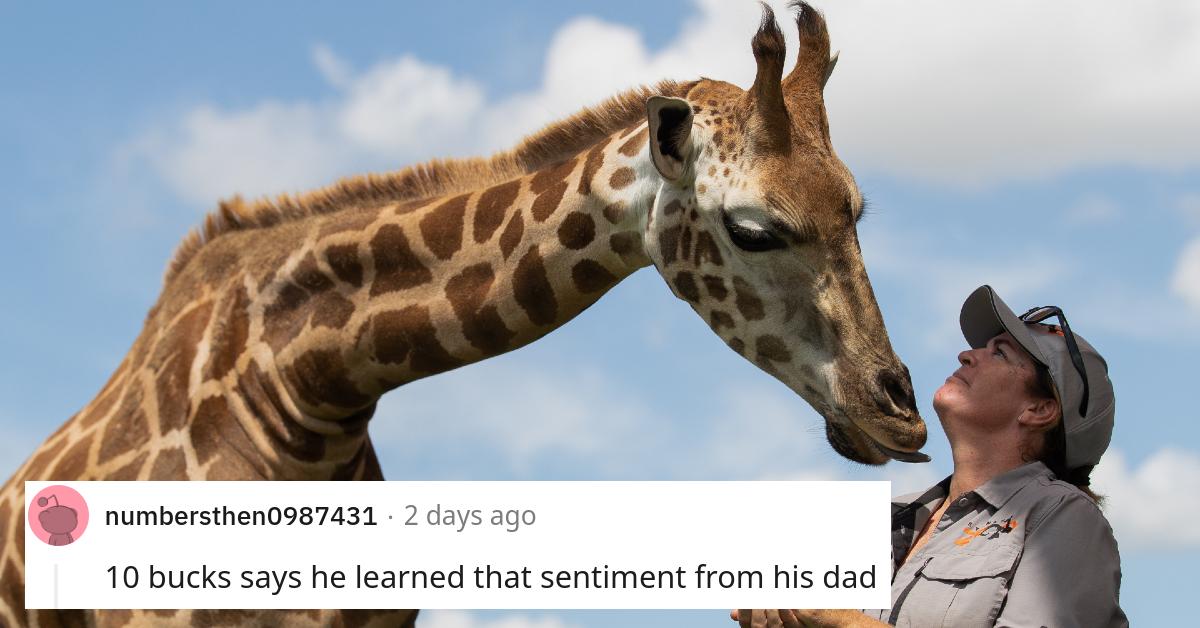 Raising your kids to not be entitled monsters can be difficult, as it requires parents to make hardline decisions so that they can nip any potential behavioral problems in the bud before they grow out of hand. It's also important not to overly police your children either so that they don't rebel just for the sake of rebelling and end up doing things simply just to spite you and any draconian rules you're implementing in their lives.
Article continues below advertisement
And in some instances, folks may need to get a bit extreme to teach their kids that life more often than not will not be their way, and developing healthy coping mechanisms to deal with these obstacles is the key to being happy.
There are also times, however, when kids need to be taught to have proper manners, which is something that this dad wanted his teenage son to truly appreciate when they were on a trip to the zoo.
Article continues below advertisement

Redditor @dublygo posted to the site's AITA sub, where they asked if they were in the wrong after reacting to hearing their son make "some rude comments" directed at a zookeeper. They said that they're a divorced parent with primary custody of their three children: ages 16, 12, and 8, and while they were at the zoo, the oldest turned to his younger brother and made the rude remark as the zookeeper was cleaning the giraffe exhibit.
Article continues below advertisement

"That's why you do good in school I guess, or you end up scooping poop for a job!" the 16-year-old said, loudly, to his younger brother. OP said that the comment embarrassed them a great deal and they were surprised by the lack of social tact their 16-year-old exhibited while making the disparaging remark.
Article continues below advertisement

OP said they were so ashamed by their behavior they immediately took them to walk away from the giraffe enclosure and that they ended up leaving the zoo shortly after. They asked their 16-year-old where they learned to speak like that and told their son that most zookeepers require having a master's degree or higher.
Article continues below advertisement

Then tee added that he didn't think the work was all that hard — that anyone was capable of doing it and that folks who participate in manual labor are somehow beneath those who would rather utilize their "intellect" while on the job.
Article continues below advertisement

OP wasn't too fond of their son's entitlement, so they began looking for any zoos in the area with teen volunteer programs, so their son could see just what working as a zookeeper was like and immediately signed him up.
The teen didn't take too kindly to the news, to which OP replied by saying something along the lines of: "oh, I thought you said that the work was easy?"
Article continues below advertisement

The teen then responded with: "yeah cleaning up messes is 'easy' in that anyone can do it but that doesn't mean I want to!"
OP said that the kids' father thought that the week-long volunteer program was "too harsh," but the Redditor thought that this was ultimately the right move, so they didn't back down.
Article continues below advertisement

Several Redditors thought it was a good example of great parenting and of someone teaching their kids the value of hard work and not belittling others around them.
"Making him do the work will make him realize how hard a lot of these jobs are actually are, and the amount of effort people put into what they do. The jobs we might see as undesirable are the ones that keep a lot of systems running. To make that comment loudly in front of the zookeeper is just harsh," one commenter said.
Article continues below advertisement

Another described just how bad the smell of animal poop is, saying that once they were offered $10 to help volunteer during a Zoo tour to help one of the keepers out: "So I and two of the kids walked up with her, opened the door to the inside, and OMG. We all turned around retching and coughing for fresh air. I didn't know it's possible for anything to smell that bad."
Article continues below advertisement

What do you think? Was OP too harsh? Or did their 16-year-old need to be taught a lesson in manners and appreciating the work that others do?