Was She Right? Olympic Athlete Refuses to Switch Plane Seats with "Entitled" Couple
TikTokers are siding with a woman who wouldn't give up her airplane seat in a now-viral clip on the popular social media platform.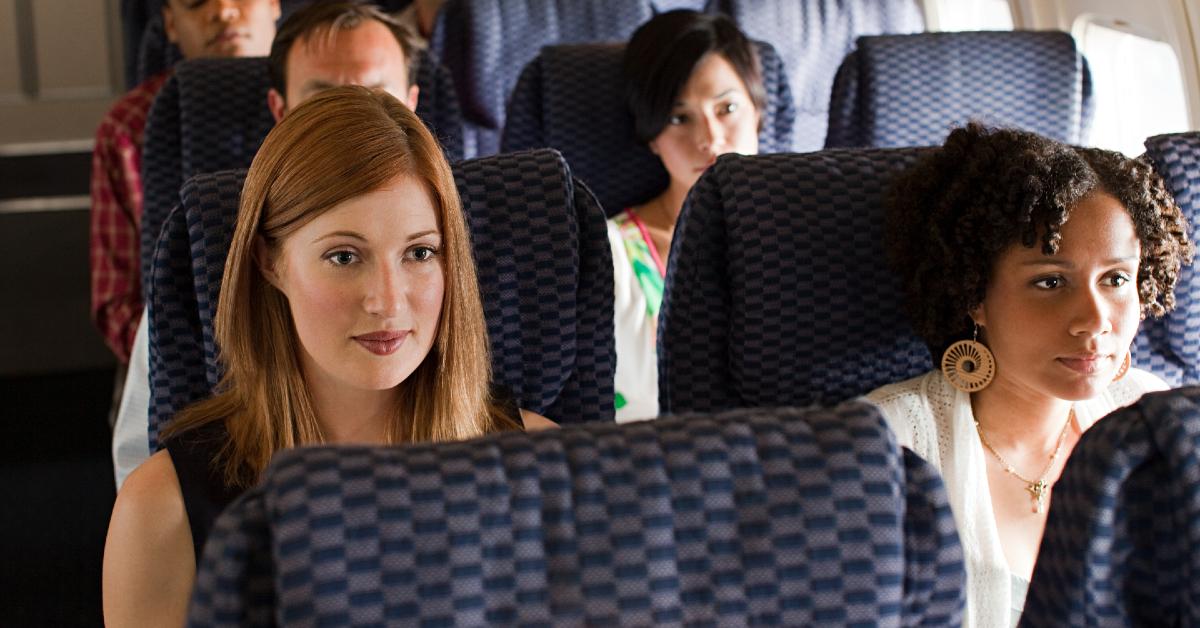 Airline travel isn't known for being the most pleasant of experiences. Between the constant delays, over-booked flights, cramped seats, and additional fees for just about every amenity (depending on the airline you pick), things can get very frustrating.
And that's just the stuff you have to deal with before you even step foot inside a plane.
Article continues below advertisement
Once you're aboard your aircraft, there is a slew of other issues you may have to deal with, like drunk or unruly passengers, WiFi cutting out unexpectedly when you were planning on getting some work done, crying babies, drunk loud-mouths, folks who have a penchant for kicking your seat or others who love reclining their chair as far back as it can go, usually right after you've placed your drink on your tray.
And then you have the occasional person who takes your seat without asking you first. In many cases, seeing someone sit in your chair while you're walking on a plane can be forgiven, especially if they boarded before you did. Maybe they're wishfully thinking that whoever went on the flight isn't going to show up, giving them more room to spread out.
Or, maybe they're banking on what this TikToker experienced.
Article continues below advertisement
In a now-viral clip posted on the popular social media platform, Olympic athlete Cynthia Appiah, who competes for Canada's bobsled team said that a woman tried to "nice bully" her into giving up her seat so she could be seated near her boyfriend.
Article continues below advertisement

Cynthia said that she specifically booked a premium economy chair so she could not only have more legroom but book an aisle which would allow her to freely get up and use the bathroom when she wanted without having to disturb other passengers.
Article continues below advertisement

She wrote in the caption for the post: "Seat selection is your friend I promise you," and says in the video: "It seems like there's a lot of conversations...on TikTok about plane seats and whether you should have to give up your seat if someone asks you so I have my own story on this."
Article continues below advertisement

The Olympic athlete relayed the tale, "A couple of years ago I was flying from Toronto-Calgary which is a flight I do often being a National team athlete where our team's based out of Calgary, I'm from Toronto I fly between those two cities quite often. And over the years I've you know gotten so many points through flying with one particular airline in Canada that whenever I'm feeling extra bougie I'll either pay for an upgrade either at the gate or at the time of booking and just purchase a better seat."
Article continues below advertisement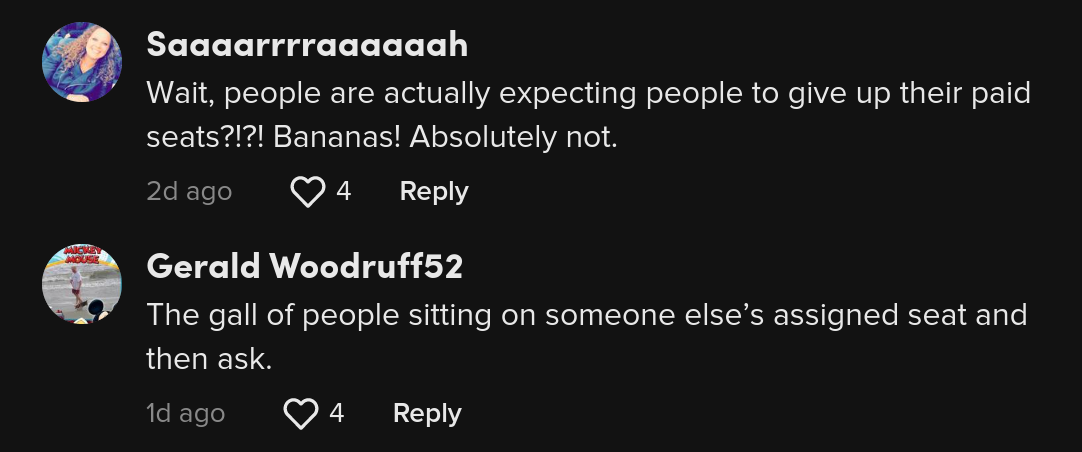 She continued, "I always make sure that I purchase and book an aisle seat at the time of booking the ticket." She added that she "hate[s] bothering people when [she] get[s] to the washroom" and because she also likes to "stand every so often" as it's a four-hour flight to get from Calgary to Toronto.
Article continues below advertisement
Cynthia then discussed what happened on this particular flight, "I had purchased a ticket in premium economy and I had picked an aisle seat. It was one of those configurations where the seats are like two, three, two, so there's like someone beside me and then I'm on the aisle. When I boarded and I was going towards my seat there was already somebody in my seat, plus someone else besides the person that was in my seat."

Article continues below advertisement
"I thought I had made a mistake so I triple-checked to make sure that my seat number that I was seeing on my phone was actually reflecting where I needed to be and yes indeed that person was in my seat...I go up to her and I'm like hey you're in my seat she goes yeah I know I am but I was wondering if you wouldn't mind switching with my seat just behind me so I can sit with my boyfriend during this flight."
Article continues below advertisement
"Now mind you her seat although premium economy was a window seat, not an aisle seat and I was like ahh nope. I told her nope I paid for this seat I would rather stick with my seat I bought the aisle for this reason. Actually, I didn't give a reason I was just like I bought the aisle...I'm not moving."

Article continues below advertisement
Cynthia said that the woman "got all upset but she knew there wasn't much of a fight" because at the end of the day, Cynthia was entitled to the seat that she paid for and she had proof that the seat belonged to her. The TikToker said that the point of the story was to stress how she couldn't understand how "in this day and age of online ticket booking people still do not do their due diligence to book the seats that they want and hope that they can kindly ask, but really bully, people into giving up their seats."

Article continues below advertisement
She ended her post by pointing out that folks "can choose seat selection ahead of time," remarking that "if you don't want to pay for it then that's up to you and you deal with the consequences of not getting the seat that you want for the plane ride."

Tons of TikTokers agreed with Cynthia's post with some stating that while they don't mind folks attempting to get a seat swap, those same folks should be prepared to hear "no" upon request as they need to understand that they're effectively asking someone to give up a seat they more than likely paid extra money for. And even if they didn't and that just so happens to be the seat that the airline assigned to them, it's still a seat that literally has their name on it.
At least in the flight itinerary.