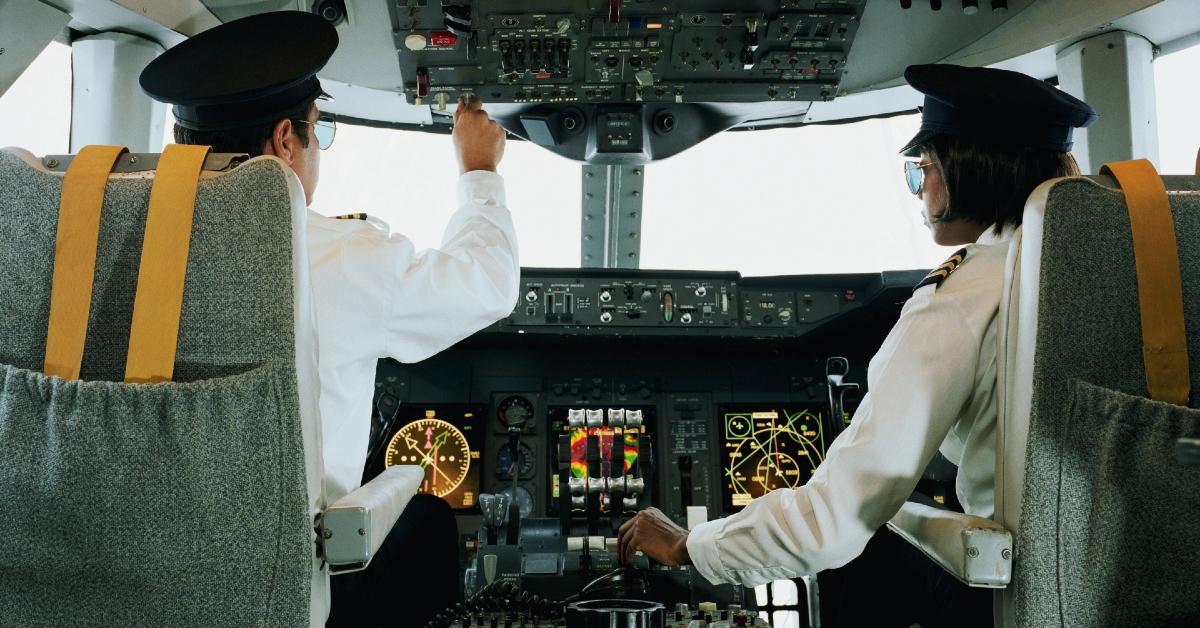 "That Was on Purpose" — Female Pilot Says Airport Gate Agents Always Ask If She's a Flight Attendant
A female pilot went viral on TikTok after calling out an airport employee for asking if she was a flight attendant despite wearing a pilot's uniform.
Airline pilot uniforms are distinct and they're designed to be instantly recognized by both airport staff and commuters alike. These outfits are usually decorated with pilot's wings and include stripes to indicate different ranks so there's no mistaking who's in charge of commanding a vessel on any given day.
Article continues below advertisement
This fact is probably why TikToker Sabrina Johnson, who posts under the handle @sabrinaleej went viral after she was asked by an airport attendee if she was a flight attendant, despite walking through the terminal rocking a pilot uniform.
In Sabrina's clip, she looks into the camera while chewing gum with AirPods in her ears. She writes in a text overlay: "Gate agent looked me in the eye today asked if I was the flight attendant (Common occurrence)."
Article continues below advertisement
According to analytics gathered by Zippia, there is a huge disparity between the number of male versus female pilots. Only 29.3 percent of the "29,065[+] pilots currently employed in the United States" are women.
Article continues below advertisement

Sexism in the airline industry dates back to the early days of airline travel, with advertisements featuring "risque" marketing materials depicting women in either provocative, sexually alluring, or subservient positions in an effort to appeal to specific power dynamics that favor traditionally male-centric sensibilities.
Article continues below advertisement

Female flight attendants in the '70s rallied against mistreatment of women in the aviation industry and even launched groups to help champion for women's rights in the workplace to put them on equal footing with male counterparts.
Article continues below advertisement

Nevertheless, female pilots have systematically had their careers "blocked" by the "old boys club," according to a March 2022 report from Airport Technology. In the article, pilot Marnie Munns discussed the phenomenon at length and called for further diversity among pilots, especially when one considers that, globally, only 5.26 percent of all pilots are female.
Article continues below advertisement

"Training is the first point of contact for the next generation of pilots and if we want to attract the best talent, we need to ensure we appeal to everyone with the right abilities irrespective of gender, ethnicity or age," Munns said.
Article continues below advertisement

"A much more diverse training department will ensure that there are visible role models and a more inclusive training environment for all," she continued.
TikTokers expressed their shock and disapproval of the treatment the pilot received from the airport employee who mistook her for a flight attendant.
Article continues below advertisement

"With three stripes? Nah that was on purpose," one viewer commented.
Some suggested it was a teaching moment. "Ask them if they are new and tell them you will explain how to [differentiate] the uniforms so they don't embarrass themselves again."
Others suggested returning the insult. "Ask them if they're the janitor," one responded.
Article continues below advertisement

Even people who are flight attendants were insulted on Sabrina's behalf. "As a flight attendant, I'm offended for you. Unacceptable. They KNOW our uniforms."
Many thought it was possibly not an honest mistake: "But the uniform is so different... they knew what they were doing."