Southwest Pilot Threatens to Ground Plane Unless Passengers Stop AirDropping Racy Photos to Each Other
A TikTok featuring a Southwest Airlines pilot urging passengers to stop air dropping each other not safe for work pictures went viral on the platform.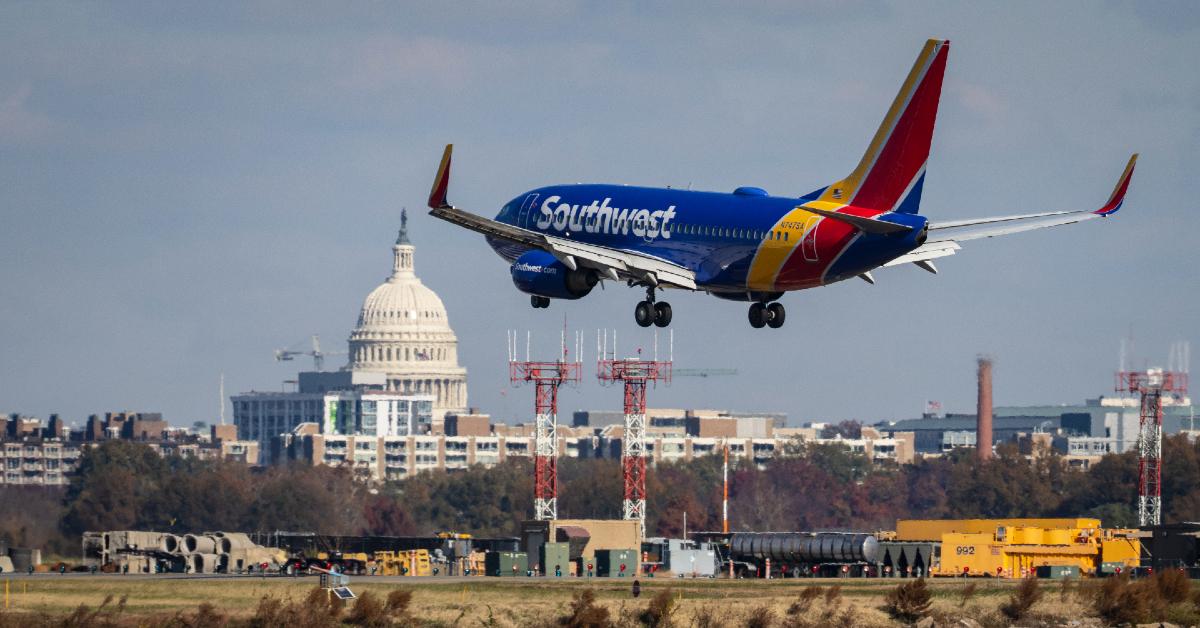 A viral TikTok uploaded by user Teighlor Marshalls, who posts under the handle @teighmars shows a packed Southwest Airlines flight of seated passengers when a PSA from the captain comes over the plane's speaker system asking folks on board to stop Air Dropping each other racy photos.
Article continues below advertisement
Apparently folks receiving random Air Drops if inappropriate or saucy photos containing nudity is a prevalent issue that usually occurs in scenarios where the same group of people are in the same location for an extended period of time. A lot's been written on folks receiving pictures via the iOS file transfer system as they ride the bus or subway.
There's also been mention of this phenomenon frequently occurring quite frequently on airplanes, and aviation outlet Live and Let's Fly wrote about this phenomenon: "bad actors have been using the technology to AirDrop files to unsuspecting users with p---------- images. Sometimes there is a preview of the photos or videos being sent and sometimes not. Many of the nefarious characters seem to mark the name of their phone as simply 'iPhone' or 'Apple iPhone' so it's generic and could be anyone."
Article continues below advertisement
There are a number of issues that could arise from sending these types of images. Let's say a parent is letting their kid watch saved Cocomelon videos on their phone during the flight and the child accepts receiving and viewing the file. There are a ton of legal implications the sender will then be forced to address, not to mention the trauma dealt to the child, or anyone else, who inadvertently saw something of that nature.
Article continues below advertisement

One could customize their AirDrop settings to not accept files from unknown contacts and other varying degrees of restriction. AirDrop is, by default, set to only accept files from "contacts only" however, "everyone" is easy to toggle on and it's not difficult to imagine that an iPhone user at some point would turn the option on at a party or gathering to have some photos transferred and then forget to switch back to "contacts" only."
Article continues below advertisement

In the now-viral TikTok video uploaded by Teighlor, the Southwest Airlines pilot for the flight can be heard saying: "So here's the deal this continues while we're on the ground I'm gonna have to pull back to the gate, everybody's gonna have to get off, we're gonna have to get security involved and it's vacation's gonna be ruined. So you folks, whatever that Air Drop thing is quit sending naked pictures and let's get yourself to Cabo."
Article continues below advertisement

A caption for the viral TikTok post reads that Southwest Airlines "takes airdropping nudes very seriously."
Commenters on the post found the pilot's tone hilarious and that an employee of the airline would even need to make an announcement of that nature over the loudspeaker.
Article continues below advertisement

While many joked about the incident there were others who expressed worry that a child might accidentally open an unsolicited photo from someone sharing nudes. There were also those who wondered why there are iPhone users who have their Air Drop option set to accept files from anyone.
Article continues below advertisement

"Why would anyone accept an airdrop from a stranger????"
"Or just tell everyone to turn off airdrop?"
"Pilot had "Don't make me turn this plane around!" energy Love it!"
"Literally the first time the pilots words are able to be understood"
Article continues below advertisement

"People do realize kids can have iPhones too right"
"File this under "Stuff a pilot shouldn't have to say to the cabin""
"Pilot was probably airdropping them to his mistress and messed up so he needed a cover."
"Like a school bus driver with a bunch of rowdy kids."
Article continues below advertisement

Have you ever received random Air Drop photo requests from strangers? What do you have your settings on?