Wing Stop Manager "Blacklists" Door Dash Driver for Being Disrespectful to Employees, Sparks Debate
A viral TikTok shows a restaurant manager standing by their employee and telling a Door Dasher to scram after they were rude to an employee.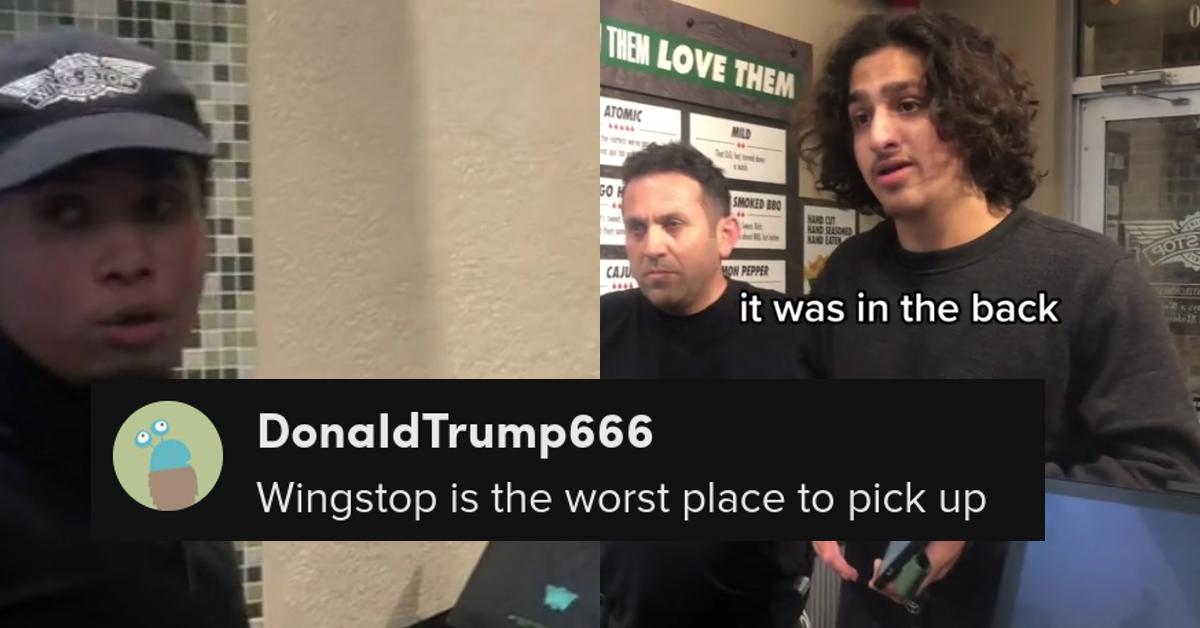 Working in the food service industry can be frustrating. There's been an uptick in particularly awful customers exhibiting disrespectful behavior, but even prior to the pandemic you wouldn't need to search that hard online to find stories of folks acting up to delivery drivers and other service employees.
Article continues below advertisement
Speaking of delivery drivers, there has also been an uptick in DoorDash drivers sharing negative customer experiences. From being screwed out of tips, to being given addresses that don't show up on navigation applications, many drivers feel the amount of work they're putting into delivering food isn't commensurate with the money or respect they're getting.
However, in a TikTok currently trending, we see a DoorDash interaction that doesn't get highlighted too often: a restaurant owner telling a delivery driver they are refusing him service because of the way he spoke to restaurant employees.
Article continues below advertisement
Terrell Cyrus posted a clip that depicts what appears to be a DoorDash driver in a back-and-forth with a manager at a Wing Stop location. They write in a caption for the clip, "I'm stoppin' bags and I don't need a red octagon This man with the mean face came inside rude 3 times fix your face."
Article continues below advertisement

Judging from their conversation in the video, the DoorDasher wasn't happy that an employee who didn't have the food ready for him when he arrived to pick it up and he expressed his ire in an unsatisfactory tone.
Article continues below advertisement

For the Wing Stop manager, that was all he needed to see to tell the driver that he wouldn't be fulfilling the order, as restaurants have the right to refuse service to anyone. The Dasher tries to argue their case and say the issue wasn't that the order wasn't retrieved quickly enough, it was that it wasn't ready when he arrived.
Article continues below advertisement

The manager says that this wasn't the case and the clip begins with them saying, "to be yelling at a cashier over an order that was late and I already told her what happened, so again if you have a problem, call DoorDash. I already called DoorDash."
Article continues below advertisement

The driver then says they can't deny the order because it's already been placed, however the Wing Stop manager says they can. "I have the right to deny...that was disrespectful to my workers for just an order being late..."
Article continues below advertisement

The driver argues the order wasn't just "late" but that they didn't have "the order" full stop. The employees tell him the order was "in the back" and that it was still being prepared.
Article continues below advertisement

"Argue as much as you want, but I'm not gonna give you the order," the manager says. "He's already blacklisted in our site, so tomorrow we're gonna remove him. He won't be able to take the orders here anymore."
Commenters had a variety of opinions. Many folks were happy that the manager was standing up for his employees.
Article continues below advertisement

Others, who said that they were DoorDash drivers themselves, expressed that they've had poor experiences in dealing with Wing Stop, and their pick-up orders are almost never on time.
Have you ever had a negative experience with a restaurant saying that they aren't aware of the order that was placed through DoorDash when you tried to pick it up?