TikToker Says Wingstop Locked Her Inside Store After Accusing Her of Stealing an Order
A Wingstop patron said employees thought they were stealing an order they picked up, and locked them inside as a result.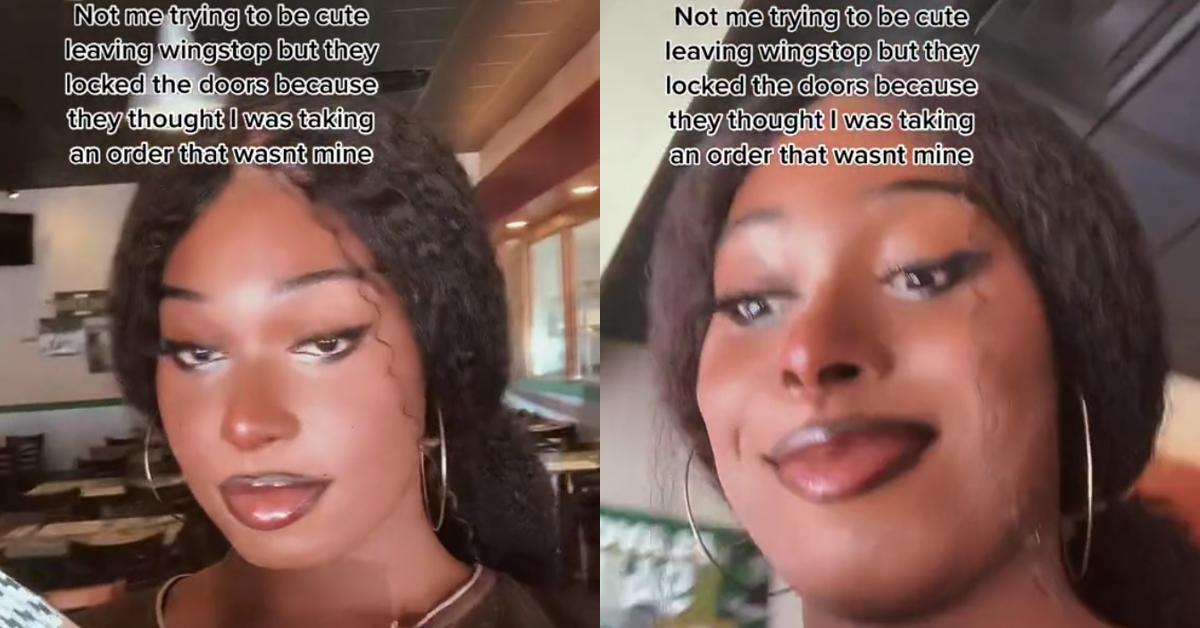 A TikToker went viral after alleging employees of a Wingstop location locked her inside the restaurant after accusing her of stealing another customer's order.
This isn't the first time Wingstop has gone viral. In February of 2022, an employee of the chain "exposed" the company's ranch dressing recipe.
Article continues below advertisement
In December of 2021, another Wingstop worker went TikTok viral after they were recorded handling raw chicken without wearing gloves.
Bee, who posts under the handle @bhaddiebee21, wrote in her recent TikTok: "Not me trying to be cute leaving wingstop but they locked the doors because they thought I was taking an order that wasn't mine."
In the video, she records herself looking into the camera as music plays while she holds a bag of food and is in the process of leaving the restaurant.
Article continues below advertisement
Judging from the comments section of her video, however, it doesn't seem like she's the only person who's had a negative experience in picking up an order from the restaurant.
Article continues below advertisement

"One time I waited over an hour for my online order at WS and this WM tried to stop me to see if my order was his I just kept walking"
Others said that they would have been embarrassed had they been in the same situation, or even one that was less extreme.
Article continues below advertisement

"LMAOAOAOWOO PLEASE! ID CRY! I already get embarrassed when I pull a push," one person said.
"LOL you better have gotten a refund cause no you're not about to make me cry rn for free," said another.
Bee also remarked in the comments section that the video captured her embarrassment following her experience in the situation.
Article continues below advertisement

Others seemed to have a problem with the popular wing chain's workflow. One said, "Wingstop will have 10 orders sitting waiting and have you wait 45 min for yours"
Some thought the company's process for doling out orders may make their food the target of undue pilfering.
Article continues below advertisement

One remarked, "No, cuz my bf ordered wingstop online one time and they were SO WEIRD [about] it like they encounter tons of Wingstop bandits 💀"
And according to many others who've ordered from the franchise, stolen food is a real problem.
Article continues below advertisement

"I waited an hour one time and kept asking when it'll be ready. They said I already took it and I said no I didn't. Someone else took my order," said one.
Some TikTokers questioned the legality of a worker effectively holding a customer in the store against their will: "hell naw, I'm suing them for u."
Article continues below advertisement

"They can't lock you inside there's a whole law for that," another person said.
According to HG Legal Resources it does seem like business owners are allowed to detain shoppers they suspect of stealing from their stores.
Article continues below advertisement

"While most citizens in the United States do not attempt to arrest anyone and wait for police to arrive, some do accomplish this when a law is broken. For a store owner wanting criminal justice, he or she has the right to detain a person suspected of the crime."
It's unclear if this same law applies to dining establishments, like the fast casual Wingstop chain, however.