Store Owner Says Having DoorDash Isn't Worth Dealing with "Frustrating" Drivers in Viral TikTok
Store Owner Kenneth Bruce showed his followers what using the Door Dash application from the perspective of a restaurant/business.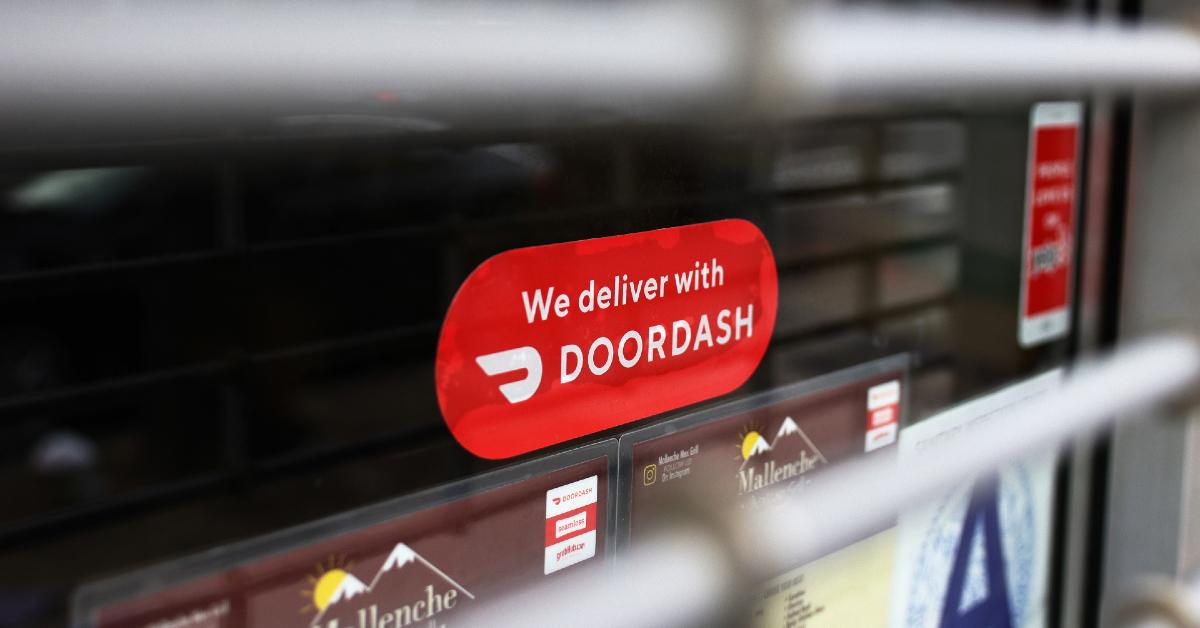 For a food delivery application, DoorDash has been at the center of a lot of social media controversy as of late. There are employees who've openly discussed tip baiting, i.e. the practice of customers promising a tip in the hopes that they would get their food delivered more quickly, only to drop off their meals to see that the tip has been revoked.
Article continues below advertisement
Now, a Washington restaurant owner has added a bit more to this DoorDash online intrigue but from a slightly different perspective: what using DoorDash is like through the eyes of someone who owns a business and is the one managing the orders that come in constantly.
In a now-viral TikTok, Kenneth Bruce, who posts under the handle @itskenbruce, delineates what happens when DoorDash customers send orders through the app to his store and there's a delay between Dashers accepting the order.
Article continues below advertisement
He says in the video, "OK so I figured this would be a good learning time here for anybody whose never seen DoorDash from the restaurant's perspective or shop's point of view."
The TikToker continues, "OK so I have an order here it is ready to be picked up," the then turns the camera around to show the POS system that displays the DoorDash order information.
Article continues below advertisement
"So I have an order here it is ready to be picked up. Now this is exactly what an order would look like coming from whoever's ordering. Shows the customer name, Dasher to be determined, it's still assigning a Dasher. Around here this is kind of normal. We don't get Dashers assigned right away. I've already hit ready for pick-up."

Article continues below advertisement
He continues, "It shows exactly what's been ordered, (do not include utensils and condiments) and then it shows exactly the sub-total and payment there."
The video then cuts to the TikToker showing the customer's order. It has a big sticker placed on the paper bag that reads: "Hey! Contains alchohol!"
Inside the bag, he reveals several cans of beer. "I have it, put in the bag, all ready to go, with Brad's name on there and a copy of Brad's receipt. And now we play the waiting game."
The video cuts to 10 minutes later with the TikToker saying, "OK it's been roughly 10 minutes, maybe 9 minutes and now we have a Dasher assigned and it says that the Dasher will arrive in roughly 14 minutes."
Article continues below advertisement

"Here's the kicker here's what happens quite a lot, Dashers will cancel once they get assigned to it. There have been times where we've had no Dashers for 10, 20 minutes, to the point where we have to call DoorDash, and DoorDash will assign somebody, from what I understand, a payment incentive."
Article continues below advertisement
"We'll see. We'll see if Yanni [the DoorDahser] will cancel or not. Now there is one other thing I have to say. Since this is alcohol based we have to card the driver. One, to make sure the driver is 21 years of age, and also two we've had a rash of incidents here where people are driving on behalf of the actual DoorDashers. While the DoorDashers are kinda moonlighting driving Uber or Lyft at the same time for that extra bit of money."

Article continues below advertisement
He went on, "Which, I'm all for the hustle, but when it comes to alcohol and stuff, we can't hand it off to anybody who does not match the ID and who does not match the name."
The store owner went even deeper into the process. "The Dasher checks in, pick it up, they're gonna hit 'pick up,' with this here [he points the camera to the POS system] there's a little bit of a delay from when they hit pick up, to where it actually falls off."
"So usually it's about a 30 second to one minute delay from the time they tap pick up on the app for it to actually disappear on our side," he says in the viral TikTok.
So did the Dasher ever show up? Or did they cancel? Kenneth said that she ultimately did show up to take the delivery, and she checked in while doing so, making his experience in working with her an overall pleasant one.
Article continues below advertisement

In the comments section, Kenneth also revealed that he isn't privy to tip amounts and that information appears to be purely between the Dasher and whoever's ordering the food. Which would make sense seeing as store and restaurant owners are only concerned about getting paid for their goods and services.
Article continues below advertisement
Throngs of TikTokers took to the comments section of Kenneth's video, many of whom appeared to be Dashers themselves who gave some reasoning as to why it might take Kenneth a long time to get someone to pick up the orders he receives.
"Ones that take long time to get a Dasher most likely don't have tip on them. So it's not worth the dasher time or gas," one TikTok user said.

Article continues below advertisement
"DoorDash does not assign a dasher, it sents the offer and the dasher decides, small Tips = no pickups"
"Sounds like it's a no tip order or a low tip I don't take those it's all about the $ I don't take any orders under $10"
Then there were some Dashers who stated that sometimes restaurants will say that an order is done only to have a Dasher show up ready to bring the food to the customer, but it hasn't actually been prepared yet.
"Y'all need to show the Dashers Point of View when the Restaurants are NEVER done with the order but they check it as ready for pick up."]
But mainly a lot of the grips simply boiled down to money and that the main reason a lot of folks ultimately decide not to pursue or take on orders is because Dashers just aren't getting paid enough fort their orders.
"from the driver side, it's always 100% a money issue. I'm only picking up and delivering what's worth my time."
Article continues below advertisement

Other Dashers admitted that they usually unassign themselves from particular orders if alcohol is involved: "As a dasher I unassign if it's alcohol. Too many steps at drop off & if they've already partaken and I have to say no. I'm passing that one."
"The only reason it would take that long is if there wasn't a tip . I have done over 3000 deliveries and I only except about 20% of calls."
What do you think? Is it hard to fault Dashers who aren't getting compensation they think is worthwhile enough to justify driving to go and pick up a few beers for a customer? Or should folks jump at the opportunity to deliver somebody's meal, regardless of what they are and aren't going to get tipped.