Woman Claims Putting Pants Around Your Neck "Hack" Can Tell You if They Fit Without Trying Them On
A TikTok hack for finding your correct pants size is going viral on the popular social media platform yet again, and a Twitter user put it to the test.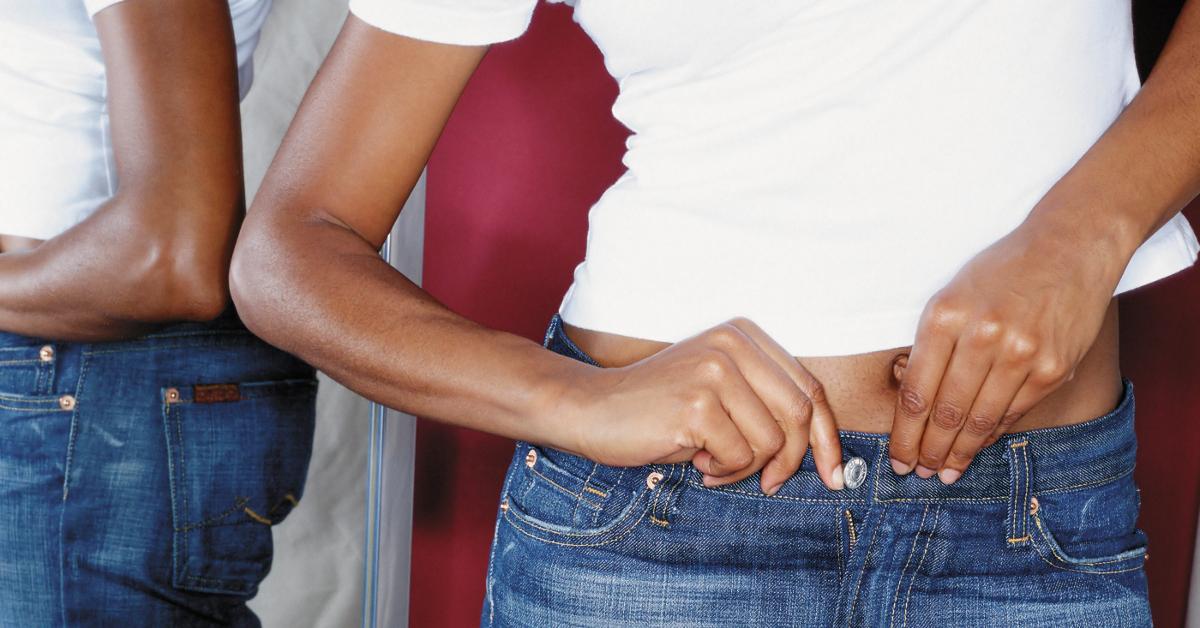 Online shopping is ridiculously convenient. Sure, there are some people who like to browse stores for deals and new finds, but there are ultimately a bunch of items we know that we need, swiping/tapping on our phones or entering a few keystrokes on our laptops to make sure that they show up at our homes is a heck of a lot easier to do from the comfort of our couch, toilet seat, or dinner table during an awful date you just can't wait to be over.
Article continues below advertisement
But there are just some items that are better shopped for in person, like clothing. If you've ever gotten clothes shipped to you from a brand you've never purchased from before, then you'll know that fits/sizes are a mixed bag. The dimensions can be all out of whack and the clothes might look great on whoever's modeling them, but the second you put them on you're either rocking an accidental crop top, or you look like a first grader using their dad's t-shirt for a smock in art class.
However, there are some sizing rules when it comes to pants that some TikTokers believe are universal, like this nifty little "jeans around the neck hack" that are trending on the popular social media platform. Toni Braxton, who posts on Twitter under the handle @tonichauntel_ posted her response to the popular sizing trick.
Article continues below advertisement
In the original video she posted and stitched together on her own, two women can be seen looking into the camera. The blonde-haired woman in the video addresses viewers, saying "Guys I just taught Jas this hack...OK but if you do not feel like trying on pants in the store, all you have to do is wrap them around your neck like this."
Article continues below advertisement
Her friend demonstrates the hack with a pair of jeans. She wears them like a cape with the folded waistband of the jeans folded around her neck. The TikToker in the clip goes on to say that it's imperative the end tips of the band touch just enough.
Article continues below advertisement
She states that if they overlap, the pants you're trying the hack on will be too loose. If they don't touch at all, then they'll be too tight. However, a perfectly aligned touch, like the one demonstrated in the video, will be just right.
Toni then cuts to her storming out of the door, grabbing her purse and keys, then a quick clip of her in her car, and then another clip of her trying to hack on three different pairs of pants at the store.
Article continues below advertisement
Once she settles on a "just right" fit she then high-tails it back home and tries the jeans on. Like the hack promises, the jeans fit perfectly, and she's utterly gobsmacked that it works.
Article continues below advertisement
Judging by the responses to Toni's video, there were tons of people who apparently knew about this trick all along. Many folks said that this is a common practice in Nigeria.
Article continues below advertisement
There were other Twitter users who shared their own method of finding out whether or not a pair of pants will fit you without actually having to try them on. Like putting one end of the pants waistband on your belly button, then folding it across your hips to the middle of your back.
If it perfectly rests on your belly button and mid-back, then the pants should be a perfect fit.
Article continues below advertisement
Some other people chimed in, however to say that this hack isn't exactly bullet-proof when it comes to all body types and sizes.
Article continues below advertisement
This isn't the first time this trick has trended on TikTok, it went viral back in February of 2021, but it appears to be making the rounds again to help folks with their pants-fitting woes.
Have you ever tried the technique? Do you find that it works for you? Or is there a big disparity between your neck and waist size?