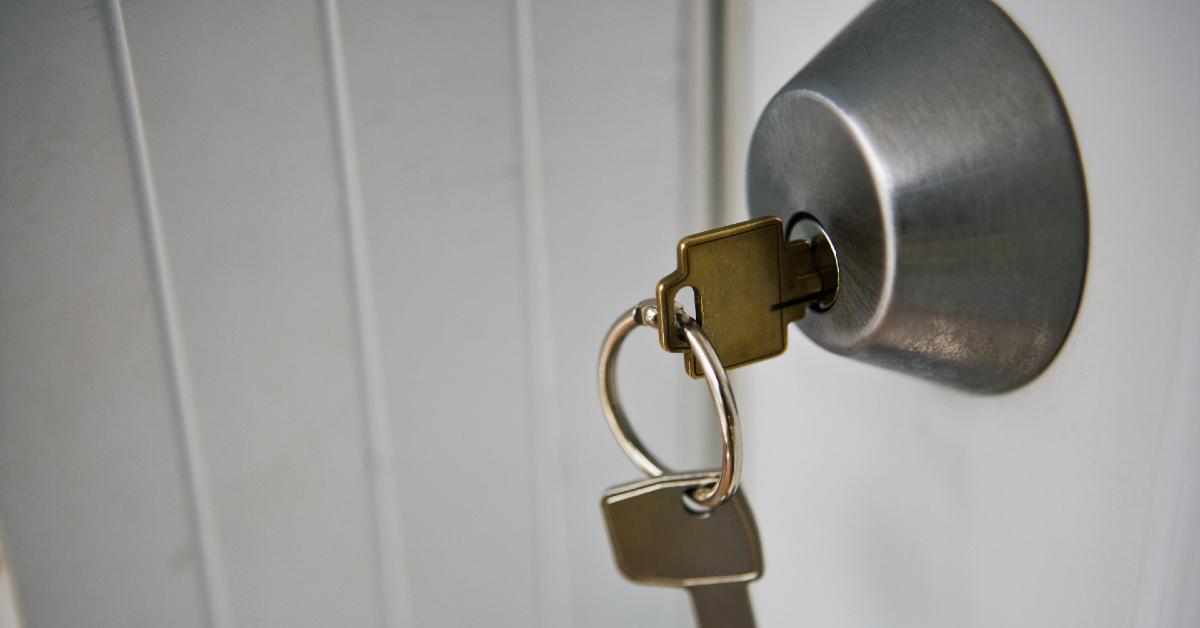 Maintenance Man Tells Woman He Doesn't Have to Knock Before Entering Her Home in Viral TikTok
TikToker @halzmaki uploaded a now-viral clip on the popular social media platform where she confronts a maintenance man about not knocking before he enters her home unannounced.
In the short 21-second recording, she sets her recording device down, so that it's pointing up at the ceiling. The maintenance man isn't captured in the video, but we do briefly see the TikToker's face in the clip.
Article continues below advertisement
She writes in a text overlay of the video: "Pov: You confronted the maintenance man about showing up to your house unannounced without knocking."
The video starts with the maintenance man saying, "Hi."
The young girl says, "Hi in response."
"Umm, you need to knock before you come in," she says, clearly anxious.
The maintenance man responds by saying, "Well, I have a key, so-"
The TikToker responds: "Yeah but you need to knock at least."
"No I don't," the maintenance man responds.
"Yes, you do," the TikToker says, before grabbing her smartphone camera and then looking into the lens while making an expression towards the lens.
Article continues below advertisement
Although the short clip ends rather quickly, @halzmaki updated her followers as to what happened following the incident, along with a "storytime" as to what went down in her initial viral clip. She first tells her followers that the landlord of the building knows about what occurred between her and the maintenance man.
"He is not happy about it at all," the TikToker told her followers, adding that her landlord will be changing the locks to their place.
Article continues below advertisement

She goes on to say that the incident wasn't her landlord's fault, and gave a little bit of context into what precipitated a visit from the maintenance man in the first place. The TikToker states that one of her roommates sent an email to their landlord letting them know that their washer was broken.
Article continues below advertisement
The landlord then forwarded that message to a maintenance man but never received a response back from them, nor did he receive any confirmation from the repair tech that they would be showing up to the unit to fix the washer.
According to @halzmaki, the maintenance man had come into their unit unannounced and without warning once before while one of the roommates was napping on the couch.
Article continues below advertisement

The roommate doesn't know what the landlord looks like so they assumed it was them. However, when they called up their landlord after their washer still didn't work, he sounded confused and informed him that he didn't visit their home.
"Someone was at your house? I didn't know about this," he said, according to @halzmaki.
Article continues below advertisement

She says she informed him that someone was indeed at their house and this was especially problematic for her and her roommates because everyone who lives in the building is a woman and "men are creepy." The thought of a complete stranger having keys to your home and that they can come and go into it whenever they please was a frightening prospect for @halzmaki and her roommates to deal with.
Article continues below advertisement

The second time the maintenance man entered the TikToker's home unannounced, she says it was early in the morning and she was laying in bed unclothed while home alone.
She then says that she got dressed and confronted him while recording the video so he would know that he couldn't just go in and out of their home as he pleased.
Article continues below advertisement

She added that she called the landlord right after the incident, who said that the maintenance man wasn't returning his phone calls.
One commenter criticized the TikToker for posting a TikTok instead of calling 9-1-1 when she thought someone may've broken into her home.
Article continues below advertisement

She said because she lives in Milwaukee, Wis. that police have far better things to do than respond to someone who is complaining about a maintenance man not knocking before entering her home. The TikToker added that she recorded her conversation with the man in order to have some type of correspondence on record.
Article continues below advertisement
Many commenters urged her to file a police report just to have a track record of him entering her home twice unannounced in the event that something does happen. In 2022, a law was passed in Florida in direct response the tragic murder of a 19-year-old at the hands of a maintenance man who gained access to her unit with a master key.
Article continues below advertisement

The law will require background checks for individuals employed by a landlord in the units that they rent out. Landlords/supers must also give 24 hours written notice prior to anyone showing up to someone's house. Violation of this law from landlords and/or maintenance workers. could face criminal charges.
Article continues below advertisement

As for @halzmaki's incident, it appears that she's going to keep living in the unit for the foreseeable future and wait for her landlord to change out the locks.
But there were several commenters who feared for the TikToker, urging them to check all nooks and crannies of her building to see if there were any recording devices planted in there.
Article continues below advertisement

How would you feel if a maintenance man just showed up at a place you were renting without warning and your landlord knew nothing about it?