Woman's Wig Dyeing "Hack" Goes Wrong, Woman Ends up Turning Hairpiece into "Slime"
A woman accidentally liquefied her synthetic wig after apparently trying to strip it of its color as per a YouTube tutorial, and TikTok is howling.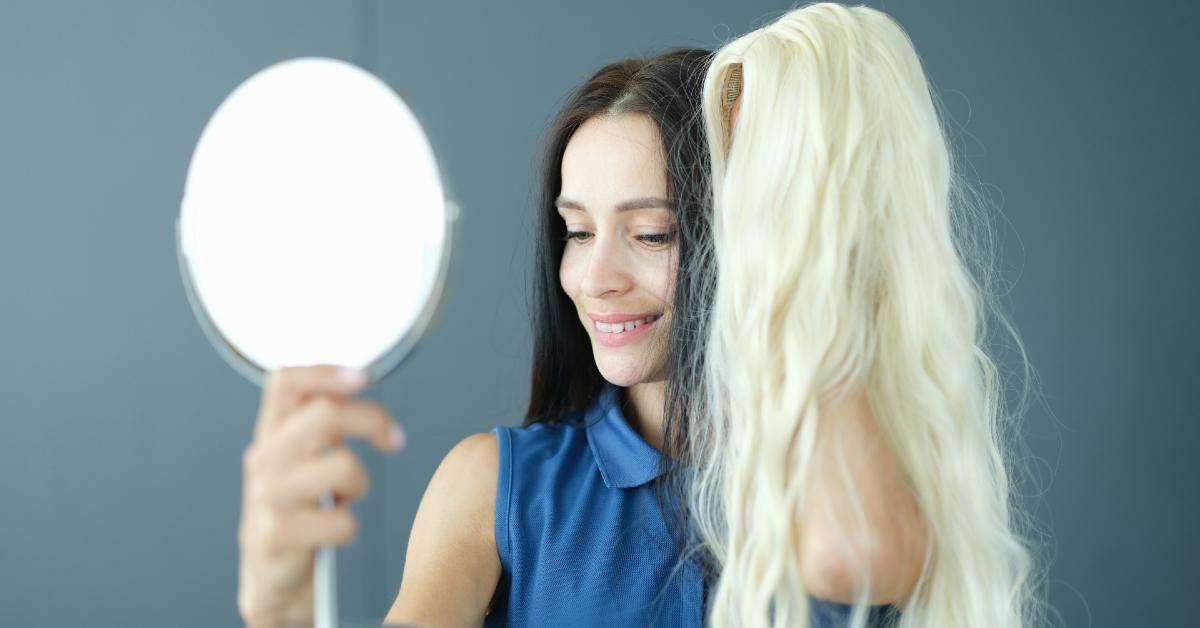 Social media can be a great tool if you're looking to kill some time by mindlessly scrolling through some posts while you're on the hunt for the next few seconds of someone else entertaining you before you swipe down and do it all over again.
And different applications go about this phenomenon in different ways.
Article continues below advertisement
Instagram is probably most closely associated with glamour shots of impossibly beautiful people selling idyllic do-nothing lifestyles where they travel the world and somehow, through a series of monetizing attention and adulation are able to gain notoriety and beefy bank accounts as a result of it.
YouTube is full of Minecraft streamers who can't make a regular human expression in a thumbnail. TikTok's full of genetically gifted teenagers rocking vacant smiles as they pull off mirthless, half-hearted dance routines and lip-syncing videos.
These are generalizations about these platforms, and there's a bevy of helpful information and tutorials on various social media apps that benefit a lot of people.
Like let's say you wanted to remove color from a wig...
Article continues below advertisement
...there are definitely people online who have got you covered and their methods may just save you from feeling the need to purchase an entirely new hair piece.
Article continues below advertisement
In the above clip, it appears that the person is using a combination of boiled/simmering water, dawn soap, baking soda, and what seems to be a conditioner.
They stir the wig in their cauldron of cleansers for a bit and after extricating the hair piece, it is now devoid of color just like they wanted. Nice.
However, as anyone who followed an online tutorial before can tell you, sometimes things don't always go super smoothly or entirely according to plan. Ask anyone who was assembling, let's say a bike or swapping out a port and they over-tightened and bolt only to realize they stripped/snapped a custom-made part that they will now have to work like hell in order to rectify.
Article continues below advertisement
Or they could end up like a TikToker who goes by Kell on the platform and posts under the handle @kellsnaturally, and try to strip their wig of color, only to end up with greenish-blue slime in their hands and a lot of questions.
Article continues below advertisement
The TikToker in question's 14-second clip shows her looking at the aftermath of what happened to her wig when she attempted to strip what appears to be a synthetic wig of its color. It looks like she was employing a technique similar to the one uploaded by the @shonteair TikTok account.

Article continues below advertisement
She begins the video by stating, "Like what the f--- did I do. I merely tried to lift this color off this wig, per YouTube University, and look at the wig! What did I do wrong," at this point she picks up a box of baking soda.

Article continues below advertisement
In a follow-up clip, she delineates exactly what happened with her wig, stating that she even dug through the trash in order to fetch it out and put it on camera for everyone to see. She puts on disposable gloves and extricates it from a plastic bag. She addresses folks who asked to see the wig "dry" and then goes on to explain: "This is why you can't see it dry."
Article continues below advertisement
She pulls the wig out of the bag, showing something that looks like this guy's skin out of that toxic waste accident Robocop scene. She runs her fingers through the wig, where it proceeds to come apart. "I'm literally just pulling the hair off. Look at it! Just look!" she says as she continues to dismantle the wig with just her fingers.

Article continues below advertisement
"Dry where? It's still wet!" she says giving a closer look at the wig to the camera, showing that it was still very much sopping wet and mushy. "I'm basically lightly rubbing my fingers through the wig," she says as more and more hair falls off.
So what exactly happened? One TikTok user who said they were in cosmetology school said that their teacher said the excessive amount of baking soda acted as "bleach" in this scenario, which resulted in the hair melting off the the wig cap.
Article continues below advertisement

Others stated that Kell's baking soda technique culminated in such a slimy experience because she tried to strip the color off of a synthetic wig, which reacts differently to the stripping process than a hairpiece made from real hair.
Article continues below advertisement
Judging from other folks who attempted to remove the dye from wigs using boiled water and dye removal, it doesn't seem like it's possible to remove the dye from a synthetic artificially colored wig.
Like this YouTuber who just re-dyed their wig after attempting to strip it of its original dye.