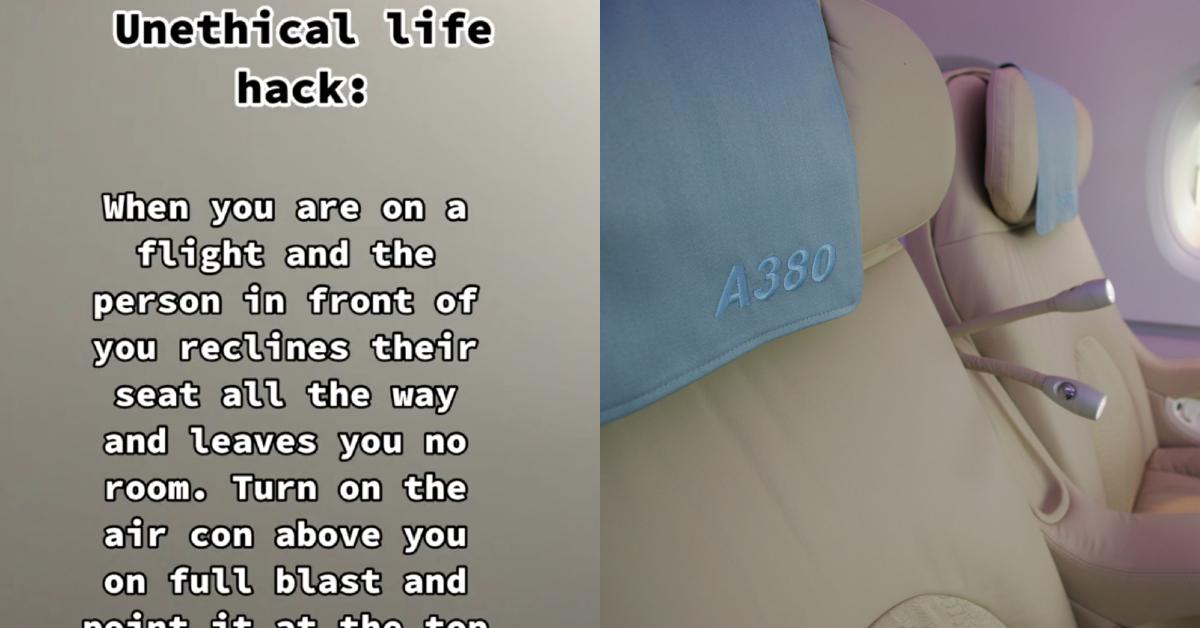 "Unethical" Hack on How to Stop People From Reclining Their Seats on Plane Sparks Debate
A TikToker's post about an "unethical life hack" to get back at airline passengers who recline their seats sparked a viral debate.
There's something about flying that brings out the worst in people. Every inconsiderate behavior displayed by a fellow passenger makes you immediately judge them. It doesn't help that seeing people jostle for space in overhead bins to save $35 on a checked bag fee makes you lose your faith in humanity, either.
Article continues below advertisement
Or when you're just trying to enjoy the little bit of leg room that you have and someone decides to recline their seat, giving you even less space to work with.
This leaves you with a dilemma, do you then recline your seat back and be just as inconsiderate as the person in front of you? Or do you just deal with it throughout the rest of the flight?
Article continues below advertisement
Well, one TikToker, @thelkshow, came up with a way to get back at serial recliners: by blasting your AC and pointing your individual multi-directional vent right on top of their head. Presumably, that'll make them so uncomfortable that they'll put their seat back in an upright position.
Article continues below advertisement
The TikToker writes in a text overlay of their video about the tip: "Unethical life hack: When you are on a flight and the person in front of you reclines their seat all the way and leaves you no room. Turn on the air-con above you on full blast and point it at the top of their head."
The video prompted a variety of different responses from other users on the platform. One person remarked that airplanes showcase that there are fundamentally opposed life philosophies encapsulated in human behavior, and it all boils down to how they choose to sit while aboard their flights.
Article continues below advertisement
"There are 2 kinds of people in this world: those who recline and don't care, and those who will never recline."
@thelkshow replied to the aforementioned user, writing, "The last option are my kind of people"

Article continues below advertisement
However, there were some who seemed to unabashedly promote the usage of reclining seats on airplanes, writing: "recliner seats are there to recline" but there were others who disagreed: "Those seats should not recline."
Another person said that flights would be more comfortable for everyone on board if each individual on the flight just chose to recline their seats: "Ok but hear me out- EVERYONE should recline, that way everybody is comfy and nobody has less room"
Article continues below advertisement
But there were others who think that there should be some type of control mechanism that flight attendants possess which will give them the ability to disable the recline option on seats based on how many people are aboard the plane at any given time.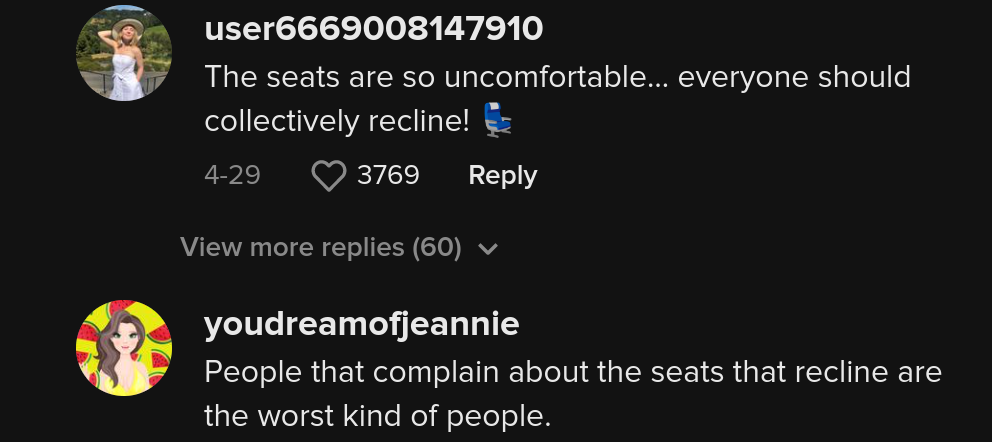 Article continues below advertisement
"They should make it so the seats can't recline anymore when they're packing us in like sardines," the TikToker wrote.
According to research conducted by Five Thirty Eight, it seems that polls represent an equally divisive opinion on recliners and nonrecliners on airplanes.
The website indicated that some 1,040 polled people shared their thoughts on reclining aboard airplanes. According to the site's research, 16% of folks who answered the poll said that they always put their seat back whenever they fly.
Article continues below advertisement
However, there were 20% of users who said that they never recline their seats while aboard a plane which is the same number of folks who said that they "usually" do so.

Article continues below advertisement
It seems that the majority of folks, according to the poll, only recline their chairs "once in a while": 30% of those queried in the study.
The outlet also asked about other behaviors of passengers that they dislike. The biggest pet peeve that fliers have? Passengers who "knowingly" bring crumby kids aboard.
Which camp are you a part team recline? Or team no recline?