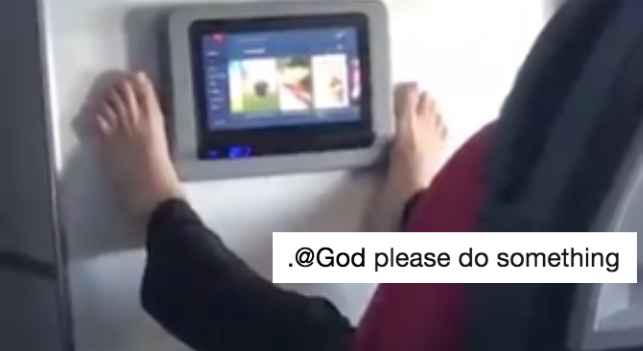 Man Uses His Feet on an Airplane Touchscreen and People Are Horrified
Is there no common decency anymore? Have we decided, because the world is in shambles, to forgo social decorum, to throw the book of unspoken rules — ones that cover basic politeness, etiquette, and any consideration whatsoever of other human beings — totally out the window? It sure seems like it.
Article continues below advertisement
Recently, a video was posted to Twitter. I'm going to post that video here. But first, I have to warn you. This video is short, only seven seconds long. But in that seven seconds, this video will manage to rock your world. It will change your perception of everything you thought you once knew. It will make you never want to touch the TV screen in front of you on the plane ever again.
Article continues below advertisement
I'm so sorry you had to see that. I'm so sorry you just watched it like five more times to make sure you were seeing it correctly and had the same realization over and over again: that people are monsters. Heathens. Primitive creatures unworthy of all the technological advances that we have been afforded. Humanity is toast. And so is your chance to ever again fly peacefully on an airplane.
Now, before we get too deep into shaming this man, there could be a legitimate reason for his behavior. People on Twitter were extremely quick to criticize this dude, but he could have a health condition that prevents him from using his arms, as one Twitter user rightly pointed out.
Article continues below advertisement
And they're right. In all honesty, I really detest this trend of people taking videos of strangers in public and then posting them on the internet for all to see and mock. Rarely do you get the full story about what someone is going through. So the commenter above is absolutely correct.
Article continues below advertisement
From the video, it's unclear whether this person has the use of their arms, and this is a good reminder that in situations like this, we should 100 percent reserve judgment.
But then, the video's poster got another update from the Twitter-less friend who sent it to them.
Article continues below advertisement
Well now, gloves off. Or maybe shoes off, I should say. Because this person needs to learn a lesson about what is acceptable behavior in public and what is definitely not. When you are on a plane, keep your shoes on. Period. It's a small space, and your feet might smell. It might be uncomfortable for you, but if you take off your shoes, you're making everyone else around you uncomfortable.
The problem is, people who are so brazen as this person is truly do not care about other people at all. All they think about is their own comfort.
Obviously, this video went immediately viral and caught the attention of decent people everywhere. The responses were priceless.
Article continues below advertisement
Please, God, or @God, or anyone, please fix this. There is only one way people like this learn to not do these things ever again, and that is by being smote. We're dealing with a godless individual who needs to be scared straight.
Article continues below advertisement
This is so true. It's truly appalling what happens to people when they enter the public sphere. Or maybe they are like this in their own homes, too, but no one else can see them or judge them. The rules change when you're out in public. They just do. And you have to acknowledge that, otherwise, sorry not sorry, you're going to be shamed on the internet.
Article continues below advertisement
Several people pointed out that this bare-footed plane hobbit is exactly the reason supermodel Naomi Campbell has an obsessive cleaning routine whenever she gets on a plane. Naomi Campbell gets it. She understands that the general public is not to be trusted.
Without further ado, here is Naomi Campbell explaining what she does every time she gets on a plane. You might want to take notes.
Article continues below advertisement
So there you have it, folks. You now know that people like the bare-footed barbarian exist. And you now have the tools to defeat them. Those tools are surgical gloves, so many antibacterial wipes (seriously, you should probably just reserve a whole carry-on bag for them), a seat cover, and a face mask. Naomi Campbell has been smarter than all of us this whole time. But not anymore. Not anymore.