A Driver and an Old Woman Have a Surprisingly Beautiful Talk About Love and Sex
This woman had an unexpectedly candid conversation with an older lady about what it's like to fall in love with a woman.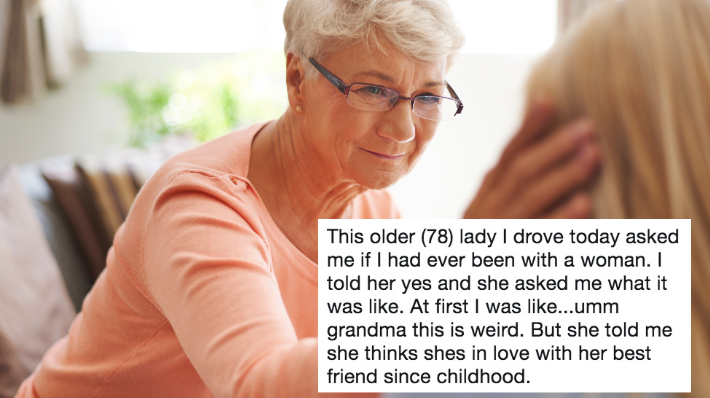 It's not every day that you are driving an older woman around and she initiates a conversation about what it's like to be with a woman. When that happened to one Twitter user, she was initially suspicious about the line of questioning. Obviously.
But what resulted was a lovely and heartbreaking story about one woman who's been struggling with her feelings and deciding what to do about them. Get the tissues ready because this story will make you emotional.
Article continues below advertisement
I bet that when you have a job driving older people around, you end up having a lot of fascinating conversations. It's probably a crapshoot whether you end up with a progressive, understanding old person or one of those, you know, super racist grandparents who feel like they can say anything they want to in your car. Obviously, it was a little strange when this older lady asked if the woman driving her around had ever been with a woman.
But she was simply curious. She thought that maybe she was in love with her best friend and wanted to know what it was like. So this woman provided the most incredible, lovely, and poetic explanation of what it's like for two women to have sex. Honestly, did she come up with this on the spot? Because this is impressive.
Article continues below advertisement
That seemed to break the ice, and the two of them continued to chat for the next 30 minutes about their past relationships and sexual experiences. If men these days are just figuring out how to please women in bed, you better believe the situation was worse a few decades ago.
Article continues below advertisement
Just because more people are out these days doesn't mean that they didn't exist in years past. Think about how many people were forced to live their entire lives in the closet because society wouldn't ever approve if they publicly loved the people they really did.
This woman wants to tell her best friend that she is in love with her, but she is frightened to.
Article continues below advertisement
I can't believe that after such a heartfelt conversation, she had to drop this woman off at the doctor's office and drive away! I wouldn't be able to stop thinking about her. Luckily, she was also scheduled to pick her up afterward. I'm really glad this woman had someone to whom she could open up and confess her feelings. But it's still unclear at this point if she's actually going to tell her friend how she feels.
Article continues below advertisement
I don't care what happens next; this is already the cutest story I have ever read in my entire life. Make it a movie. These two women already seem like they're so devoted to each other. I would like to believe that if this woman told her friend how she really felt, she'd at least be met with understanding and love, if not total reciprocation.
Article continues below advertisement
Well, I'm done. I'm toast. This is way too adorable. This woman grew up in a world that didn't recognize that you should be able to openly love anyone you want to. So it had to be incredibly hard to allow herself to feel those feelings. This story is a great reminder to love who you love and to tell those people you love them before it's too late.