12 Percent of Men Believe They Could Score Against Serena Williams, and Women Are Laughing
The YouGov poll asked men if they believed that they could score a point off of Serena Williams if they were playing their best tennis. Too many men said "yes."
Hello, and welcome to the 219,986,593,147th episode of Delusional Men Being Super Wrong About the Extent of Their Own Abilities. Today, we feature Serena Williams, the greatest tennis player of all time, and arguably the greatest athlete of all time. She faces off against... some regular old dudes on the street who are claiming that they could win a point off of her. In tennis. The sport she plays for a living. The sport at which she is one of the best in the world.
Article continues below advertisement
Online survey company YouGov recently asked a bunch of people the following question: "Do you think if you were playing your very best tennis, you could win a point off Serena Williams?" One in eight men, or 12 percent, answered "I think I could." Because at least one in eight men are completely delusional.
Article continues below advertisement
Let's break this down. Serena Williams has won 23 Grand Slam titles. These men are not professional tennis players. Serena Williams, along with her sister Venus, has won 14 out of 14 doubles titles. These men, no matter how much tennis they play at the country club, have most likely never been on a professional court.
Serena Williams serves the ball at an average speed of 108 mph. These men probably don't even drive the Corvettes they bought to stave off their mid-life crises that fast. There is simply no way that any man who is not a pro-level player could win even a single point off of Serena Williams.
Article continues below advertisement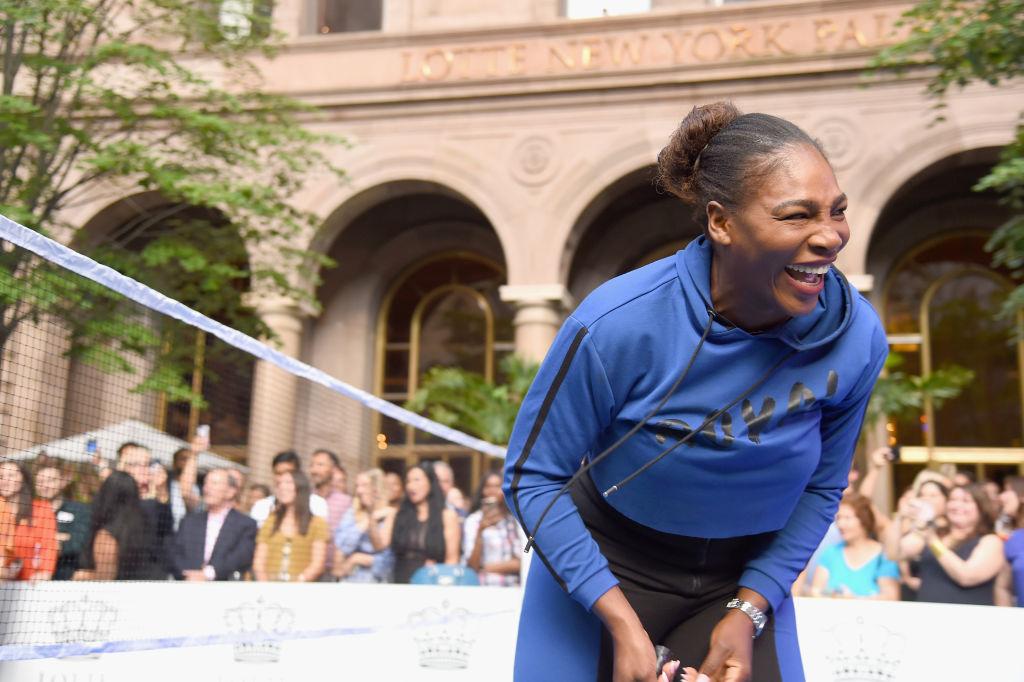 When I told my (male) fiancé about the statistic, he just started laughing. And that's how it should be. No one should have been able to say, "Sure, I think I could win a point off of Serena Williams" with a straight face. Is there a chance all 12 percent of them were joking? That they chose "I think I could" precisely because it's so glaringly obvious that they could not?
Article continues below advertisement
That's the only possibility that makes sense here. The other option is that one in eight men truly think a regular dude wearing cargo shorts and eating Cheetos could take on a woman who is a professional athlete in her own sport. Men don't seem to get that women athletes are not just "good for a girl." They are good. Period. They are powerful. They are better than you.
Misogyny and sexism and racism are so deeply ingrained that one in eight men actually think they could hold their own on a tennis court with Serena Williams. I feel like I keep repeating myself, but I need to until you hear how absurd that is. And I'm not the only one who thinks so. Twitter pretty much lost it when this survey was posted.
Article continues below advertisement
Chrissy Teigen is practically begging to see this, and honestly I want in. I was about to say we should line up every man who answered that they could face off against Serena and have her hit one tennis ball at them, but I don't want to make Serena do this. It's so beneath her.
Then again, if she were getting paid, and it was on television, and we could watch it every week...
Article continues below advertisement
This is truly a brilliant idea. Make this accountant try to return a serve from Serena Williams. Have this insurance adjuster attempt to hit a pitch from Jennie Finch. I'd love to see a sweaty middle manager trip over himself trying to steal the ball from Megan Rapinoe. Make this a TV show. With all the cocky dudes out there, this show could run for 50 years.
Article continues below advertisement
Men have way too much unwarranted confidence, as evidenced by *gestures to everything.* When I see polls like this one, I feel so incredibly sad and frustrated. In 2019, we should be beyond men who are not athletes claiming they could perform on par with any professional women athletes.
It's unthinkably stupid, and I honestly can't think of a solution other than knocking some sense into these guys. Preferably in the form of a tennis ball traveling at their faces at over 100 mph. On national television. For all to see.