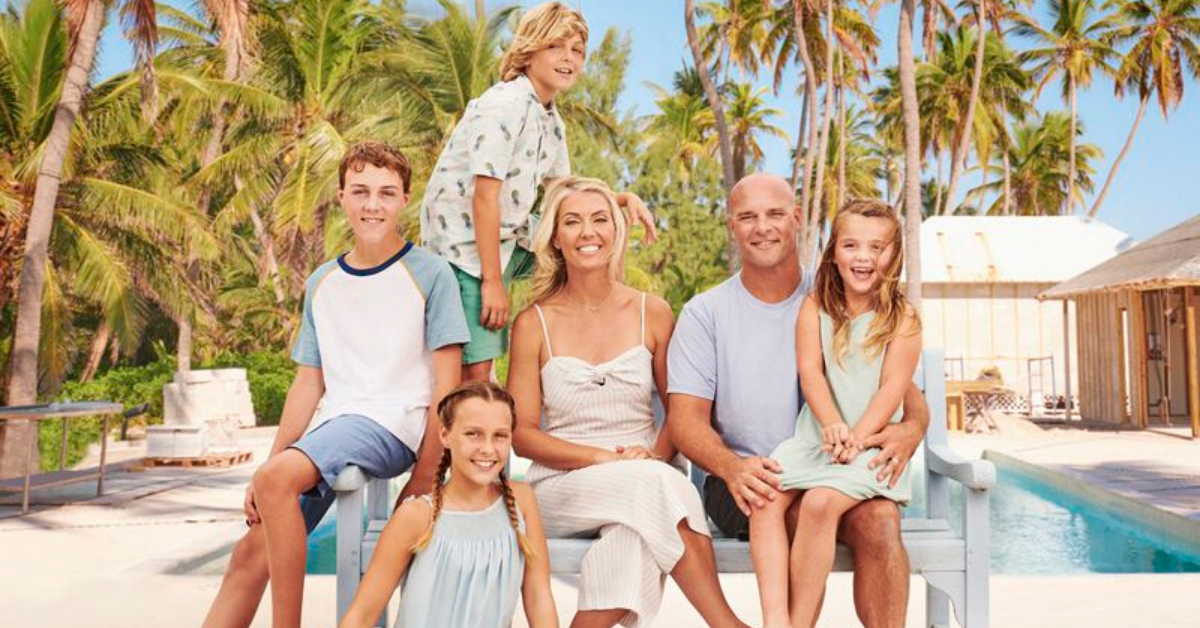 Why This Couple Paid $10 Million to Move Their Family to the Bahamas
Does HGTV ever stop coming up with new ideas to hook viewers in? The clear answer is no, and a fixer-upper series on an isolated island in paradise is one of them.
That's the premise of the network's new show Renovation Island, where renovation experts take on the overhaul of an entire resort in the Bahamas. HGTV calls it a "virtual Caribbean adventure" and invites viewers along on an armchair trip to tropical paradise.
Article continues below advertisement
The hosts are Canadian renovation pros Bryan and Sarah Baeumler.
Bryan and Sarah Baeumler are a husband-wife rehabbing powerhouse, and they set their sights on turning an abandoned resort from the 60s into an eco-friendly, luxury boutique hotel and destination.
They stumbled upon the 50 year old, 10-acre dilapidated property formerly known as the Emerald Palms hotel on a trip to the Bahamas, and a day jaunt to the South Andros island.
Article continues below advertisement
Long forgotten as it was, having been on the market for more than a decade, the Baeumlers decided to go all in on bringing it back to life. In fact, they moved their entire family to the tiny island to tackle the massive job.
Bryan is a licensed contractor and Sarah has some serious design chops. HGTV describes their venture as being reminiscent of a modern-day take on Swiss Family Robinson.
The family has a lot riding on this venture.
Bryan and Sarah spent $2 million on the resort, and have reportedly invested more than $10 million in the property, now known as Caerula Mar Club, overall.
"This is the biggest change our family has faced and the largest project we've ever taken on," Bryan says. "What are we risking? Absolutely everything."
So far, the couple says that logistics have been the biggest issue.
Article continues below advertisement
They're also hoping it was the right move for their family, which includes four young kids — Quintyn, Charlotte, Lincoln, and Josephine — from urban life in Canada to tropical life in the Bahamas.
"Everyone said we were crazy," Sarah shares. "But our hearts said 'yes' - this is the right thing to do."
Article continues below advertisement
And they've faced plenty of adversity along the way.
The resort's grand opening happened in February 2020 — just six weeks before the coronavirus pandemic hit.
And global pandemic aside, the monstrous Hurricane Dorian was headed straight for the property, and the Baeumlers prepared for the worst. But the storm turned north, hitting Abaco and Grand Bahama, and sparing Caerula Mar Club.
Sarah and Bryan told the Renovation Island film crew to stop filming as they focused on helping their staff, friends, and community members who weren't as lucky.
Article continues below advertisement
Still, they say it's been worth it.
A definite labor of love, Sarah and Bryan are proud of the haven they've created.
"It is a place to renew and restore…low density, surrounded by nature, crystal clear water, incredible reefs and ocean for fishing and diving, endless beaches with no footprints, ultimate privacy and serenity, all while enjoying the creature comforts of a small boutique hotel with incredible cuisine, spa, pool and a relaxed but refined environment," Bryan says.
Nothing had stopped Sarah and Bryan from breathing new life into the property they saw so much potential in, and they're excited to welcome guests from around the world. And in keeping with their eco-friendly blueprints, they're installing an ocean plastics recycling plant and ramping up their own sustainability efforts at the resort.
Congrats to the Baeumlers!