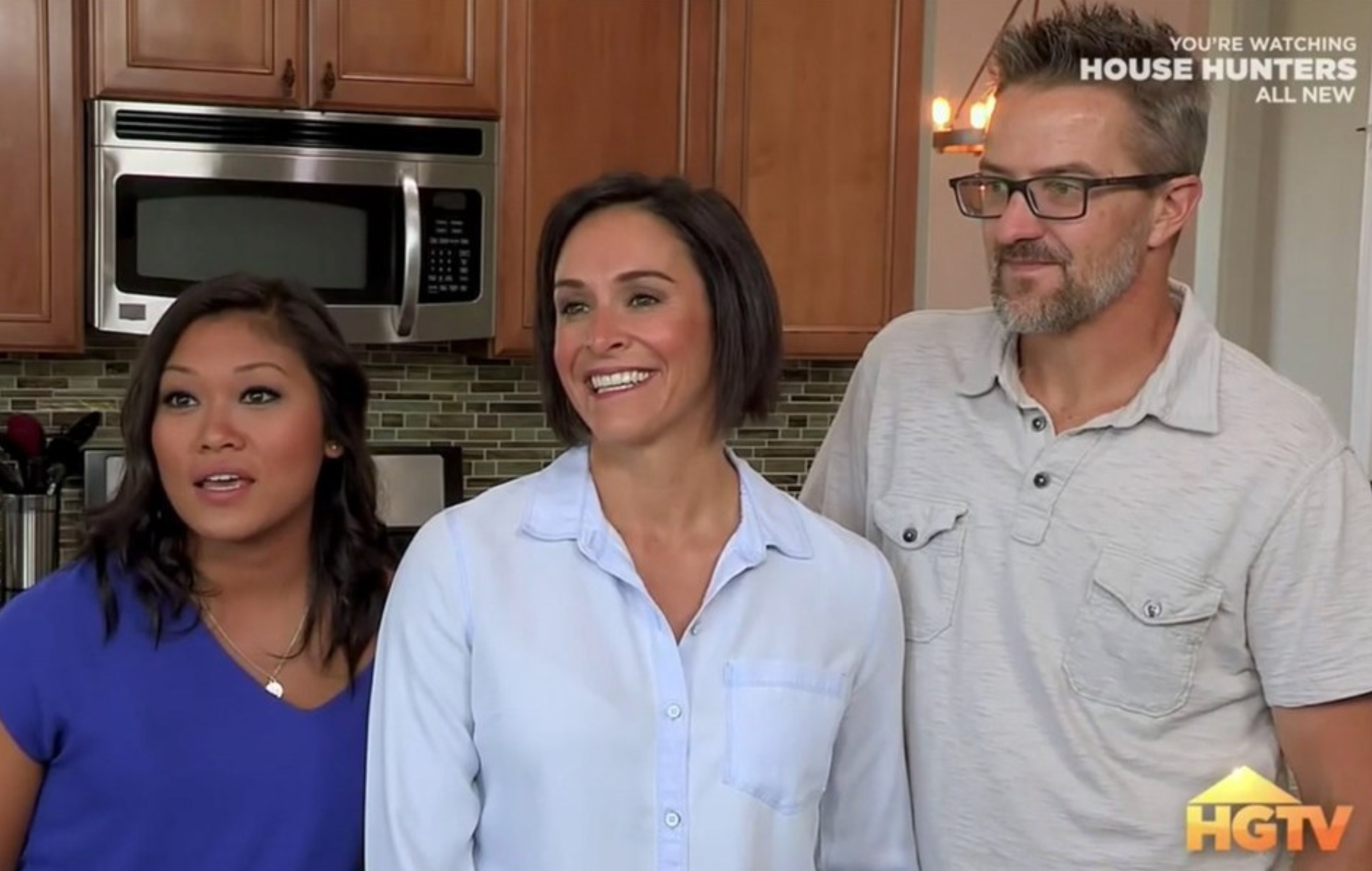 'House Hunters' Found This Trio the Perfect House With a "Throuple's Kitchen"
If you thought house hunting was hard, imagine adding a third partner's preferences to the mix. The hit HGTV show House Hunters just premiered an episode featuring a throuple looking for a new home to move into.
This is the show's first polyamorous relationship, and the episode proved, with a little communication, even a trio can settle on the right home for them.
Article continues below advertisement
Brian, Lori and Geli are 'House Hunters's first throuple and they're looking for their dream home.
The episode, titled "Three's Not a Crowd in Colorado Springs," introduced Brian, Lori, and Angellica (or Geli for short). Lori and Brian had been a couple for years and later introduced Geli into the mix.
"Lori and I got married in 2002, and we have two kids..." Brian said on the episode. "I understood from day one, even when we were dating, that Lori was bisexual... and so we evolved to a point where we were comfortable having another woman in our lives."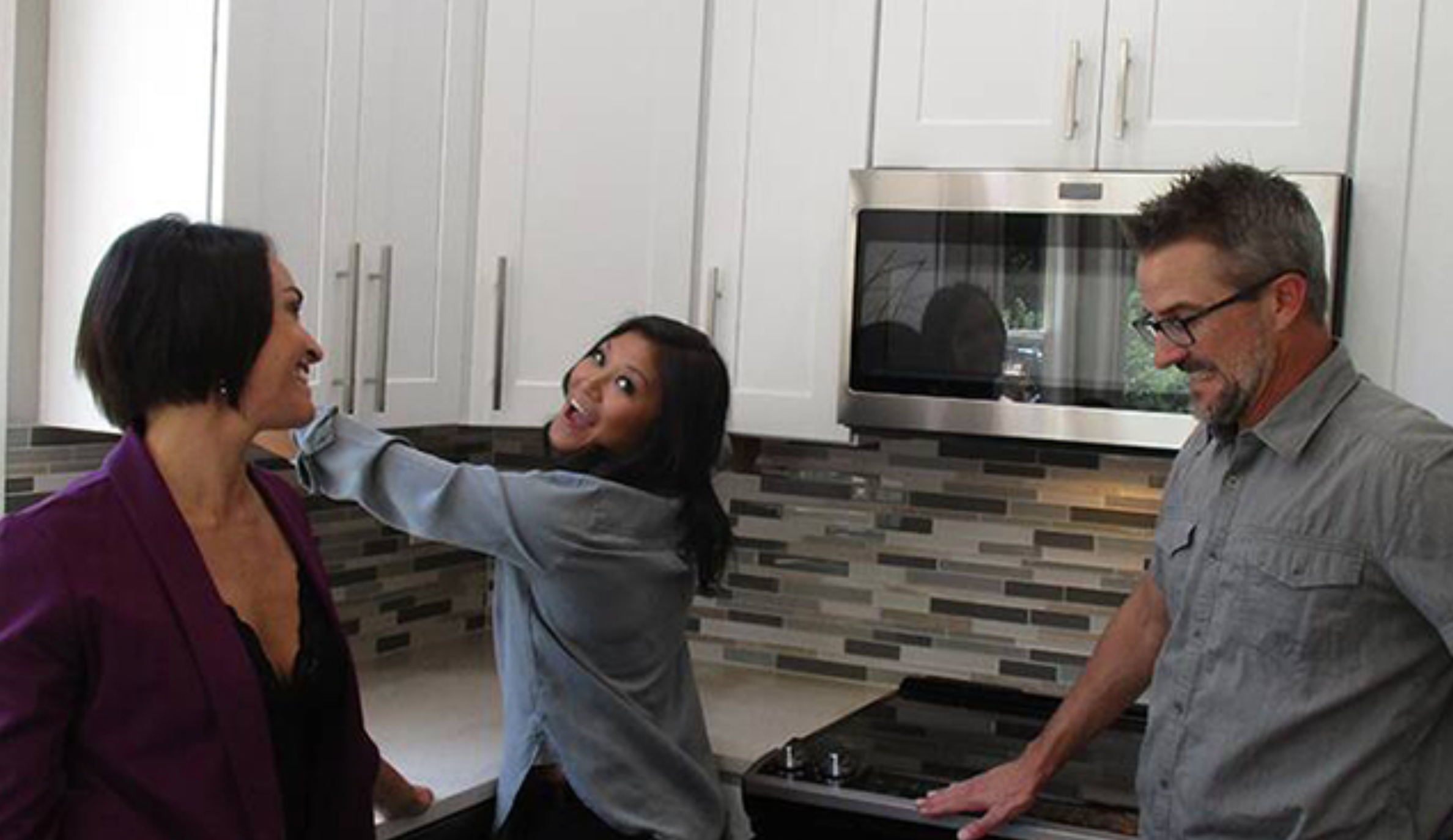 Article continues below advertisement
While we're not sure we vibe with the idea that being bisexual means Lori needed another person in the relationship, to each their own, and it's about time HGTV portrayed a polyamorous couple on screen.
Geli met the couple at a bar, and while she "didn't plan on being in a relationship with a married couple," she admitted that "it just happened very naturally, organically."
Lori and Brian are legally married, but since U.S. laws don't allow someone to be married to more than one person at a time, the trio had a "commitment ceremony" in Aruba.
And since we're sure you're all wondering: yes, they do all sleep together in one massive bed — a completely different tune from the separate houses the Sister Wives have.
Article continues below advertisement
One item on their wish list: a move-in ready home with three sinks in the master bathroom and a "throuple's kitchen."
According to the HGTV description for the episode, they're on the hunt to find a house that can "satisfy three very different personalities," and the audience learns more about effective communication in the process.
Article continues below advertisement
The internet is here for this throuple episode.
The reaction on Twitter to the new episode was overwhelmingly positive, with a lot of fans of the show cracking up at some of their demands. Of course a house isn't going to come with three sinks in the master bathroom, and we have no idea what a "throuple's kitchen" actually is — but it made for some great content.
There are always going to be those people who think showing a consensually non-monogamous couple isn't progressive, but it definitely makes for some great content.
"Y'ALL THERE'S A THROUPLE ON HOUSE HUNTERS RIGHT NOW," one user tweeted when the show aired.
"Tonight on House Hunters, a throuple searches for their new home. Trust me, it's a lot harder to find the right third than it is to find the right house," another added.
Article continues below advertisement
Article continues below advertisement
While of course the couple had to make some compromises to find a house that suited them all, they finally settled on a home that was out of their budget, but definitely had a nice view — leaving viewers just as confused as they normally are about a couple's decisions!
"Remarkably progressive and faithfully forumulaic at the same time! I was even as confused as I usually am about their final choice!" @stevenacoogan tweeted.
At least the group seems to be happy with their final decision.