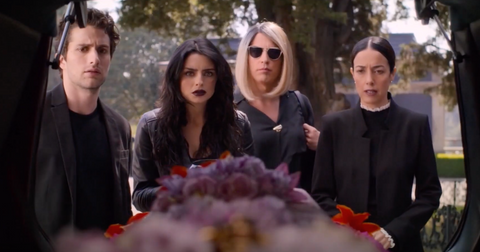 Here's When You Can Expect 'House of Flowers' Season 3 to Drop
By Gina Vaynshteyn

Updated
Warning! House of Flowers Season 1 spoilers ahead.
Even though House of Flowers (La Casa de Las Floras) Season 2 dropped today (October 18), people already want to know: Will House of Flowers be back for Season 3? The hilarious telenovela-inspired series follows the De la Mora family and their beloved flower shop. Season 1 wraps up when we learn Virgina has sold the flower shop, The House of Flowers, to La Chiquis. 
We're also left with Carmela's husband finding her in bed with Poncho. It was a crazy season finale, and we're just happy the show is back. Here's what we know about Season 2: Paulina is in Madrid and unhappy. In the Season 2 trailer, she tells a new pal about her lost flower shop. It's is now owned by Los Chiquis, but we already knew that. The De la Mora family very, very badly wants their shop back, and it sounds like they'll stop at nothing to get it.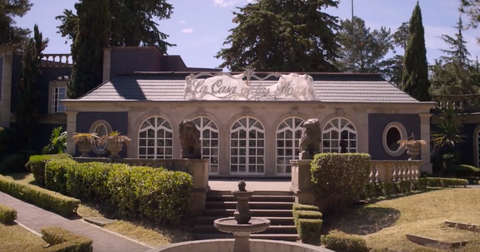 There's also a hint that Julian's boyfriend Diego (you know, the one who took all the De la Mora money and peaced out) will be back and him and Julian aren't exactly over. But, you'll learn *all* about that in Season 2. 
So, will there be a Season 3 of House of Flowers?!
The TV gods must love us, because yes! There will be another season after Season 2 of House of Flowers , and Season 3 premieres in 2020, according to Manolo Caro, the executive producer, writer, and director of the show. Manola tweeted, "AQUÍ VAMOS! Gracias a ustedes LA CASA DE LAS FLORES 2 -2019- y para sorpresa de todos LA CASA DE LAS FLORES 3 -2020-." In fact, there's already a Season 3 House of Flowers page on IMDb (albeit, there's no new info there).
People seem to love Season 2 of House of Flowers so far.
Twitter users are stoked that it dropped, calling it "hilarious."
Started watching House of Flowers on Netflix and legit it's hilarious!

— Erika G. Luna (@sourluna) October 19, 2019
Season 2 of house of flowers is out today and im freaking stoked about it!!

— Papilord🐺 (@papilordddd) October 18, 2019
I just started watching it !!! It's good so far 😅🤗

— La Chillys 🌻❣️ (@villanuevaash5) October 18, 2019
Season 2 of House of Flowers is just as fantastic as its first. We have Elena recklessly putting her architect career in jeopardy while she prioritizes her sexual needs, her brother Julián is still as shady as ever, and her dad Ernesto is finally out of jail and has joined a cult. It's up to Paulina to take care of everyone, and that's what Season 2 is all about.
Watch House of Flowers (La Casa de Las Floras) on Netflix now!