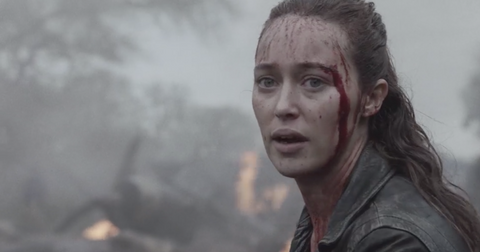 Here's What You Need to Know Before 'Fear the Walking Dead's Season 5 Premiere
By Pippa Raga
It's been a year since Season 4 of Fear the Walking Dead, the prequel to The Walking Dead, aired. So we won't judge you if a few of the details are blurry in your mind. After all, there's been so much good TV on since then!
But it's time to ramp back up for the apocalypse, because Season 5 is right around the corner. So consider this a refresher on what happened last season.
You're probably asking yourself, How did Nick die and when does Fear the Walking Dead return? Keep scrolling and we'll get into it all.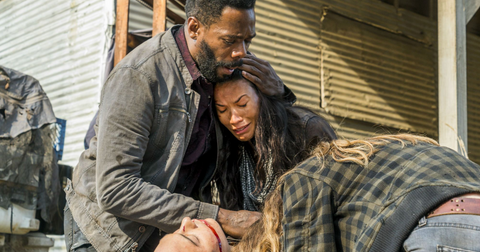 How did Nick die on Fear the Walking Dead?
Nick Clark (played by Frank Dillane) dies in Season 4 Episode 3, "Good Out Here." It's a bit shocking because up until that point, he's one of the show's most important leading characters. Nick is Alicia's brother, Madison's son, and Luciana's boyfriend.
But in "Good Out Here," we watched as Charlie, his former love interest, turned out to be a spy and shot him in the chest! Then, the poor former drug addict turned altruistic community member dies in the arms of Luciana, Alicia, and Strand who try to save him while Morgan, Althea, and John Dorie look on.
We're getting sad just thinking about his death again. Especially because he was one of Fear the Walking Dead's best written characters, with a personable arc and an unpredictable edge. His story will likely continue in the flashback scenes, but now we know they'll all lead to this tragic death scene.
Why did they kill off Nick?
As it were, Nick's death wasn't totally planned by the writers. Actually, it was actor Frank Dillane, 28, who asked to leave the show. "I had been playing Nick for four years and I was ready to play some different characters," he said in an interview with Entertainment Weekly.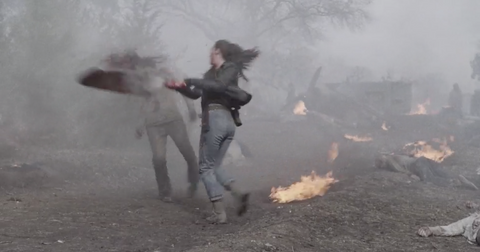 "The show has undergone many changes in terms of different people in charge, all of this stuff, and I just felt like the beginning of this season kind of felt like the end of an era with the show," he went on to say. "And television is hard work, and you have to shoot a lot."
"I also missed Europe very much. I'm not American, so after a while I get quite homesick and all of those things," said the British actor. "I also felt like we had achieved what needed to be achieved in the first few seasons, so I thought it was time to keep moving."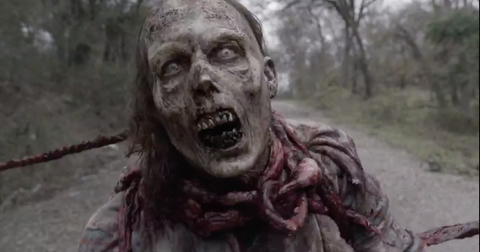 When does Fear the Walking Dead return?
Season 5 of Fear the Walking Dead is just around the corner and it promises to be a bit more humorous than ever before, according to the stars. "It really has a new tone," said Jenna Elfman, who plays June.
"It's great. Have you ever seen people in crisis? They start cracking jokes," she continued. "Garrett [Dillahunt and I], you know, we've done comedy. I think bringing some of that levity is healthy, and it also helps tell the story of the pathos more, too."
Fear the Walking Dead returns to AMC on June 2 at 9 p.m. and we can't wait to see this new direction they're taking the show in!