Optometrist Goes Viral for Demonstrating How People Really See Without Glasses
If you're one of the lucky few who doesn't need glasses then take a look at how people without their glasses really see the world.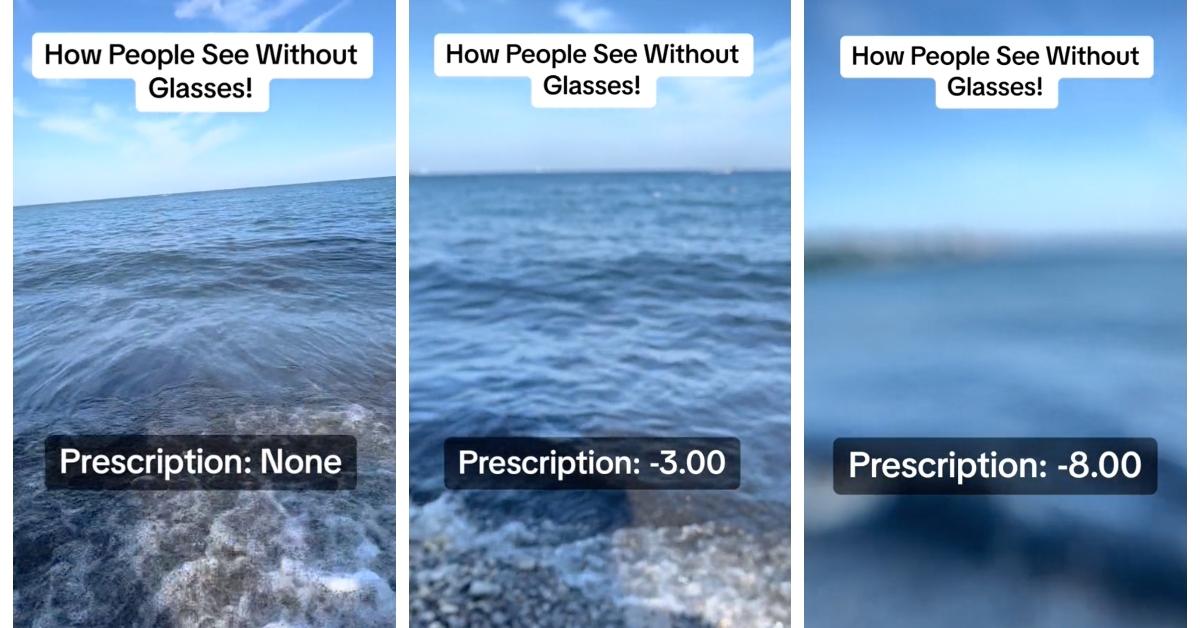 As someone who suffers from dry eyes, I've learned about taking care of my peepers in a way I never thought possible. My daily existence involves eyelid scrubs, eye drops, and a near-constant reminder to stop rubbing my eyes. You know how you tell yourself not to do something and it's all you want to do? Think about that next time you're trying to avoid a mosquito bite.
Article continues below advertisement
The only silver lining to my ocular dilemma is my vision isn't too terrible. I don't need glasses though I daresay I'd trade in dry eyes for blurry eyes any day of the week. I'd say the grass is always greener on the other side, but a healthy dose of fresh grass can irritate my eyes. I'm fun in nature!
I am curious about what the world is like for the spectacled folks which is why I could not take my desert eyes off a TikTok from an eye doctor who demonstrated how people see without glasses.
Article continues below advertisement
I see what you did there.
Dr. Michael Farr, who goes by @dr.mfarr on TikTok, describes himself as an "optometrist by day, TikToker by night." His videos are an incredible tool for anyone who struggles with eye issues or any problems relating to your vision. He approaches his lessons with comedy when it's appropriate and usually warns folks when things might get gross.
In an effort to inject some empathy into a world that appears to be severely lacking in that department, Dr. Farr posted a TikTok that demonstrates what the world looks like for people who need glasses. He quickly cycles through various prescriptions, kind of like a view-master shifting from picture to picture.
Article continues below advertisement
The first example is of someone who doesn't need a prescription. The video of waves crashing onto rocks is crystal clear. It pans from the shore, over to land in the distance. We can see every nook and cranny.
Article continues below advertisement
Next we hit a -1.00 prescription followed by -1.50 but can barely see a difference. Things start to become blurry at a -2.00 prescription but it's mostly around the edges. Squinting one's eyes a tad will bring things into focus.
At a -3.00 prescription, the land mass in the distance is definitely blurry and starts to become a series of shapes. The colors help because there are green trees which are fairly identifiable, but you certainly can't tell one tree from another. "I'm 2.5 on my right eye and 2.25 on my left eye and I can see stuff close up really good but everything else is a blur," commented one TikToker.
Article continues below advertisement

Natalie Nicole, who has -4.25 replied, "When I can't find my glasses, I really can't find them." I get it because -4.00 and -5.00 are blurry all around. At least the rocky beach was somewhat visible before. Now the whole thing's becoming a wash, pun intended.
Article continues below advertisement
I started to feel incredibly helpless after -6.00. Without glasses, it would be fairly difficult if not darn near impossible to navigate the world without some help. "I have -7.75, the world is a scary place with no contacts," said Amanda in the comments. Dr. Farr ends with a -8.00 prescription which is more shapes than anything else.
A couple of folks mentioned having an astigmatism in the comments. What is that?
On top of questionable vision, more than one person said they had an astigmatism. According to the it's a "common and generally treatable imperfection in the curvature of the eye that causes blurred distance and near vision."
Article continues below advertisement

The two parts of the eye that are involved are the lens and the cornea. "If either the cornea or the lens is egg-shaped with two mismatched curves, light rays aren't bent the same, which means that two different images form," per the Mayo Clinic. This produces two images which overlap with each other. In a TikTok about driving at night with an astigmatism, Dr. Farr shows folks how lights are particularly blinding. Someone replied that driving in the rain at night makes this even worse.
Beyond being helpful, what's great about Dr. Farr's TikToks is his ability to help people step into the shoes, or in this eyewear, of others. They help foster an understanding for people with different experiences all while being entertaining. In other words, he really helps everyone see each other a little bit better.