Parents Say an Urgent Care Doctor Wrongfully Called CPS on Them
An urgent care doctor reportedly calls CPS on parents after the father criticized the doctor's service. The father is seeking attorneys.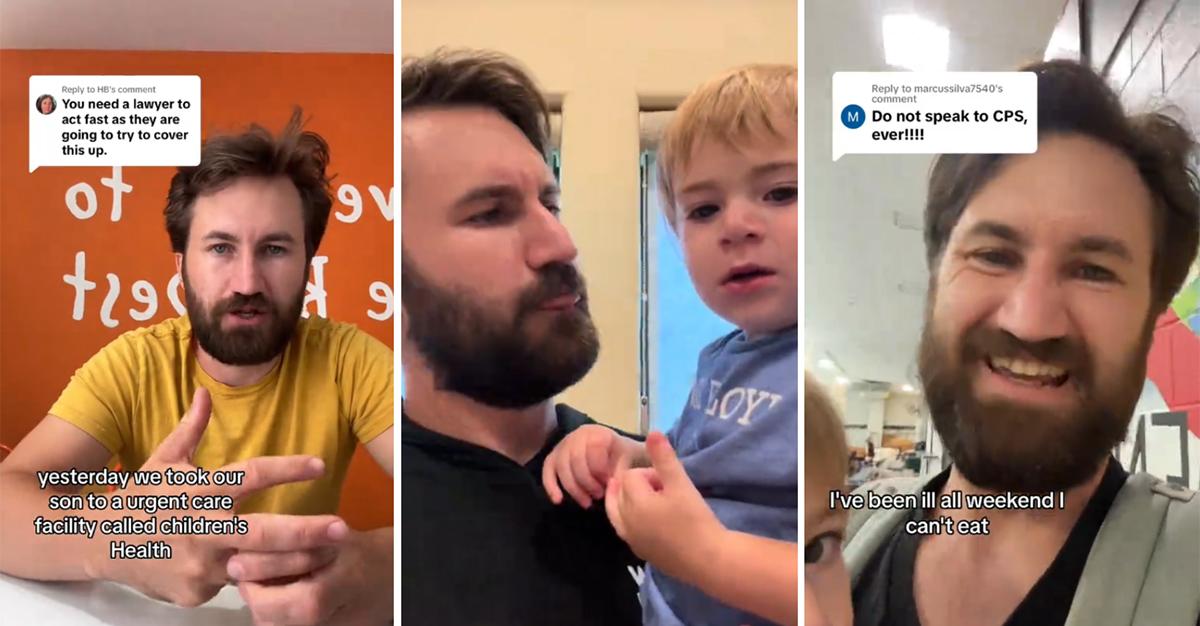 For folks who become new parents or guardians to a small child, it's understandable for you to worry over their well-being at every turn. Whether they get a nasty boo-boo, swallow something they shouldn't, or even just cough a little funny, no one would blame you for going into crisis mode over your kid and taking them to an urgent care clinic. Even if they're completely fine, going to the doctor on a gut feeling over your child's health is far from the worst thing you could do. Or at least, it should be.
Article continues below advertisement
You would expect a doctor seeing a child would give them the treatment and care they deserve, especially to put the parents' minds at ease. Unfortunately, The BOLD Fam (@boldfam) on TikTok didn't have that easy experience. In fact, their child's visit to the urgent care ended with the doctor having reportedly called CPS on the parents for no good reason. Now the father, Deric Cahill, is pursuing legal action against the clinic. He's posted updates to his harrowing journey on TikTok.
Article continues below advertisement
An urgent care doctor reportedly called CPS on well-meaning parents.
Deric first posted about his awful experience with the urgent care clinic in mid-July 2023. According to his first TikTok, he and his wife had taken their 1-year-old, Rowan, to the Children's Health PM Urgent Care in Flower Mound, Texas. He was brought in for a fever he'd had for several days.
After some waiting, the doctor who came in to see the family apparently only examined Rowan for five minutes at most before advising them to take their child to the emergency room for more tests. The parents were flabbergasted at both the quickness and the severity of the doctor's response.
"This felt so transactional," Deric recalled. He subsequently left a negative Google review of the clinic.
Article continues below advertisement
A few hours later at home, the family got a knock on their door from child protective services. Apparently, they had gotten a message from the clinic claiming that Rowan was severely ill and dehydrated and needed to go to the emergency for fluids.
Article continues below advertisement
Not only were the parents themselves not informed of this, but the CPS agent could even see visually that the child was not dehydrated.
Appalled by this response, Deric returned to the clinic to retrieve their discharge paperwork. He believes the information on them to have been doctored to reflect the doctor's dehydration claims more accurately. When he tried to speak to the doctor again, the police were called on him.
Article continues below advertisement
Shortly following this, the family took Rowan to another urgent care clinic. They reportedly spent more time examining him and gave a more informed prognosis and encouraged the child to rest. Rowan's fever broke days later.
Horrified by what his family had to go through, Deric is currently pursuing legal action against the clinic, which has apparently scrubbed all of their Google reviews including Deric's.
Article continues below advertisement
He's even prepared all kinds of evidence, including camera footage of Rowan active and playing both before and after the initial appointment. This contradicts the doctor's initial report suggesting that Rowan was visually unwell. He's even compared the discharge papers between both clinics they visited, which show wildly different results.
Article continues below advertisement
For the most part, folks are on Deric's side as he prepares a lawsuit. Many of them wish to see justice served and have even advised Deric to take the story to his local news station.
A pediatrician even weighed in on the situation with her own take. She states that if the doctor from the first clinic were really concerned about dehydration in a child, they should have gone through a lot more tests and procedures.
As of this writing, Deric is rather shaken by the experience, worried that his child might have been taken from him over a wrongful claim of negligence. The internet is rooting for him to find satisfaction.