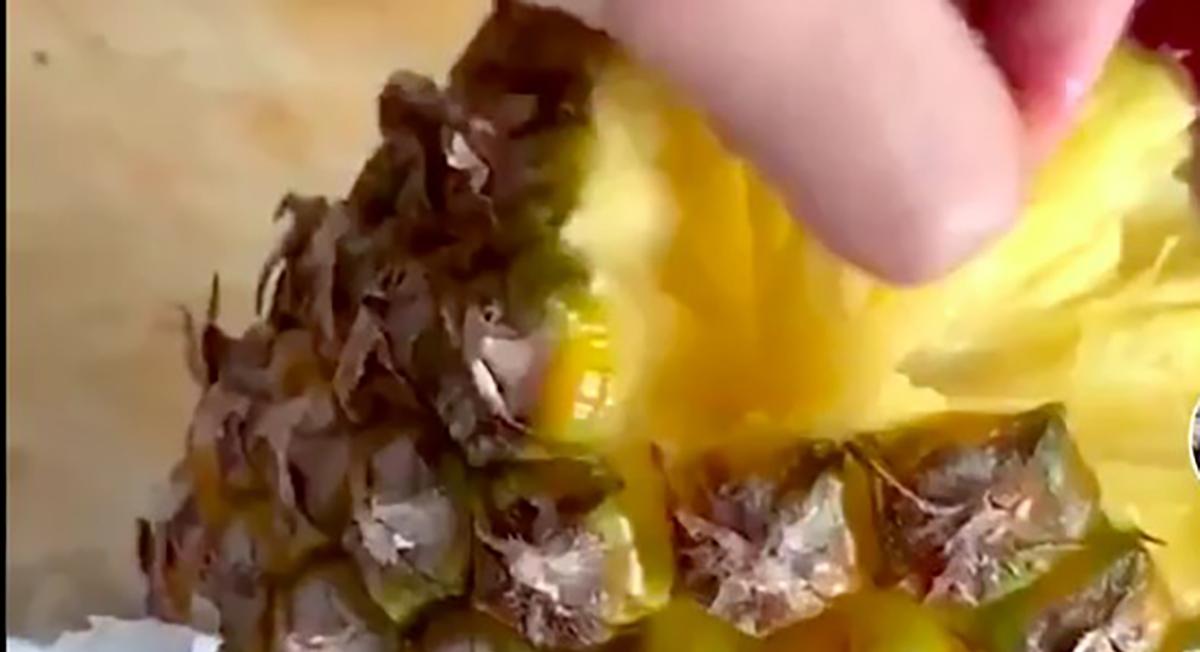 Twitter Found a New Way to 'Peel' Pineapple Without All the Mess
Pineapple is one of the most delicious fruits out there, it's hard to argue otherwise. But they make us work hard for that sweetness, and unless you have some crazy pineapple tool off Amazon, there's a whole lot of cutting and getting your hands all sticky every time you want a treat. That's not even mentioning the huge mess it makes, or how quickly the rest of the fruit goes bad after you've cut it up.
Article continues below advertisement
But Twitter user @KiddMSEd, a grad student from Illinois, recently discovered a new way to eat pineapple that eliminates all of the mess. Basically, all you need to do is take off the top with a knife, and then simply pull on the rind to 'peel' out little chunks of bite-sized pineapple.
She explains the method, rather excitedly, in a video that has since gone viral with over 180,000 retweets and 500,000 likes.
Article continues below advertisement
"My mind is genuinely blown right now," she wrote in a further tweet. "Twitter is an amazing learning tool."
Article continues below advertisement
@KiddMSEd explains that she saw the method on Twitter, and tried to replicate it herself. She was so excited in the video because she was 100% sure the person in the original video was lying so this caught me off guard. I didn't expect it to work."
Article continues below advertisement
And people seem to be just as shocked by this new method. Plenty of people tried the technique, and had plenty of success.
Article continues below advertisement
"Omg it works," one user wrote.
Article continues below advertisement
And lots of Twitter users are excited to try the method out. One user wrote:
"This just made me feel like I need to go peel a pineapple in the sun asap and reconnect on this level."
While one critic added: "That would take sooo much time. Why not cut it and eat as big of bites as you want."
Another user already knew about the method, explaining: "Haha ofcourse you can eat it like that! How else animals and humans eat that shit before we had modern civilizations! Haha but it's true that nobody really eats it like that anymore! Advantage of eating it like that is that the rest stays longer fresh!"
Will you be eating pineapples like this in the future?