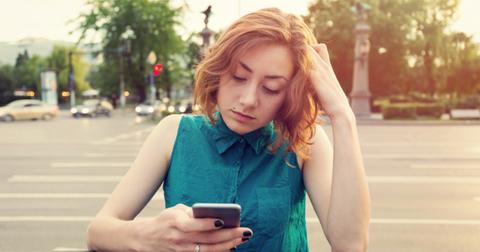 Think Someone Blocked You on TikTok? Here's How to Know for Sure
By Abi Travis

Updated
The popular video-sharing app TikTok is great for all kinds of things. You can spend literal hours scrolling through and being entertained by pranks, dances, and challenges. You can also make your own videos (and if they're popular enough, you can make some money too). And, of course, you can communicate directly with people you know — either in real life or just through the app.
Unless you're blocked, that is. If someone blocks you on TikTok, you won't be able to communicate with them. But how can you tell whether you've been blocked by another TikTok user? Here's what you need to know about TikTok's blocking feature.

Here's how to know if someone blocked you on TikTok.
There are three ways you can tell whether someone has blocked your account on TikTok. The first is to check the accounts you follow and see if they appear on the list. In order to do this, tap the profile icon on your home page (it's the button in the bottom right-hand side of your screen that looks like the outline of person) and tap where it says "Following."
You can either type in the name of the account you suspect has blocked you, or scroll through the list to find them. If their account doesn't appear on your Following list, then they may have blocked you. They might also have simply deleted their account, though.
The second way to find out whether you've been blocked is to try to view a comment or mention you've left on one of their videos. To do this, tap the notifications icon (the speech bubble) on your home page, then scroll to a comment or mention you have made on their video. If you try to tap on the video and are unable to access it, that's another red flag. You might have been blocked.
Finally, you can simply try searching for the person's account via the Discover tab (the magnifying glass icon). If you type in their account name and their account doesn't show up, that's red flag No. 3 — but do double-check to make sure you're spelling the name correctly! If you do find their account, tap the "Follow" button. If you've been blocked, you'll get an error message saying, "You can not follow this account due to user privacy settings."
Can you get unblocked on TikTok?
Unfortunately, there's not much you can do in order to get unblocked on TikTok. While this may be a bummer if you think you've been blocked by accident, it also makes sense and certainly comes in handy for instances where people are blocked for harassing users or simply being unpleasant to them.
Ultimately, having the ability to block people is an important aspect of TikTok's goal of trying to ensure everyone has a pleasant time using the app. It can be a bit of a bummer if someone uses it against you, though.
If you've been blocked by someone you know in real life, your best bet is probably to reach out via another platform — assuming they haven't also blocked you there. Otherwise, you may just have to get used to a TikTok feed without them in it. Best of luck!