Think You've Been Shadowbanned on TikTok? Here's How to Fix It
If your TikTok videos aren't getting any views, you may have been shadowbanned. Here's what to do to get unshadowbanned from your account.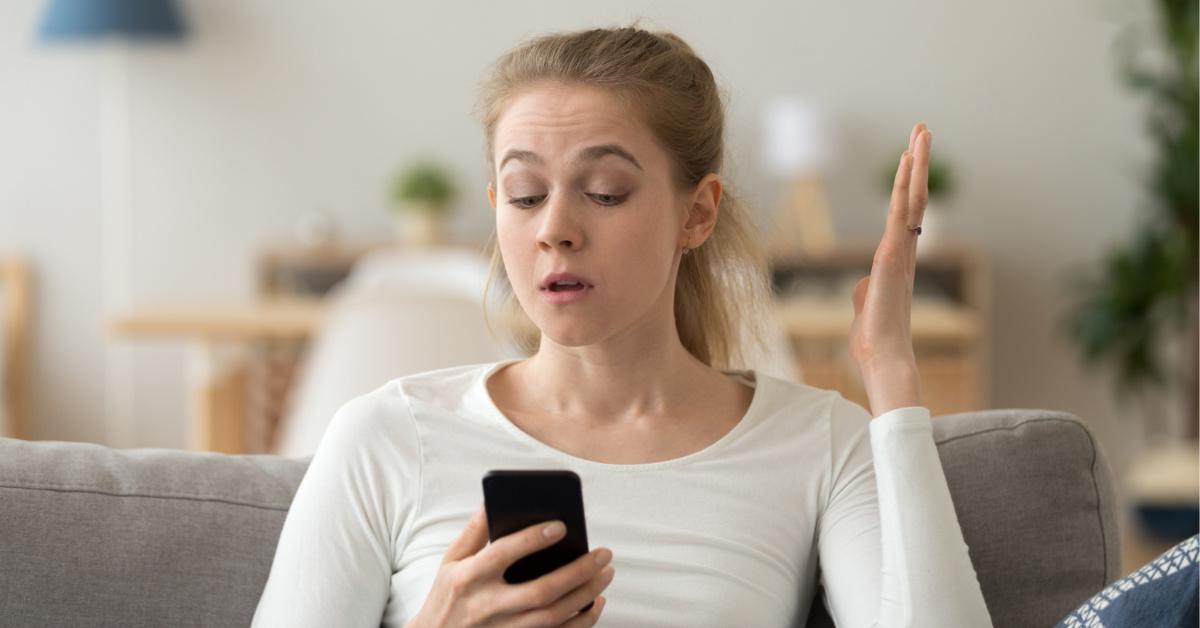 Fame can be a very fickle thing. It's not unusual for people to suddenly be launched into stardom, enjoy their 15 minutes of fame, and then eventually go back to a life of relative obscurity. However, some people claim that TikTok is artificially limiting their popularity, and needless to say, they're not happy about it.
Article continues below advertisement
The issue at the center of these complaints is shadowbanning. Some TikTok users think that they are being shadowbanned on TikTok, meaning their content is suddenly not showing up in their followers' feeds. These days, when social media clout can translate to actual money, that's a huge problem. Do you think this may have happened to you? Here's how to get unshadowbanned on TikTok.

Article continues below advertisement
Here's how to tell if you've been shadowbanned on TikTok.
Shadowbanning is also known as ghost banning or stealth banning. It's the practice of blocking a user or their content without alerting them of the ban. Shadowbanning happens all over the internet but the controversial practice can be difficult to prove. If your TikTok videos typically got 10,000 views and suddenly started getting fewer than 1,000, it could mean that your newest videos aren't as good as your old ones, that you've lost followers, or that you're not posting at the optimal time.
But it could also be due to a shadowban from TikTok. If you are shadowbanned on TikTok, your videos will not show up on the For You Page, nor will they appear when you search for them via hashtag. But don't worry — it's probably only temporary.
Article continues below advertisement
Here's how to get unshadowbanned on TikTok.
In order to get unshadowbanned on TikTok, you should know what kind of behavior leads to being shadowbanned in the first place. The most obvious reason is if you have posted a video that goes against TikTok's Community Guidelines. The guidelines are pretty straightforward (obviously, things like nudity, illegal drugs, and hate speech are not allowed), but there are some that you may have violated unintentionally, such as accidentally using copyrighted music or sharing misleading information.

Article continues below advertisement
However, it's also possible that your account has been shadowbanned even if you did not post anything that violates the Community Guidelines. TikTok uses bots to moderate content, and sometimes, those bots fail to work properly and may enforce a shadowban when there has been no actual infraction. It's a frustrating price to pay for taking part in something as large and popular as TikTok.
Luckily, in most cases, shadowbans are only temporary. The general consensus is that a first-time shadowban may be in effect for up to 14 days, but will typically drop off the account after that time. There's a possibility that additional infractions could result in longer shadowbans, so be sure to always do your due diligence before posting to the video-sharing platform.
If you think you've been shadowbanned, you can also implement the tried-and-true method of uninstalling then re-installing the app, making sure your version of the app is completely up-to-date. While this won't remove a shadowban, it's a good way to make sure that there isn't some kind of technical glitch that's actually causing your problems. Best of luck!