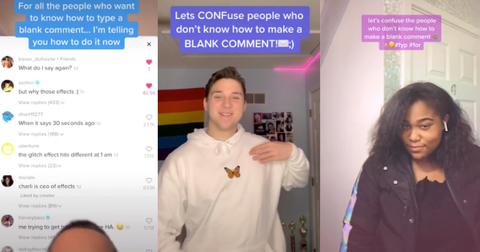 Here's How People Are Leaving Blank Comments on TikTok Videos
By Abi Travis

Updated
Sometimes, there are just no words — and we don't mean that metaphorically. Sometimes, when you look at TikTok comments, there are some that are completely blank. No words. It's just the TikTok username, the date, and then nothing.
It looks like leaving blank comments on TikTok videos started to become a trend in early 2020, but there are some people who still haven't figured out how to do it. That's where we come in! We've done our research and now we can tell you exactly how to make a blank comment on TikTok. It's actually pretty easy.
Here's how to make a blank comment on TikTok.
So, the first thing you're going to want to do is to go to the comment section of the video where you want to leave a blank comment (you probably could have guessed that). Easily navigate to the comment section of any TikTok video by either tapping the comment icon (the speech bubble containing three dots) or tapping where it says "Add comment…" at the bottom of your phone screen. Once you're there, it's time to leave your blank comment.
You might think that you can simply press "Enter" or the Space bar a few times and then post your empty comment. Not so, friend! For whatever reason, TikTok won't let you post a comment that doesn't contain actual text.
Unless! You use a clever workaround. Rather than typing any letters in the comment box, simply tap the microphone icon located in the bottom right-hand corner of your phone screen (directly underneath the "send" button on your keyboard). Actually, you'll want to tap it two times in a row. Then hit "send." Ta-da! You've just posted your very first blank comment! Super easy, right?
There are a lot of TikTok videos making the rounds where it's a trend to leave blank comments in the comment section. Usually, people upload a video containing text (either in the video itself or in the caption) saying something like, "let's confuse everyone who doesn't know how to leave a blank comment." When you scroll through the comments on these videos, they're all either blank comments or people begging fellow TikTok users to teach them how to leave their own blank comment.
Luckily, there are also a few TikTokers who have taken it upon themselves to teach other people how to leave blank comments — that's how we found out how to do it!
As for why someone would want to leave a blank comment, well, we can't really help you with that one. Since a blank comment still includes the TikTok username of whoever left it, we can only assume it's another way to try to get attention, and maybe even draw people to their own profile as a result. Of course, now that everyone is learning how to make blank comments on TikTok, they'll slowly start to become less remarkable when people come across them in the wild.
As with many things on TikTok, leaving blank comments is probably another trend that will eventually die down. But hey, at least now you know how to participate in the trend!